Nursing and midwifery
Deakin's School of Nursing and Midwifery is one of the largest in Australia. The School's research programs, undergraduate and postgraduate courses are underpinned by a commitment to quality and safety in health care.
Courses are evidence-based reinforced by best practice guidelines and promote a person-centred approach to care. The Bachelor of Nursing has a strong emphasis on hands-on practical experience preparing you for employment in the real world.
---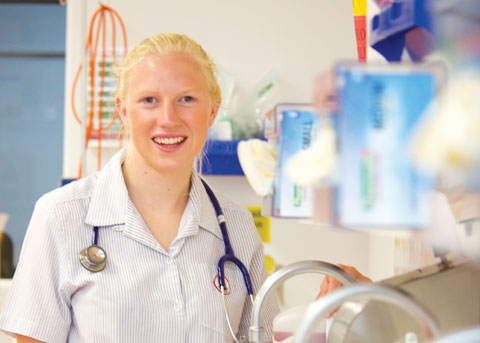 Student snapshot
Cherry More
Bachelor of Nursing
Geelong Waterfront Campus
'I have had an amazing experience at Deakin and the course is highly regarded in major hospitals.
'The most memorable moment of my course has been doing a clinical placement in an emergency department. The skills I have learnt throughout my degree helped me get through some of the more stressful experiences.
'I am hoping to do my graduate year at St Vincent's Hospital in Melbourne and then continue doing postgraduate studies.'
---
What can I study?
At an undergraduate level, the school offers courses in nursing, including three unique combined degree courses in nursing / midwifery, nursing / public health and health promotion, and nursing / applied science (psychology).
Postgraduate offerings include courses in midwifery, diabetes education, nursing practice (including full critical care and peri-operative suite specialities), nurse practitioner and research degrees.
---
Why study nursing and midwifery at Deakin?
Our courses prepare you for practise within a range of health care settings and equip you with the knowledge and skills to adequately care for patients with a variety of complex illnesses. Clinical placements and skills training account for approximately 50 per cent of the course contact hours and are undertaken in various metropolitan, rural and regional health care settings.
Practical experience commences in Trimester 1, year one
All of Deakin's nursing courses include clinical practice simulation experiences.
Beginning just a few months after you begin your course, early exposure to the clinical environment gives you extensive opportunities to develop and consolidate clinical skills in a variety of areas including acute/sub-acute care, medical and surgical care, aged care, community, midwifery, paediatrics and psychiatric/mental health nursing.
Purpose-built learning facilities
The Clinical Simulation Centre at Deakin University consists of purpose-built learning spaces incorporating high and low fidelity simulation centres.
There is a centre on each campus and each is well resourced with state-of-the-art equipment to assist your clinical learning and transition towards independent nursing practice.
Teaching and research excellence
We are committed to providing excellence in all courses. We employ key clinicians and researchers who are well qualified, enthusiastic teachers with broad international links and experiences.
These well qualified staff ensure teaching is based on current practice, contemporary research and evidence-based practice in nursing. You will learn from passionate staff with specialist skills developed through their work with outside agencies, their research and community involvement.
---
Study overseas
Give yourself the competitive edge after graduation. Discover and live in a new country and make friends all around the world. With a Deakin Education Abroad program, your degree can take you where you want to go.
Exchange and Education Abroad programs are available to all students, including international, postgraduate and off-campus students.
The School also conducts up to four study tours each year to countries such as Bhutan, Thailand, Philippines and China.

Career opportunities for nursing and midwifery graduates
Employment opportunities for nursing graduates are excellent with registered nurses and midwives in demand both locally and overseas.
---
Nursing and midwifery courses
View all nursing courses at Deakin. Courses include but are not limited to:
Undergraduate studies
Bachelor of Nursing
Bachelor of Nursing / Bachelor of Applied Science (Psychology)
Bachelor of Nursing / Bachelor of Midwifery
Bachelor of Nursing / Bachelor of Public Health and Health Promotion
Postgraduate studies by coursework
Graduate Certificate of Diabetes Education

Graduate Diploma of Midwifery
Master of Midwifery
Master of Nursing Practice
Master of Nursing Practice (Nurse Practitioner)
Postgraduate studies by research
Doctor of Philosophy (PhD)

Master of Nursing