Key facts
4 years full-time or part-time equivalent
Key dates
Direct applications to Deakin for Trimester 1 2019 close 17 February 2019

Current Deakin Students
To access your official course details for the year you started your degree, please visit the handbook
Course information
Bachelor of Commerce/Bachelor of Business Analytics allows students to combine studies in business analytics with studies in commerce such as accounting, finance, economics, marketing and management leading to a broad range of technology enabled business roles. Within the BA stream, you'll look at the way businesses structure their information architectures, and the ways people and organisations use technology to improve their processes and workflows, and innovate their products or services. This course gives you the skills to analyse data, existing information systems, plan the introduction of commercial systems, and find solutions to common management problems (eg approaches to innovation) using business analytics software tools.
Professional accreditation by the Australian Computer Society (ACS) means your degree is recognised in industry, resulting in better job outcomes.
Graduates with double degrees in commerce and technology are highly sought after by employers.
Read More
Course structure
To complete the Bachelor of Commerce/Bachelor of Business Analytics, students must attain a total of 32 credit points consisting of 16 credit points from the Bachelor of Commerce and 16 credit points from the Bachelor of Business Analytics. Most units (think of units as 'subjects') are equal to 1 credit point. Most students choose to study 4 units per trimester, and usually undertake 2 trimesters each year.


Credit points from the Bachelor of Commerce
Credit points from the Bachelor of Business Analytics
Units
The 16 credit points from the Bachelor of Commerce (M300) include:-
-8 credit points of core units (MAA103, MAE101, MAF101, MIS171, MLC101, MMK101, MMM132 and MWL101)
-completion of MAI010 Academic Integrity (0-credit-point compulsory unit)
-an 8 credit point major sequence (excluding Management Information Systems)
-Level 3 - at least 4 credit points (which must be course grouped to a Faculty of Business and Law undergraduate degree)
The 16 credit points from the Bachelor of Business Analytics (M340) include:-
-15 credit points of core units (excluding MIS171) including one work integrated learning unit (WIL) OR an approved international learning experience
-a 1 credit point elective unit
-MIS010 Academic Induction for the Bachelor of Business Analytics (0 credit point unit)
Key information
Award granted
Bachelor of Commerce/Bachelor of Business Analytics
Year
2019 course information
VTAC code
1400516351 - Burwood (Melbourne), Commonwealth Supported Place (HECS)
1400616351 - Cloud (online), Commonwealth Supported Place (HECS)
Approval status
This course is approved by the University under the Higher Education Standards Framework.
Australian Qualifications Framework (AQF) recognition
The award conferred upon completion is recognised in the Australian Qualifications Framework at Level 7.
Campuses by intake
Campus availability varies per trimester. This means that a course offered in Trimester 1 may not be offered in the same location for Trimester 2 or 3. Read more to learn where this course will be offered throughout the year.
Trimester 1 - March
Start date: March
Available at:

Burwood (Melbourne)
Cloud Campus
Trimester 2 - July
Start date: July
Available at:

Burwood (Melbourne)
Cloud Campus
Trimester 3 - November
Start date: November
Available at:

Burwood (Melbourne)
Cloud Campus
This course structure applies to students who commenced in 2019.
Students who commenced prior to 2019 should refer to the Handbook Archive for their course structure and consult with their enrolment officer.
Deakin splits the academic year into three terms, known as trimesters. Most students usually undertake two trimesters each year (March-June, July-November).
Additional course information
Course duration - additional information
Course duration may be affected by delays in completing course requirements, such as accessing or completing work placements.
Mandatory student checks
Units which contain work integrated learning, a community placement or interaction with the community may require a police check, working with children check or other check. These requirements will be detailed in unit guides upon enrolment.
Workload
As a student in the Faculty of Business and Law, you can expect to participate in a range of teaching activities each week. This could include classes, seminars, practicals and online interaction. You can refer to the individual unit details in the course structure for more information. You will also need to study and complete assessment tasks in your own time.
Participation requirements
Units in this course may have participation requirements that include compulsory placements, work-based training, community-based learning or collaborative research training arrangements.
Need help?
Ask a question about studying a at Deakin
Entry information
Deakin University offers admission to undergraduate courses through a number of Admission categories.
In all categories of admission, selection is based primarily on academic merit as indicated by an applicant's previous academic record.

All applicants must meet the minimum English language requirements.
Entry for applicants with recent secondary education (previous three years) will be based on their performance in a Senior Secondary Certificate of Education, with pre-requisite units 3 and 4; a study score of at least 25 in English EAL (English as an additional language) or 20 in English other than EAL. Applicants will be selected in accordance with the published Australian Tertiary Admission Rank (ATAR) for that year.
Refer to the VTAC Guide for the latest pre-requisite information www.vtac.edu.au
Entry for applicants with previous Tertiary, VET, life or work experience will be based on their performance in:
•a Certificate IV in a related discipline OR
•a Diploma in any discipline or 50% completion of a Diploma in a related discipline OR
•successful completion of relevant study at an accredited higher education institution equivalent to at least two Deakin University units OR
•other evidence of academic capability judged to be equivalent for example relevant work or life experience
For more information on the Admission Criteria and Selection (Higher Education Courses) Policy visit Deakin Policy Library.
Credit for prior learning
Fee information
Estimated tuition fee - full-fee paying place
Not applicable
Estimated tuition fee - (CSP)?
Fees and charges vary depending on your course, your fee category and the year you started. To find out about the fees and charges that apply to you, visit www.deakin.edu.au/fees.
Scholarship options
A Deakin scholarship could help you pay for your course fees, living costs and study materials. If you've got something special to offer Deakin - or maybe you just need a bit of extra support - we've got a scholarship opportunity for you. Search or browse through our scholarships
Entry pathways
View pathways into the Bachelor of Commerce/Bachelor of Business Analytics with our pathways finder.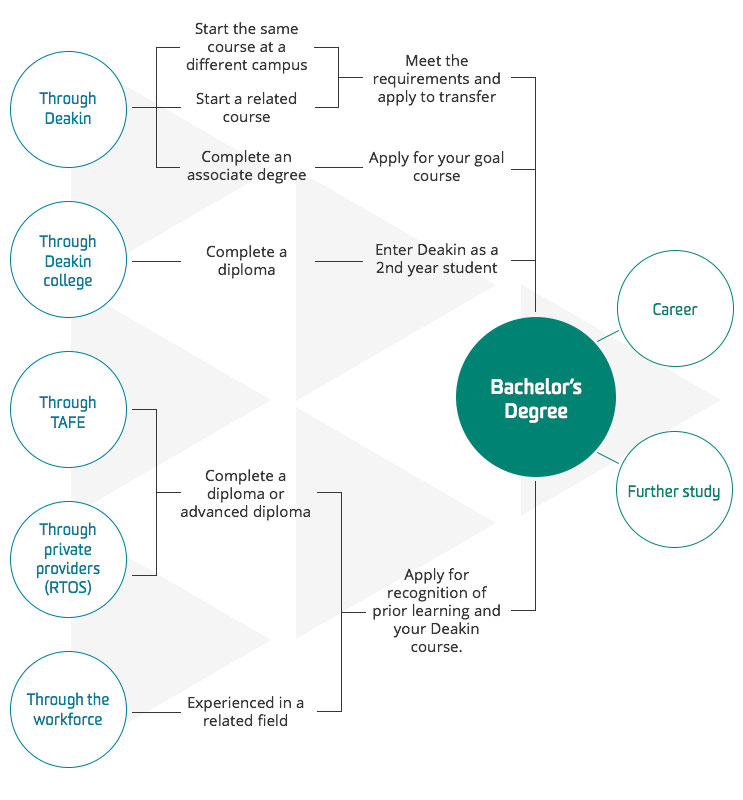 Tap image to expand
Disclaimers:
Through Deakin College and TAFE: Completion of diploma and minimum academic requirements apply to enter Deakin University.
Through Deakin: Transfers within Deakin are subject to availability and meeting minimum academic requirements.
Alternative exits
Diploma of Business Studies (M201)
Faculty contact information
Career outcomes
A combined course such as the Bachelor of Commerce/Bachelor of Information Systems offers you the chance to broaden your career opportunities after graduation. For further information on career outcomes for this combined course, see the entries for Bachelor of Information Systems and Bachelor of Commerce.
Course learning outcomes
Deakin's graduate learning outcomes describe the knowledge and capabilities graduates can demonstrate at the completion of their course. These outcomes mean that regardless of the Deakin course you undertake, you can rest assured your degree will teach you the skills and professional attributes that employers value. They'll set you up to learn and work effectively in the future.
Please refer to the Course Learning Outcomes (CLOs) of each of the single degrees.
---
Still haven't found what you are looking for?