Portfolio Overview

Portfolio is a personal portfolio tool for storing, organising, reflecting on and sharing items that represent your learning. You may create and include documents, graphics, audio files, videos, presentations, unit work, etc. that demonstrate your development or mastery in a certain area.
---
You decide what items you want to include in your portfolio, how you want to organise them, and who you want to share them with. When you share items with your peers, lecturers, tutors, potential employers, etc. you may give them permission to view specific items, edit items, see or add comments and see or add assessments depending on what type of feedback you want.
To access your Portfolio click on Portfolio link on the top navbar.
These Portfolio videos were developed for the 'Developing academic literacies in your course curriculum' DUPPP funded project, coordinated by Language and Learning Advisers in Student Life.
Portfolio: why bother
Portfolio: check it out
Access Portfolio on your mobile devices
The DeakinMobile app (iPhone version only) enables users to access Portfolio on iPhone and:
view, comment and share artifacts
create link artifacts
upload images
record and upload audio
write reflections
view your newsfeed
explore shared items
view notifications
Note: Desire2Learn ePortfolio Mobile is now available on Android devices. Check out the free app in the GooglePlay.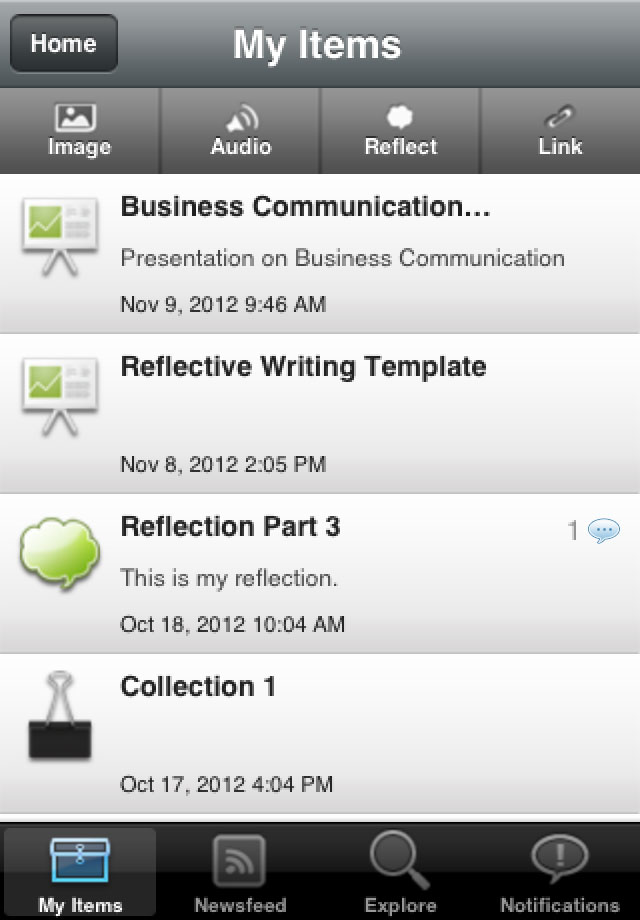 Page custodian: Deakin Learning Futures Last updated: