Navigating your unit site

The navigation minibar is located at the top of every page.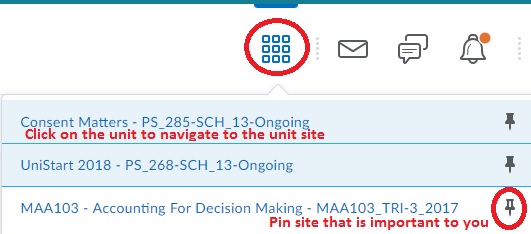 The minibar enables you to switch between units:
Click on the Select a Site drop-down list to see a list of unit site you have accessed.
Click on the unit that you wish to access.
Note: You can also pin unit site that is important to you. The pinned sites will always display on top of the list.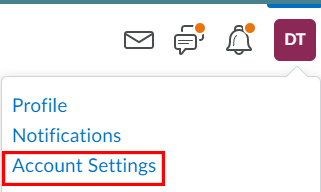 From the navigation minibar, click on your name and select Account Settings.
Use the tabs of Account Settings and Discussions to view and edit the different presentation options.
Home is the first page viewed when entering a unit. This is where you access learning content, discussion board, quizzes and assignments for the unit. It contains tools and different widgets for displaying information, including unit-specific resources.
The primary navigation tool for your unit is the navigation bar (or navbar), (enclosed in red) which is always located at the top of the screen and displays links to the tools available in your unit. Use the navbar to switch between tools.