Attending your ceremony
When to arrive
To allow for pre-ceremony registration, regalia fittings and photographs, we ask graduates to arrive at least two hours before their graduation ceremony.
If you're running late, please call us on 03 9244 6333 to let us know. If you don't arrive in time, you won't be allowed to take part in the ceremony.
Doors are open for guests to be seated 15 minutes before the ceremony commences.
Registration
Graduates need to bring along their student ID (or another form of legal identification) to the registration desk. Once you're registered, you'll be fitted for your regalia.
The registration desk will close 30 minutes before the ceremony begins and students may not be able to participate in the ceremony if they arrive less than 30 minutes before their ceremony is due to begin.
Last minute guest tickets
Every graduate receives two guest tickets (PhD students receive 4 guest tickets) as part of their graduation package. If you need to buy any extra tickets on the day, the venue's box office sells unsold tickets for last-minute guests.
What to wear with your regalia
If you elect to attend your graduation ceremony, you will be required to wear the academic regalia which represents the course you are graduating from at that ceremony.
You should wear smart, neat or professional clothing as a minimum dress standard. Shorts, jeans, t-shirts, thongs, bare feet or joggers aren't considered appropriate.
The regalia is a little heavy, so make sure you take off suit jackets or any heavy layers before your robe fitting.
Academic dress
After registering, graduates will be fitted with the following regalia according to their award:
Gown
Coloured hood
Trencher or bonnet
Once the ceremony has finished, all academic dress will need to be returned to the registration area.
If the regalia is not returned within an hour of the ceremony finishing, you'll be invoiced for the full cost of the outfit.
The style of the gown, colour of the hood and type of trencher or bonnet worn depends upon the award you have received. When attending a ceremony, the graduation fee includes the hire of your academic regalia.
Associate degree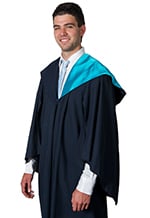 Bachelor degree
Bachelor degree with honours
Diploma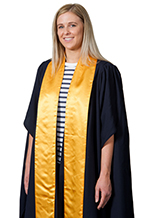 Graduate certificate
Graduate diploma
Masters degree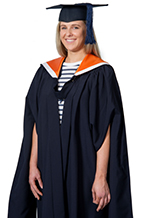 Masters degree with honours
Master by Research
Professional doctorate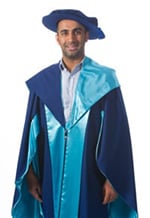 Doctor of Philosophy
Seating
On the day, graduates need to be sitting in their assigned seats at least 30 minutes before the ceremony starts.
Guests can sit wherever they like as their seating isn't assigned. As a guest, if you're bringing along a child who is under the age of three, they can sit on your lap.
Learn more about special assistance for you or your guests
Order of ceremony proceedings
Executive Dean opens the ceremony.
Guest speaker addresses the graduates.
Official conferral of awards.
Chancellor (or representative) presents graduates with their testamurs (graduation documents).
Student responds on behalf of all graduates.
Vice-Chancellor delivers the closing address.
Musical guest performance.
Conclusion of the ceremony.
Post-ceremony function.