Sustainability
Help us create a sustainable Deakin
As a Deakin value, sustainability is a priority.
Our community is passionate about sustainability. Small actions make a big difference, and there are lots of ways you can help us to reach our goals.
Waste management
The Deakin community is working towards a goal of zero waste to landfill by 2030 and you can help us by choosing to reuse, dining in and bringing your own coffee cup.
In 2023, cafés and food outlets at the Waurn Ponds campus participated in a pilot to wipe out the waste generated by single-use plastics, takeaway cups and other disposable packaging. Reusable crockery, cutlery and cups were introduced at Market Hall, Barista Bar and Mr Tod, collected, washed and returned for reuse.
More than 32,000 single-use and disposable items were saved from landfill in the first three months (March–May, 2023) of the We Choose to Reuse pilot, including:
11,884 takeaway food containers
14,273 items of cutlery
6,293 disposable coffee cups.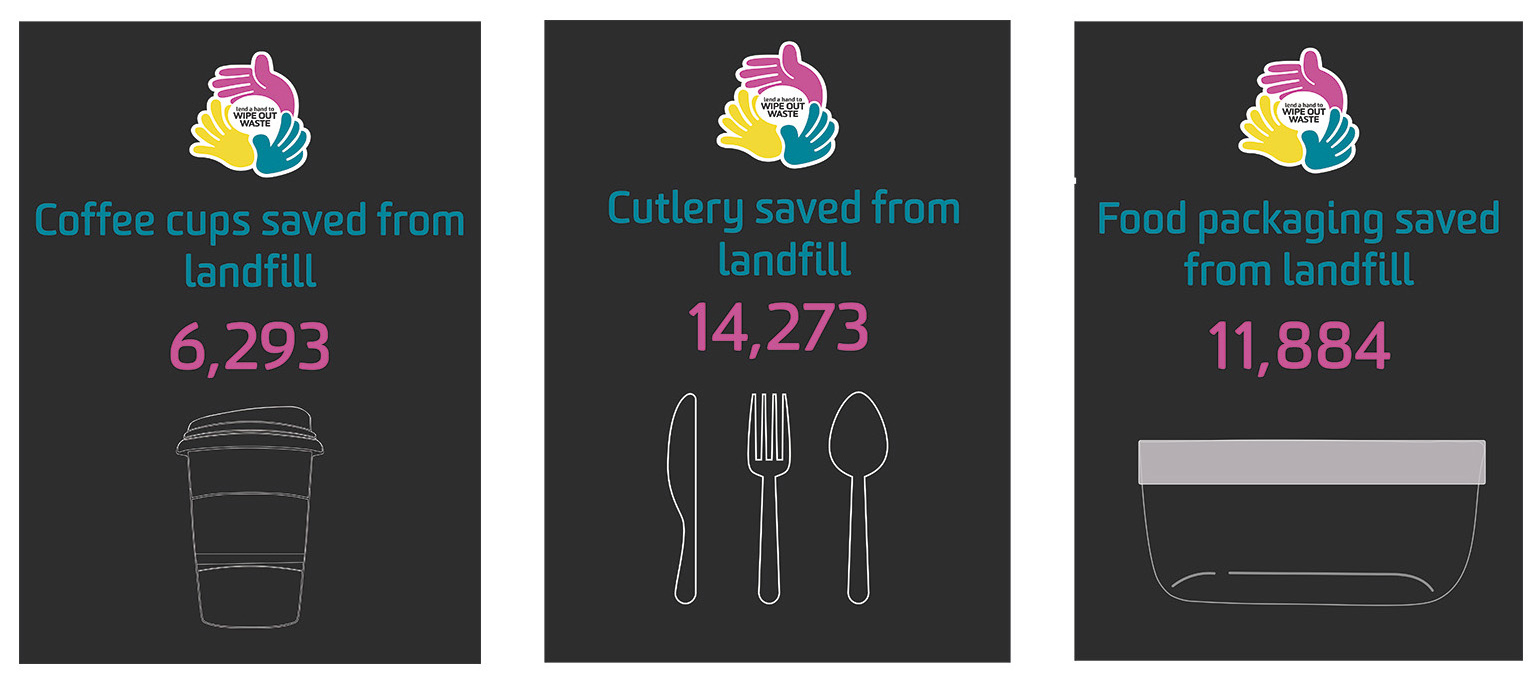 Data from March–May 2023
On campus, you'll see different bins for rubbish, organics (compost) and recycling. This is so we can separate waste items and reduce our contribution to landfill.
If you're not sure which bin to use, take the time to check the A–Z waste list before you throw things away.
Contamination is one of our biggest waste challenges. If our organics and recycling bins are contaminated with other items, all the contents will end up in landfill, so it's important to separate waste items before they end up in the bin.
Think before you throw!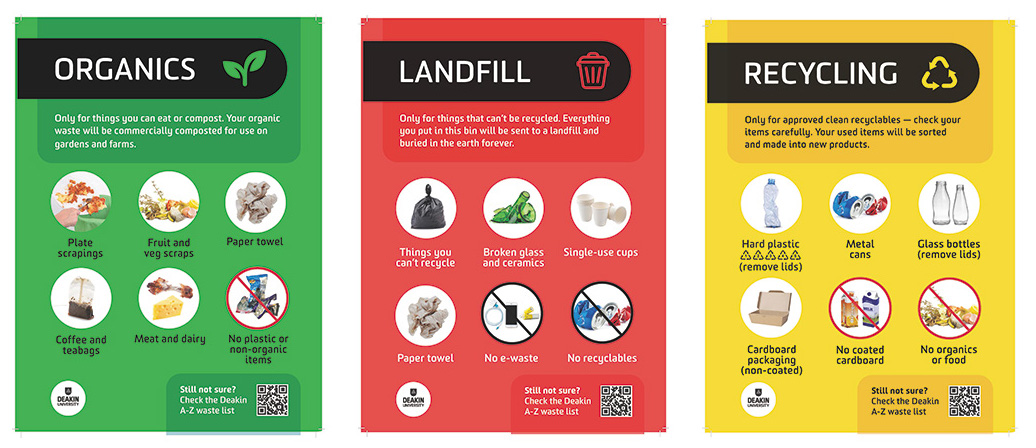 You can help to reduce our waste to landfill by dropping off waste items that cannot be recycled through yellow bins.
The Resource Recovery Wall, located in JB Level 1 at Waurn Ponds, currently accepts:
batteries (AAA, AA, C, D, 9v)
mobile phones and
small e-waste (cables, chargers, computer keyboards and mice).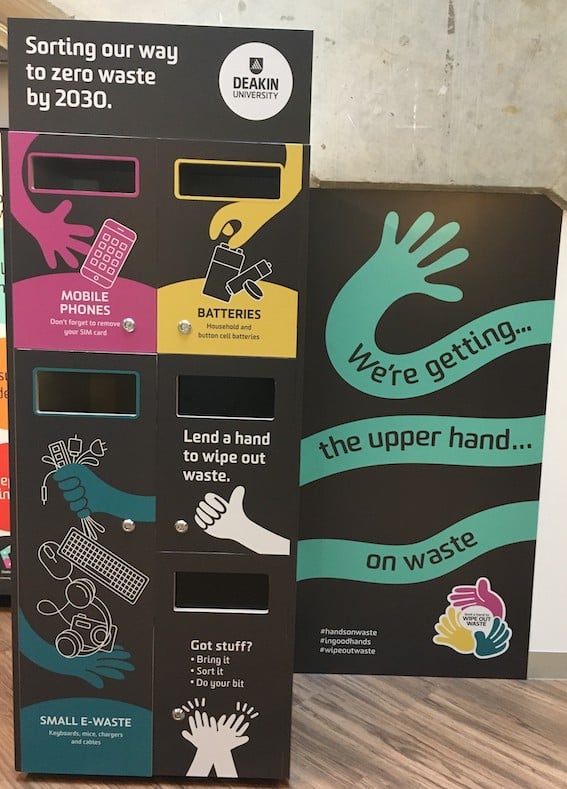 Natural environment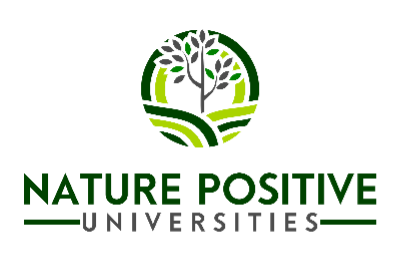 Deakin is a founding member of the Nature Positive Universities Alliance, a global network of universities that have made an official pledge to work together to promote nature on their campuses, in their supply chains and within their cities and communities.
With a focus on stewardship, connection and knowledge, the Deakin University Biodiversity Strategy (2022-2030) details plans to protect, enhance and restore the unique flora and fauna values across our four campuses.
By taking a focal species approach to biodiversity restoration, specific habitat is being restored to encourage species such as the Swift Parrot to return to campus.
Biodiversity is also a key pillar of the Climate Ready Campus vision for Waurn Ponds and work is already underway to:
establish biodiversity corridors to allow focal species such as the Swift Parrot, Yarra Pygmy Perch, and Growling Grass Frog, to thrive on campus
improve canopy cover and tree health
restore and revegetate waterways
manage weed and pest species
use Waurn Ponds as a living laboratory to develop, apply and test innovative solutions to real-world biodiversity and sustainability challenges.
Over the years, students and staff involved in tree planting days have helped to revegetate the Waurn Ponds Campus and transform it from cleared agricultural land to the environment we enjoy today.
Keep an eye out in July for details about Tree Planting Day and join like-minded staff and students to contribute to the enhancement of biodiversity values on campus.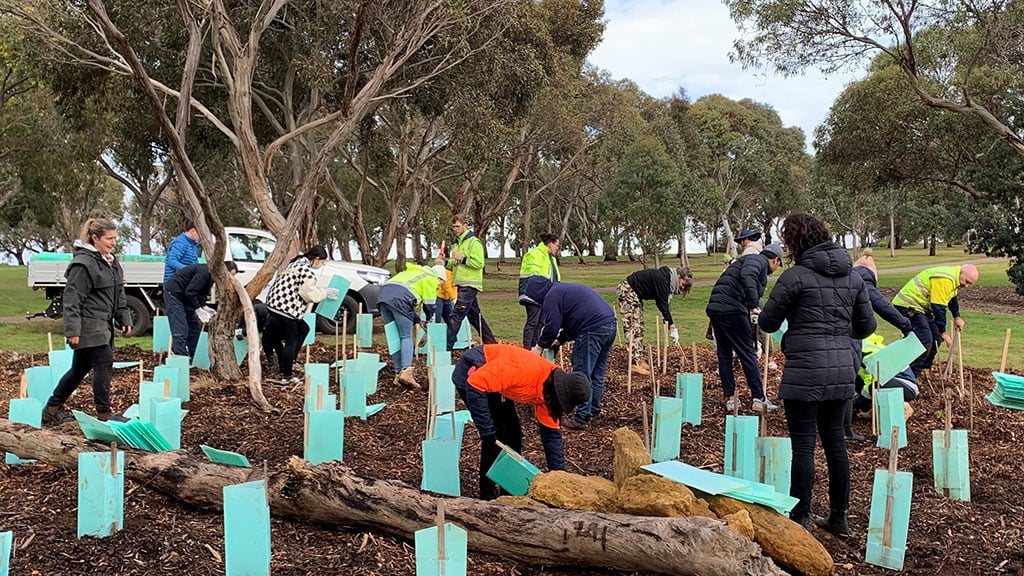 Energy, emissions and built environment
Reducing emissions in the built environment is a central component of Deakin's commitment to becoming carbon neutral by 2025. The CN2025 program includes:
Installation of smart technology to improve energy efficiency and to ensure our buildings are capable of responding to occupancy.
Lighting upgrades to modern, controllable LED solutions.
Installation of additional metering to help us better measure, understand, and manage our energy use.
Replacement of ageing infrastructure with new, energy-efficient alternatives.
Replacement of ageing natural gas infrastructure with electric alternatives that can be powered by renewable energy sources and installing more Solar PV.
Although our target is 2025, the CN2025 program will build the foundations for a more sustainable University for many years into the future.
Deakin is committed to sourcing 100% of its electricity from renewable sources by 2025. On-site solar generation is integral to achieving this goal.
Developed in partnership with AusNet Services and Mondo Power, the 7.5-megawatt renewable energy microgrid at the Waurn Ponds campus was installed in 2021 and is providing more than 30% of the campus' electricity needs. It is comprised of more than 20,000 ground-mounted solar panels over 14.5 hectares. From 2025, the microgrid will also allow Deakin to avoid up to 12,000 tonnes of CO2-equivalent emissions per annum.
By partnering with like-minded organisations as part of the Melbourne Renewable Energy Project 2 buying group, Deakin is also powering its operations with wind energy produced in regional Victoria.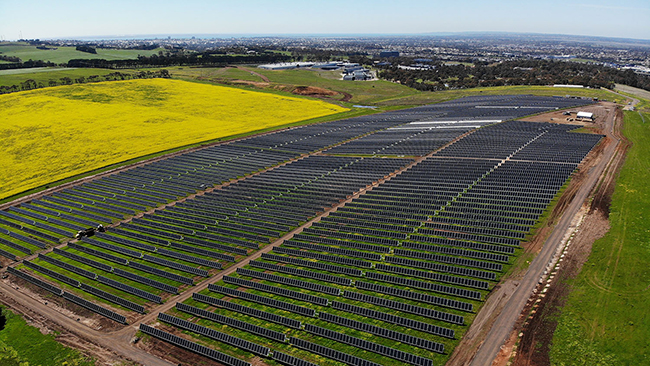 Water
Managing and protecting water, one of our scarcest resources, is integral to our sustainability approach and vision to create a Climate Ready Campus.
A partnership between Barwon Water and Deakin is bringing Class A recycled water to the Waurn Ponds campus. The recycled water will be used for irrigation, particularly for the elite sports precinct.
From 2025, the new pipeline will reduce our use of potable drinking water by around 60%.
You may have noticed works and changes to ponds at the Waurn Ponds Campus.
In 2022 work began to convert the network of ponds into a constructed wetland system. One by one, the six ponds have been drained, sediment removed, banks re-shaped and aquatic plants added. The new wetland system represents an important step in delivering better water quality and enhancing biodiversity.
When complete in late 2023, we can expect to attract a more diverse range of water birds, frogs and other aquatic fauna and we will be re-populating the wetlands with native fish. There will also be a significantly reduced chance of flooding, less erosion and sediment build up, and cleaner water flowing into Waurn Ponds Creek.
Waurn Ponds wetlands under construction