Flexible study options
There's more than one way to study at Deakin.
---
Cloud (online) study


Many courses can be studied via the cloud (online)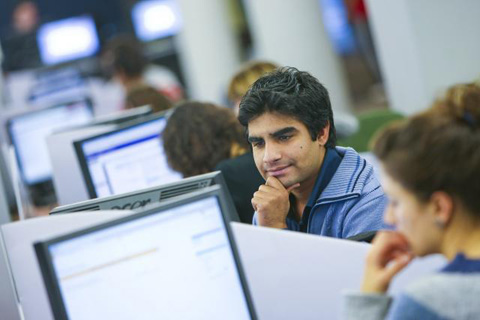 Cloud (online) study
Many Deakin courses provide the option to access some of your classes via the cloud (online) using interactive online study methods.
This helps you fit your studies around your life, gives flexibility to campus based students and creates opportunities to learn in a new way.
Cloud (online) study, previously known as off-campus study, allows you to learn wherever you are – whether that's in your office, at home, or while travelling and experiencing the world. To make this possible, we provide a re-imagined learning experience that makes optimum use of today's technologies supplemented by a broad range of media-rich study materials that you can access 24/7 through Deakin's virtual learning environment – CloudDeakin.
CloudDeakin incorporates a range of spaces and tools to enliven the learning experience, providing you with a portfolio tool for storing, organising, reflecting on and sharing your learning with others (using the CloudDeakin ePortfolio); access to units and courses, including assessment items, using tools such as discussions and quizzes; a forum to engage with unit chairs, tutors and other students in virtual classrooms (using eLive); and a space to listen and watch recorded lectures from your desktop or via a tablet or mobile device (using EchoSystem).
To fully engage with Deakin learning experiences, you need to have and be able to use internet-connected devices with a minimum standards required for effective study at Deakin University
This option is particularly useful if you are juggling study with work, family or other commitment.
Note cloud (online) study restrictions apply for international students.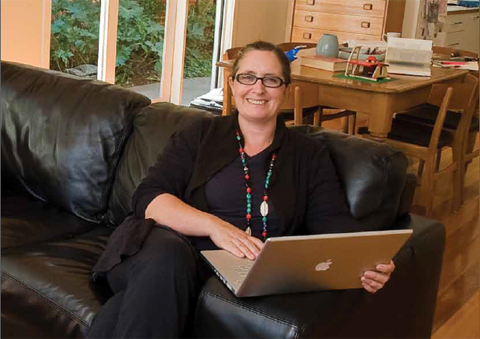 Many of our courses are available via the cloud (online) study mode, giving you a broad range of undergraduate and postgraduate courses to choose from. For more details find a course or refer to the off-campus course guide.
In some fields you can undertake research degrees as a cloud (online) student - for more information contact the relevant school or faculty, or learn more about research degrees.
Note Not all courses or units are available through cloud (online) mode. Check course details for more information.
Just because you're not physically attending a campus doesn't mean you miss out on our support services and activities. Starting with an online orientation, we support cloud (online) learners in all areas of administrative and academic support. For example, specialist careers advisers and language and learning advisers can help you with course direction and to develop successful study skills and techniques. You will also be supported by our dedicated teaching staff and through our award-winning library services, which are among the best in the world.
Other cloud (online) learning support includes:
online peer support, and group and individual communication between our staff members and students
online seminar groups, which give you the opportunity to discuss unit requirements with your tutor and make contact with other students
optional weekend classes – usually held once each trimester, these classes enable you to meet your peers and academic staff members
online workshops to improve your study skills
---
Full or part-time study


Study at a pace that works for you

Full-time and part-time study options allow you to choose the pace of your study.

You can switch between full-time and part-time study throughout your degree.

Every unit (subject) you enrol in has a credit point rating. If you are enrolled in 3 or more credit points in a trimester, you are considered a full-time student for that trimester. Any less, and you're considered part-time.

International students must generally study full-time as part of their visa requirements.

Usually the maximum number of units you can take in a trimester is four, but there is an option to undertake additional units pending faculty approval. Please refer to the Faculty course advisers and enrolment officers page for more information.
---
Trimester options


Greater flexibility to plan your study schedule

Deakin has three trimesters each year. Trimester 3 is not compulsory - it provides another study option.

Depending on your course, you may be able to:
commence your degree sooner or at a more convenient time of year
fast-track your study by taking extra units
catch up on studies missed in other trimesters.
Note Full-time students need to complete two trimesters a year.
---
Combined courses or 'double degrees'


Some courses at Deakin let you undertake two degrees at the same time. You'll complete two degrees faster than it would take to complete them separately, and you'll also save on university fees.
Increase your career options
Studies have shown that employers prefer graduates of combined courses. Deakin offers powerful combinations that will help you stand out as a graduate and increase your career options.
Increase your knowledge
When you graduate you'll have up-to-date knowledge of two disciplines. Later on, you may choose to undertake a graduate program in an area of special interest.
Graduate sooner
Combined courses are designed to allow students to complete both courses in as little as four or five years, which is quicker than completing one degree followed by the other.
Find a course to see what's available, or refer to our course guide and career booklets.
Popular combined courses include:
Undergraduate
Bachelor of Commerce / Bachelor of Laws
Develop a sound understanding of the context in which the law operates in the business world.
Bachelor of Laws / Bachelor of International Studies
Designed for students seeking a broader education and an international edge for their future career.
Bachelor of Teaching (Secondary) / Bachelor of Arts
This degree gives you a joint qualification in both secondary teaching and arts.
Bachelor of Health Sciences / Bachelor of ArtsThis degree is ideal if you are interested in a career in either health or arts, giving you great flexibility to tailor your studies to your particular interests.
Bachelor of Nursing / Bachelor of Midwifery
Develop specialist skills related to midwifery in addition to those of a Registered Nurse.
Postgraduate
Master of Politics and Policy / Master of Business Administration
Provides you with a strong grounding in the development, implementation and analysis of public policy, and a unique opportunity to acquire a broad range of knowledge and skills applicable in many sectors of the economy.
Master of Professional Accounting / Master of Commerce
Provides you with the skills, technical knowledge and understanding required in the increasingly complex and evolving field of accounting and commerce, as well as its application within the broader world of business.
Master of Business Administration (International) / Master of International Finance
Develop a set of knowledge and skills that meets the demand in the workplace for competent managers in large organisations, who have an excellent knowledge of finance.
---
Cross-institutional study


Increasing your study unit options

If another tertiary institution offers a unit that you want to do as part of your course, and the unit isn't offered at Deakin, you may be able to enrol and gain credit towards your Deakin degree.

Likewise, students from other universities may apply to enrol in units at Deakin. Prior approval from your faculty/institution is required.

Find out how to apply.
---
Single unit (non-award) studies


Pursue your interests or see if university is right for you

Enrolling in a single unit allows you to test the waters and pursue your personal and professional interests, prior to enrolling in a full program.

If successfully completed, the unit may be counted as credit towards a degree course.
What can I study?
Single unit (non-award) study provides you with access to a wide variety of tertiary level units. Some units have prerequisites or special requirements, but most are open to all.
Use the Search for a unit feature in the Handbook to find a non-award unit that is right for you.
Find out how to apply.
---
VCE extension studies


Start your Deakin University experience while you're still at school

If you're studying VCE Health and Human Development or VCE Psychology, you can take on a university unit and gain credit when you commence your Deakin degree.

Find out more about the VCE Extension Studies program.
---
Campus options


More campuses, more options
One of the great things about Deakin is that we have four campuses throughout Victoria.
Many of our courses are offered at more than one campus. The ATAR required for each campus often differs, but the same high-quality degree is delivered no matter which campus you study at.
This provides you with more entry options and enables you to transfer your studies from one campus to another.
---
Combined learning modes
It is possible to study both on-campus and cloud (online) units simultaneously. At Deakin you have the option to switch between campus and cloud learning during your course (provided the course and unit is available in both study modes). You can also combine the two study modes and complete some units in cloud mode and others in campus mode in the same trimester. Our students love the freedom this gives them to balance other priorities such as family and part-time work.
More information
Find a course and check the details of where the course is offered.
Page custodian: Marketing Division Last updated: