Professor David Ashbridge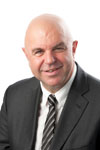 Professor David Ashbridge served as Chief Executive Officer of Barwon Health from 2010 to 2015. Barwon Health is the largest regional health service provider in Victoria and is a cutting edge leader in e-Health. It received the Premiers Award for Regional Health Service of the Year in 2011 and Runner Up Regional Health Service of the Year in 2012.
Alongside his work with Barwon Health Professor Ashbridge's involvement in the Geelong Region has included, Chair of the South West Alliance of Rural Health Executive, membership of the Geelong Prevention Community Model Governance Group (Health Promotion) and Board member of the Committee for Geelong.
Prior to taking up the position as Chief Executive Officer of Barwon Health, Professor Ashbridge worked for 22 years in the Northern Territory where he initially practiced as a remote area medical officer in Aboriginal communities. He then moved on to become a public health physician, which was followed by a twelve year period in a range of executive roles, culminating in his appointment to Chief Executive Officer of the Northern Territory Department of Health and Families, a position he held from 2006 to 2010. Professor Ashbridge has also been Senior Medical Advisor and Assistant Secretary in the Commonwealth Department of Health, the Chair of the Australian Health Ministers' Advisory Council and a Board Member of the National E-Health Transition Authority.
Qualifications
MB BS, Master Pub. Hlth, Dpl Child Hlth, Dpl Trop Med, GAICD, Member of the Royal Australian College of General Practitioners
Page custodian: Governance Services Last updated: