News and Events - The Science Fiction Research Group
Deletion: New Open Access, Online Journal goes Live on 1 October 2013
The Deakin-led, open access journal, Deletion, will publish original 'think pieces' every month of approximately 1200-1500 words. Committed to writing about science fiction in all its forms and modes of operation, Deletion will invite contributions from those writing about science fiction from a literary, philosophical, artistic, scientific, aural, televisual, games, and cinematic context.
Deletion will also solicit papers from the leading scholars in science fiction studies, organise and be open to regular 'special editions', and will accept and encourage non-standard submissions such as creative pieces. Submissions can also take the form of 2-3 minute podcasts or video blogs.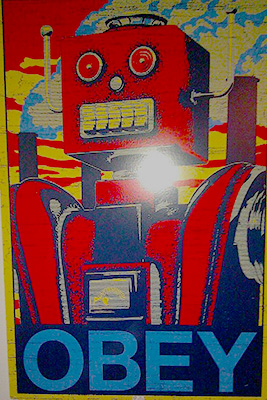 Science Fiction Research Seminar Series 2013
In this series of invited talks, leading scholars and creative artists will explore an aspect of science fiction that they are currently researching on. Talks will be 30 minutes long and will be interactive and presentational.
Launch:
Thursday 22 August 4-6pm, Phoenix Gallery, Burwood Campus
Title of Talks: Art, Science and Fiction
Paul Thomas, Head of Painting, COFA
Tracy Sarroff, Melbourne artist
Thursday 26 Sept 4-6pm, Phoenix Gallery, Burwood Campus
Title of Talk: Sounding Science Fiction
Peter Miller on Sound Design in Soderbergh's Solaris, Forbidden Planet, Alien, Stalker, 2001.

Deletions Launch:
Thursday 3 October 4-6pm, Phoenix Gallery,
Title of Talk: Tomorrowland
Angela Ndalianis, Associate Professor, Cinema and Cultural Studies University of Melbourne
Title of Talk: The Science and Fiction of Robotics
Matthew Joordens, Associate Head of School (Teaching and Learning), School of Engineering, Deakin University

Thursday 31 October 4-6 pm,
Title of Talk: Reading Science Fiction
Andrew Milner, Professor Emeritus, Monash University
Page custodian: Faculty of Arts & Education Last updated: