Key facts
3 years full time or part time equivalent

Key dates
Direct applications to Deakin for Trimester 1 2019 close 24 February 2019

Current Deakin Students
To access your official course details for the year you started your degree, please visit the handbook
Course information
Study forensic science at Deakin and you'll get formal training across the full scope of modern forensic science, acquiring skills and authentic experiences from 'crime scene to court' by spending time in our unique crime scene training facility. Deakin is the first university in Australia, and the only university in the Asia-Pacific region, to offer a professionally-accredited forensic science course.
Deakin's Bachelor of Forensic Science combines studies in biology, chemistry, biochemical and chemical analysis, statistical analysis, and molecular biology. You'll learn how to apply forensic analysis including chemical, biological and physical techniques while also learning about the Australian legal system, including how law is developed, criminal and civil law, and the laws of evidence.
You'll cover a wide range of disciplines, including toxicology, arson and explosives investigations, analysis of illicit drugs, DNA analysis, bloodstain pattern analysis and entomology, and also undertake studies in criminology. Forensic study will focus on the examination, interpretation and presentation of evidence, and include courtroom presentations.
The course has extensive industry links with local and Australian forensic organisations, and features guest speakers from leading forensic organisations.
Students of this course are eligible to apply for membership of the Australian and New Zealand Forensic Science Society (ANZFSS). Graduates of the course can expect to find work in areas such as forensics, insurance investigation, risk analysis, research science, in government institutions and within chemical, food and pharmaceutical industries.
Units in the course may include assessment hurdle requirements.
Read More
Course structure
To complete the Bachelor of Forensic Science, students must attain 24 credit points. Most units (think of units as 'subjects') are equal to 1 credit point. So that means in order to gain 24 credit points, you'll need to study 24 units (AKA 'subjects') over your entire degree. Most students choose to study 4 units per trimester, and usually undertake two trimesters each year.
The course comprises a total of 24 credit points, which must include the following:
11 core units
Completion of STP050 Academic Integrity (0-credit-point compulsory unit)
Completion of SLE010 Laboratory and Fieldwork Safety Induction Program (0 credit point compulsory unit)
Completion of STP010 Introduction to Work Placements (0 credit point compulsory unit)
no more than 10 credit points at level 1
at least 6 credit points at level 3 (including a minimum of 4 Science units)
Completion of a major sequence in either: Forensic Chemistry or Forensic Biology.
With careful planning, students may use up to eight of their remaining electives on units offered outside the Faculty such as units in Criminology, for example.
Students are required to meet the University's academic progress and conduct requirements. Click here for more information.
Core
Level 1 - Trimester 1
Level 1 - Trimester 2
---
Level 2 - Trimester 1
Level 2 - Trimester 2
---
Level 3 - Trimester 2
# Must have successfully completed STP010 Introduction to Work Placements (0 credit point unit)
Electives
Select from a range of electives offered across many courses. In some cases you may even be able to choose elective units from a completely different discipline area (subject to meeting unit requirements).
It is important to note that some elective units may include compulsory placement, study tours, work-based training or collaborative research training arrangements.
Major sequences
Refer to the details of each major sequence for availability.
Key information
Award granted
Bachelor of Forensic Science
Year
2019 course information
VTAC code
1400315231 - Waurn Ponds (Geelong), Commonwealth Supported Place (HECS)
Approval status
This course is approved by the University under the Higher Education Standards Framework.
Australian Qualifications Framework (AQF) recognition
The award conferred upon completion is recognised in the Australian Qualifications Framework at Level 7.
Campuses by intake
Campus availability varies per trimester. This means that a course offered in Trimester 1 may not be offered in the same location for Trimester 2 or 3. Read more to learn where this course will be offered throughout the year.
Trimester 1 - March
Start date: March
Available at:
Trimester 2 - July
Start date: July
Available at:
Deakin splits the academic year into three terms, known as trimesters. Most students usually undertake two trimesters each year (March-June, July-November).
Additional course information
Course duration - additional information
Course duration may be affected by delays in completing course requirements, such as accessing or completing work placements.
Mandatory student checks
Any unit which contains work integrated learning, a community placement or interaction with the community may require a police check, Working with Children Check or other check.
Workload
You can expect to participate in a range of teaching activities each week. This could include classes, seminars, practicals and online interaction. You can refer to the individual unit details in the course structure for more information. You will also need to study and complete assessment tasks in your own time.
Participation requirements
You may be required to complete units in Trimester 3 depending on your chosen major. Please refer to the Handbook for unit offering patterns.
Work experience
This course aims to provide students with a holistic experience of their role as forensic analysts. You will have the opportunity to visit a court, a crime scene and participate in a 'moot court' which allows students to experience a simulated courtroom environment.
Need help?
Ask a question about studying a at Deakin
Entry information
Deakin University offers admission to undergraduate courses through a number of Admission categories. In all categories of admission, selection is based primarily on academic merit as indicated by an applicant's previous academic record.
All applicants must meet the minimum English language requirements.
Entry for applicants with recent secondary education (previous three years) will be based on their performance in a Senior Secondary Certificate of Education, with pre-requisite units 3 and 4; a study score of at least 25 in English EAL (English as an additional language) or 20 in English other than EAL. Applicants will be selected in accordance with the published Australian Tertiary Admission Rank (ATAR) for that year.
Refer to the VTAC Guide for the latest pre-requisite information www.vtac.edu.au
Entry for applicants with previous Tertiary, VET, life or work experience will be based on their performance in:
a Certificate IV in a related discipline OR
a Diploma in any discipline or 50% completion of a Diploma in a related discipline OR
successful completion of relevant study at an accredited higher education institution equivalent to at least two Deakin University units OR
other evidence of academic capability judged to be equivalent for example relevant work or life experience
For more information on the Admission Criteria and Selection (Higher Education Courses) Policy visit the Deakin Policy Library.
Recognition of prior learning
The University aims to provide students with as much credit as possible for approved prior study or informal learning which exceeds the normal entrance requirements for the course and is within the constraints of the course regulations. Students are required to complete a minimum of one-third of the course at Deakin University, or four credit points, whichever is the greater. In the case of certificates, including graduate certificates, a minimum of two credit points within the course must be completed at Deakin.

You can also refer to the Recognition of Prior Learning System which outlines the credit that may be granted towards a Deakin University degree and how to apply for credit.
Fee information
Estimated tuition fee - full-fee paying place
Not applicable
Estimated tuition fee - (CSP)?
The tuition fees you pay will depend on the units you choose to study as each unit has its own costs. The 'Estimated tuition fee' is provided as a guide only based on a typical enrolment of students undertaking the first year of this course. The cost will vary depending on the units you choose, your study load, the time it takes to complete your course and any approved Recognition of Prior Learning you have.
Each unit you enrol in has a credit point value. The 'Estimated tuition fee' is calculated by adding together 8 credit points of a typical combination of units for that course. Eight credit points is used as it represents a typical full-time enrolment load for a year.
You can find the credit point value of each unit under the Unit Description by searching for the unit in the Handbook.
Learn more about fees and available payment options.
Scholarship options
A Deakin scholarship could help you pay for your course fees, living costs and study materials. If you've got something special to offer Deakin - or maybe you just need a bit of extra support - we've got a scholarship opportunity for you. Search or browse through our scholarships
Entry pathways
View pathways into the Bachelor of Forensic Science with our pathways finder.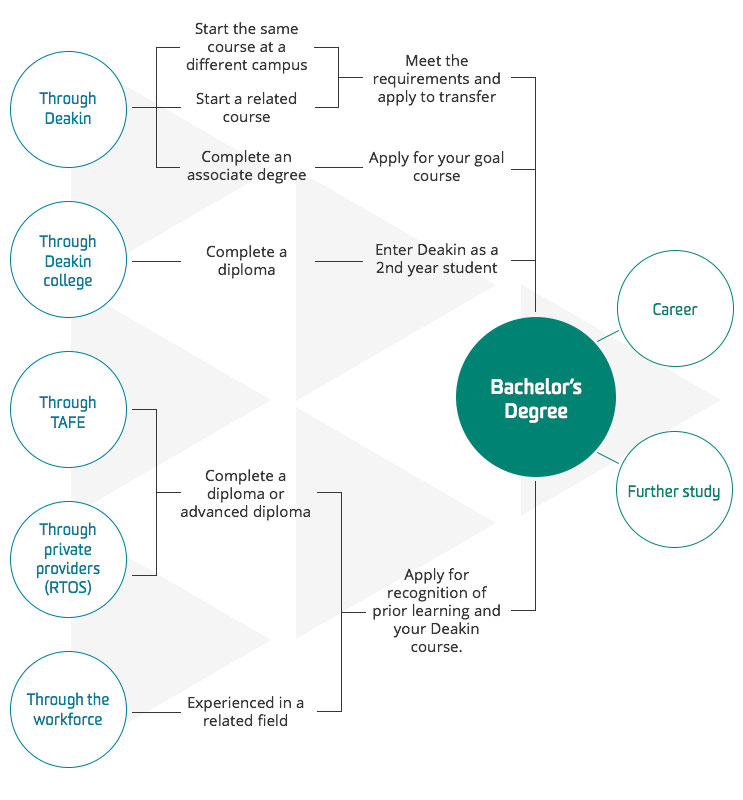 Tap image to expand
Disclaimers:
Through Deakin College and TAFE: Completion of diploma and minimum academic requirements apply to enter Deakin University.
Through Deakin: Transfers within Deakin are subject to availability and meeting minimum academic requirements.
Faculty contact information
Faculty of Science, Engineering and Built Environment
School of Life and Environmental Sciences
Tel 03 9244 6699
sebe@deakin.edu.au
Career outcomes
As a graduate of the Bachelor of Forensic Science, career opportunities exist in forensics laboratories, insurance investigation, risk analysis, research science, policing, in government institutions and in chemical, biological food and pharmaceutical industries.
Professional recognition
The Bachelor of Forensic Science is professionally accredited by the Chartered Society of Forensic Sciences (CSFS).
Course learning outcomes
Deakin's graduate learning outcomes describe the knowledge and capabilities graduates can demonstrate at the completion of their course. These outcomes mean that regardless of the Deakin course you undertake, you can rest assured your degree will teach you the skills and professional attributes that employers value. They'll set you up to learn and work effectively in the future.
| | |
| --- | --- |
| Deakin Graduate Learning Outcomes | Course Learning Outcomes |
| Discipline-specific knowledge and capabilities | Demonstrate broad and coherent knowledge of forensic disciplines including forensic chemistry, forensic biology and the science in the crime scene to the courtroom. Apply analysis and interpretation techniques in order to deduce and test hypothesis in a variety of professional contexts. Explain and present the strengths of scientific results and associated limitations in professional environments. |
| Communication | Use appropriate terminology and standard operating procedures to note take, document and present a variety of accumulated information. Judge how well to present essential details of scientific procedures, key observations, results and conclusions in a professional manner using appropriate style, language and references including local, national, international contributions and contexts. Converse with scientific and non-scientific audiences using appropriate language and methods of communication to clearly articulate scientific procedures and outcomes. |
| Digital literacy | Apply well-developed technical skills, judgement and responsibility to independently locate, analyse, evaluate the merits of, synthesise and disseminate scientific literature, information, data and results. |
| Critical thinking | Interpret and evaluate information from a number of areas including a body of knowledge from the scholarly literature, laboratory data and other individuals to place the information in a scientific context. Use critical and analytical thinking and judgement to analyse, synthesise and generate an integrated knowledge, and to formulate hypotheses and test them against evidence-based scientific concepts and principles. |
| Problem solving | Take into account relevant contextual factors to approach problems and make informed decisions that will assist in finding appropriate solutions to problems in forensic science. Advocate scientific methodologies, hypotheses, laws, facts and principles to create solutions to real world problems and forensic scenarios. |
| Self-management | Take personal, professional and social responsibility within changing professional science contexts to develop autonomy as learners and evaluate own performance. Work autonomously, responsibly and safely to solve unstructured problems and actively apply knowledge of regulatory frameworks and scientific methodologies to make informed choices. |
| Teamwork | Work independently and collaboratively in diverse roles as members of multidisciplinary teams to contribute towards achieving team goals and thereby demonstrate interpersonal skills including the ability to brainstorm, negotiate, resolve conflicts, managing difficult and awkward conversations, provide constructive feedback and work in professional, social and cultural contexts. |
| Global citizenship | Adopt and value multidisciplinary knowledge and perspectives for evaluating, integrating and incorporating strategies and solutions in scoping, planning and managing alternative solutions from local to global forensic problems. |
Approved by Faculty Board 7 June 2018
* Application close dates vary. Some courses have limited places, apply early to avoid missing out.
Still haven't found what you are looking for?