Study tours
Combine study and cultural immersion, while gaining credit towards your degree. Study tours are 2 to 3 weeks in duration over Trimester 3, taking place in destinations around the world.
Students will travel with other Deakin students and led through their destination by Deakin academics.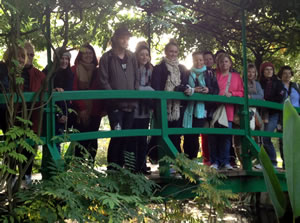 How to Apply
To be eligible for a Faculty of Arts and Education study tour students must meet the following requirements:
successfully completed 8 credit points, at time of application
a Weighted Average Mark (WAM) of 50 or higher
all pre-requisites listed in the handbook for individual study tour units.
Study tours are open students from any course, provided pre-requisites are met and there is space in course to complete the study tour unit.
Selection for a study tour requires a online written application and selection process. Participant numbers are capped for each study tour.
All units are approved as a 1 credit point International Experience for Bachelor of International Studies students.
Costs
Each program has additional costs in addition to standard unit tuition fees.
These costs may include but are not exclusive to:
Flights
Accommodation
Meals
Activities
Transfers
Specific program costs, inclusions/exclusions will be detailed in the full program descriptions. 2018 costs to be advised.
Please note: All study tour units attract normal tuition fees. For Commonwealth-supported students, this will appear on your HECS statement. International fee-paying students will receive an invoice for payment.
For more information on options to assist with the costs of course-related travel, please see 'Funding your WIL experience'.
Enrolling in a study tour unit:
Students may only enrol in a study tour in StudentConnect after they have been offered a place with a program.
It is important students contact Student Services to confirm they have space for a study tour unit in their course. Contact a Student Adviser
---
Study Tours in Arts and Education
Study Tour
Destination
Trimester
Credit
Pre-requisite
Information
AIE365 Middle East Study Tour
Jordan and Qatar
T3 - Nov
1cp towards IR, MES and/or L&CS majors, or elective.
One unit from: AIE153, AIE154, AIE255, AIE363 or AIE364. Accepted students are recommended to complete AIE364 prior to program departure.

Applications close Sunday 13 May!

AIR292 America and the International System
New York, Boston, DC, Philadelphia, USA

T3 - Nov

1cp towards IR and/or IP majors, or elective.
Completion of two units from AIR108/AIR101, AIR120/AIR102 and at least two level 2 IR or MES units.
Apply now!

Applications close Sunday 13 May!

AIS203 Japanese Politics, Society and Culture

Tokyo, Japan
T3 - Dec
1cp towards IR and/or IP majors, or elective.
Completion of at least 8 credit points at time of application.

Applications close Sunday 13 May!

ACG308 Screen & Design Study Tour to Japan
Tokyo and Kyoto, Japan
T3 - Nov/Dec
1cp elective.
Completion of at least 8 credit points at time of application.

Applications close Sunday 13 May!

ASP263 Buddhist Studies in India

Varanasi, India
T3 - Dec/Jan
1cp towards Philosophy major, or elective.
One unit from: ASR100, ASC211, ASP227, ASR205 and ASR207

Applications available mid-2018.
| MAJORS KEY | |
| --- | --- |
| IR - International Relations major | IP = International Politics major |
| MES = Middle East Studies major | L&CS = Language and Culture Studies major |
---
---
Disclaimer:
Participation and enrolment is subject to a selection process with academic coordinators. Students should obtain course advice prior to applying for a study tour and have an alternative unit identified, in the event they are not accepted into the study tour or a study tour does not run.
Deakin may postpone or cancel a study tour at any time, if it is determined the safety of Deakin staff and students could be compromised.
Program details, costs, dates and inclusions are subject to change. A minimum number of participants applies to all study tours.
---
Questions?
Page custodian: Faculty of Arts & Education Last updated: