Study tours
Study tours run for 2-3 weeks and offer you the opportunity to combine study and cultural immersion, while gaining credit towards your degree. You will be guided by academics and have access to opportunities otherwise out of reach for an independent traveller.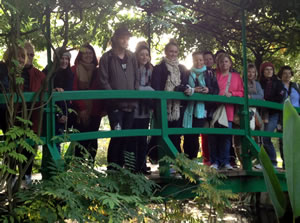 How to Apply
To be eligible for a Faculty of Arts and Education study tour you must meet the following requirements:
successfully completed 8 credit points, at time of application
a Weighted Average Mark (WAM) of 50 or higher
any pre requisite units specified in the programs handbook information (see individual program for link through to handbook information)
Costs
Each program has additional costs in addition to standard unit tuition fees.
These costs may include but are not exclusive to:
Flights
Accommodation
Meals
Activities
Transfers
Specific program costs, inclusions/exclusions will be detailed in the full program descriptions. 2016 costs to be advised early Trimester 1 2016.
Please note: All study tour units attract normal tuition fees. For Commonwealth-supported students, this will appear on your HECS statement. International fee-paying students will receive an invoice for payment.
For more information on options to assist with the costs of course-related travel, please see 'Financial Assistance'.
Enrolling in a study tour unit:
You will only be able to enrol in your study tour in StudentConnect after you have been offered a place in a program. Application and selection dates for 2016 study tours will be advised in early 2016.
Do you have room in your course for the study tour unit? Where will it fit? If you're not sure, or haven't spoken to course adviser in a while, it's important you contact Student Services to check you will have space for a study tour unit in the remainder of your course. Contact a Course Adviser
---
Information on this page is based on 2016 programs.
2017 program offerings will be released in February 2017. Applications for 2017 programs will open in the Deakin Abroad Portal in March/April 2017.
Arts and Education Study Tours offered in 2016
I'm interested!

America and the International System (AIR292)

Boston, Philadelphia, New York and Washington DC.

Trimester 3: 1 - 16 November 2016

Learn about America's role in the international political system and the role of UN, IMF and World Bank. You will be explore and reflect how American history, culture and politics inform the study of International Relations and your enhance your own understanding of contemporary international politics. Visit historical sites and museums, including JFK Museum, Australian Embassy to the United States, US Congress and monuments of the National mall.

Tell me more about the AIR292 Study Tour

Japanese Politics, Society and Culture (AIS203)

Musashi University, Tokyo.

Trimester 3: 29 November - 13 December 2016

Gain insights into Japan's distinctive culture an utilise these insights to reflect upon your own culturally-embedded understandings. This program is designed to enhance your intercultural communication skills and competencies. This study tour will develop your understanding of Japanese society and politics, through a combination of workshops, field trips, guest lectures and seminars.

Tell me more about the AIS203 Study Tour

Buddhist Studies in India - Philosophy Study Tour (ASP263)

Varanasi, India.

Trimester 3: December 2016 - January 2017.

Experience an intensive introduction to Buddhist philosophy, Tibetan Buddhist hermeneutics and Tibetan history and culture. You will study at the Central University of Tibetan Studies (CUTS) in Varanasi. Lectures are conducted in the traditional Buddhist manner of presenting texts and philosophical issues (often through interpreters) with time for questions afterwards.

You will participate in lectures on Tibetan politics, art, music and medicine and you will participate in various ancillary activities, including Indian cultural programs, tours of Varanasi and travel to important Buddhist sites in India, including Bodh Gaya, Raj Ghir and the ruins of Nalanda University.

Tell me more about the ASP263 Study Tour

Middle East Study Tour (AIE365)

Jordan and Qatar

Trimester 3: November 2016

The study tour aims at creating intercultural and political understanding by offering you a first-hand view of life in two Arab monarchies at opposite ends of the economic spectrum. With a focus on interacting with local people, including their fellow university students, the tour aims to create deeper levels of understanding and empathy for the participants, as well as exposing them to the general benefits of encountering new cultures and environments.

Tell me more about the AIE365 Study Tour

Communication Management in Asia - Public Relations Study Tour (ALR311)

Kuala Lumpur, Malaysia.

Trimester 3: November 2016

Take yourself out of the classroom and see public relations in action in Malaysia! You will gain a strong understanding of the professional, political and economic landscape for communicators in Malaysia through visits with, and presentations from, a range of public relations-oriented organisations.

You will participate in workshops with other students studying Public Relations in Malaysia and work collaboratively on a major project with students from Taylor's University.

There are networking opportunities throughout this busy tour and opportunities to explore and get to know this fascinating pocket of Asia.

Tell me more about the ALR311 Study Tour

Visual Design and Animation (ACG308)

Tokyo, Kyoto and Osaka, Japan.

Trimester 3: November 2016

Explore Japan's contradictions: from Harajuku pop culture to the temples and old market streets of Kyoto. The tour highlights how traditional and emerging art practices and technologies converge within contemporary Japanese culture, with a focus on Animation and Visual Communication Design.

This unit engages with divergent Japanese cultures - from high concept art & design to anime, manga and game culture - through visits to key places of interest including Akihabara, Ginza design precinct, and the temples and shrines of Kyoto.

Tell me more about the ACG308 Study Tour

Contemporary Dance in New York City (ACD311)

New York, USA.

Trimester 3: January 2017

You will be living in New York City for a 2-week period. Practical, studio-based dance classes and workshops including contemporary dance techniques, choreography and somatic-based learning will be taught by a select group of practitioner/teachers from New York City. The content and curriculum of classes will be determined by the artistic interests and lineage of the artists involved. The unit will be taught intensively with up to 5 hours of classes per day for 9 nine days over a two-week period. Other cultural and learning excursions such as attending performances will also be required.
Tell me more about the ACD311 Study Tour

Film and Television in China (ACF337)

Beijing and Chongqing, China.

Trimester 3: November 2016

This tour will cover themes and subjects of Chinese Film and the relationship between film stories and the people and places those stories come from, the influence of traditional Chinese narrative forms on film and television. We will learn about film and television production practice in China and experience contemporary China that begins inter-cultural understanding.

In Beijing we will be visiting production facilities, studios and meeting with leading Chinese film and television practitioners.

Tell me more about the Film/TV Study Tour

Exploring Village, Nation and the Kokoda Track (AIH203)

Port Moresby, Papua New Guinea.

Trimester 1: 27 June to 8 July 2016 (Inter trimester break)

Develop your understanding of Papua New Guinean history, society and politics. Based at the Pacific Adventist University in Port Moresby, the unit will, via a program of guest lectures, seminars, workshops and field trips, enable you to gain insights into Papua New Guinea's distinctive cultures and histories. The unit will also cover the history of Australian involvement in Papua New Guinea, including the history of the Kokoda Campaign of 1942.

Applications for the 2016 PNG tour have now closed.
Disclaimer:
Participation and enrolment is subject to a selection process with academic coordinators. Students should obtain course advice prior to applying for a study tour and have an alternative unit identified, in the event they are not accepted into the study tour or a study tour does not run.
Deakin reserves the right to postpone or cancel a study tour at any time, if it is determined the safety of Deakin staff and students could be compromised.
Program details, costs, dates and inclusions are subject to change. A minimum number of participants applies to all study tours.
Page custodian: Faculty of Arts & Education Last updated: