Course fees for international students
What you need to know
Deakin's course tuition fees are calculated on the units which you are enrolled for. This means that your fees are based on the units you choose to study in your course and not on any fixed course price.
Different units have different fees, which depend on how much each unit costs the University to provide. For example, units which require laboratories or special equipment may cost more than units which do not.
International students make an upfront course fee payment that is indicative based on historical enrolment paterns. The actual fees you will be charged may differ once you select your units.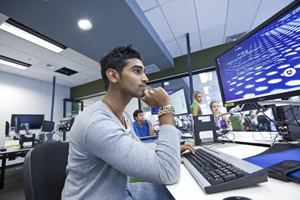 ---
Estimate your tuition fees
Select your student type and find your study discipline(s) to estimate your course fees.
Undergraduate full-fee
| Study discipline | Annual cost for full time study | Rate per credit point |
| --- | --- | --- |
| Law | $23,640 | $2,955 |
| Accounting, Economics, Commerce, Administration | $21,280 | $2,660 |
| Public Relations | $19,816 | $2,477 |
| Humanities | $18,912 | $2,364 |
| Mathematics and Statistics | $20,720 | $2,590 |
| Computing | $22,544 | $2,818 |
| Built Environment | $23,640 | $2,955 |
| Other Health | $22,472 | $2,809 |
| Social Studies | $18,872 | $2,359 |
| Behavioural Sciences excl. Clinical Psychology | $22,800 | $2,850 |
| Education | $19,592 | $2,449 |
| Clinical Psychology | $22,800 | $2,850 |
| Foreign Languages, Visual and Performing Arts | $22,584 | $2,823 |
| Allied Health | $23,896 | $2,987 |
| Nursing (Non-Clinical units) | $22,968 | $2,871 |
| Nursing (Clinical units) | $31,952 | $3,994 |
| Engineering, Surveying | $27,072 | $3,384 |
| Science | $27,072 | $3,384 |
| Dentistry, Medicine, Veterinary Science | $54,376 | $6,797 |
| Agriculture | $36,456 | $4,557 |
Postgraduate full-fee
| Study discipline | Annual cost for full time study | Rate per credit point |
| --- | --- | --- |
| Law | $24,152 | $3,019 |
| Accounting, Economics, Commerce, Administration | $27,736 | $3,467 |
| Public Relations | $21,752 | $2,719 |
| Humanities | $21,752 | $2,719 |
| Mathematics and Statistics | $22,248 | $2,781 |
| Computing | $24,064 | $3,008 |
| Built Environment | $25,016 | $3,127 |
| Other Health | $23,344 | $2,918 |
| Social Studies | $21,752 | $2,719 |
| Behavioural Sciences excl. Clinical Psychology | $23,344 | $2,918 |
| Education | $19,920 | $2,490 |
| Clinical Psychology | $23,344 | $2,918 |
| Foreign Languages, Visual and Performing Arts | $23,128 | $2,891 |
| Allied Health | $24,008 | $3,001 |
| Nursing (Clinical and Non-Clinical units) | $23,080 | $2,885 |
| Engineering, Surveying | $27,464 | $3,433 |
| Science | $27,464 | $3,433 |
| Dentistry, Medicine, Veterinary Science | $54,624 | $6,828 |
| Agriculture | $36,720 | $4,590 |
Higher Degree by Research
| Study discipline | Annual cost for full time study |
| --- | --- |
| Law | $26,328 |
| Accounting, Economics, Commerce, Administration | $26,328 |
| Public Relations | $26,328 |
| Humanities | $22,096 |
| Mathematics and Statistics | $26,168 |
| Computing | $24,824 |
| Built Environment | $24,824 |
| Other Health | $24,824 |
| Social Studies | $22,040 |
| Behavioural Sciences excl. Clinical Psychology | $26,128 |
| Education | $22,040 |
| Clinical Psychology | $26,104 |
| Foreign Languages, Visual and Performing Arts | $22,016 |
| Allied Health | $24,800 |
| Nursing (Clinical and non-Clinical units) | $24,760 |
| Engineering, Surveying | $26,104 |
| Science | $26,104 |
| Dentistry, Medicine, Veterinary Science | $33,960 |
| Agriculture | $26,080 |