Your invoice
How to view your invoice
Log in to StudentConnect and go to the 'view invoice' link under the 'fees and payments' heading on the sidebar menu.
A PDF version of the invoice can be viewed, printed and saved for your own records by clicking on the 'get PDF version' button located at the bottom of your invoice.
As paper invoices are not available, it's your responsibility to ensure your financial obligations to the University are met by the relevant invoice due dates.
We recommend you view your invoice after each study period and after any changes to your enrolment, to ensure your enrolment is accurate.
Understanding your invoice
Invoice sections
Your Deakin invoice is divided into 4 sections: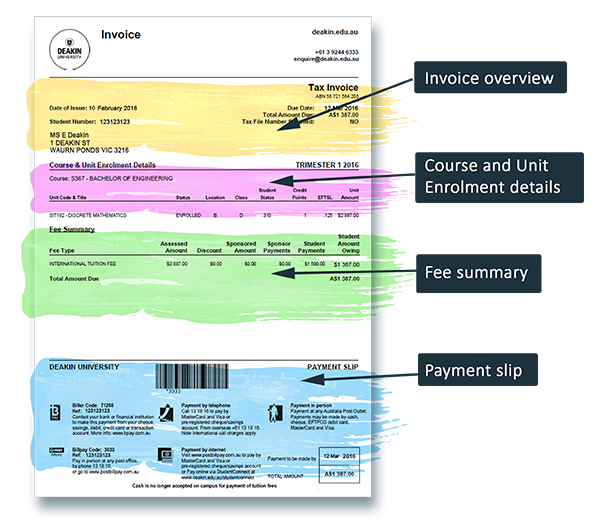 ---
Invoice overview
Date of issue - the date the invoice was created.
Due date - the date your fees must be paid by.
Student number - your Deakin student identification number.
Total amount due - total amount of fees you owe.
Tax File Number supplied - a YES in this section this indicates if you have supplied your Tax File Number (TFN) for HECS-HELP, FEE-HELP, SA-HELP or OS-HELP. If it says NO and you wish to access a HELP loan, you can add your TFN to your eCAF on StudentConnect or contact Student Central.
Student name and address - the current details on your student record.

---
Course and unit enrolment details
Course code and name - the code and name of the course you are enrolled in.
Unit code and title - the list of units you are enrolled in for the current study period.
Student status - indicates if the you are a in a Commonwealth supported place, domestic fee paying place or international fee paying place. View a list of codes and definitions.
Unit Amount - the tuition fees for each unit.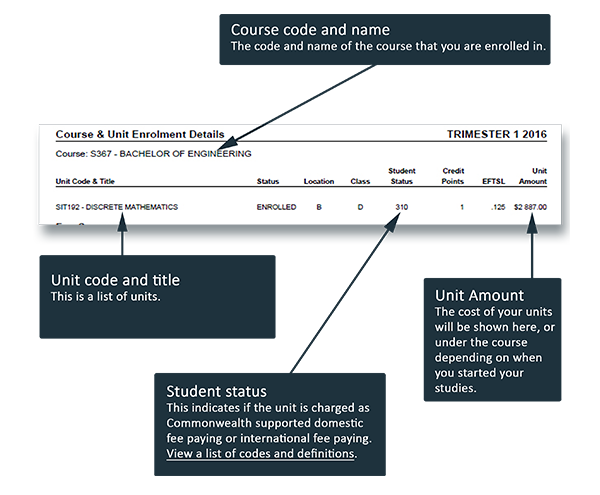 ---
Fee summary
Fee type

The type of fee being charged. Examples include:

Domestic tuition fee
International tuition fee
Graduation fee
Exam fee
Student amount owing

Total fees to be paid* based on your enrolment as at the date of issue.

Student payments

Shows any payments made so far for this study period.

Sponsored amount

Total fees to be paid by a third party (eg. employer, scholarship, sponsorship or alumni).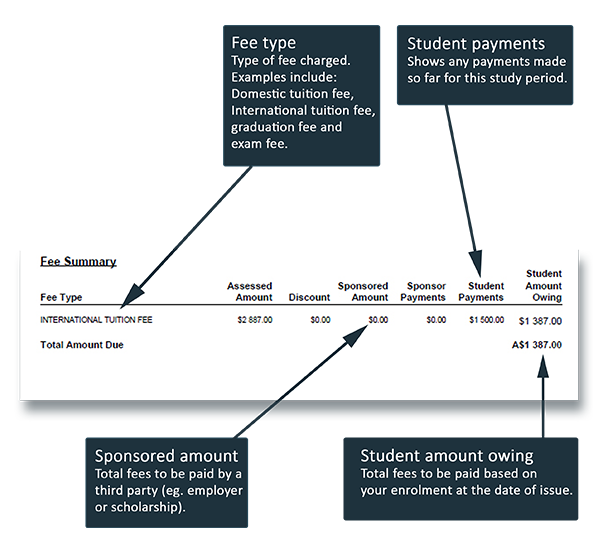 * Commonwealth supported students
---
Payment slip
How to pay your fees. Only pay by one of the options below.
BPAY – contact your bank or financial institution to make this payment from cheque, savings, debit, credit card or transaction account. More info at bpay.com.au.
Pay online – using Post Billpay.
Pay by phone – using credit card or pre-registered account. Call 13 18 16 to pay by Mastercard or Visa. From overseas +61 13 18 16 (Note, international call charges apply).
Pay online – using credit card or pre-registered account. visit postbillpay.com.au or via StudentConnect.
Payment by person – at any Australia Post outlet. Payments may be made by cash, cheque, cheque, EFTPOS debit card, Mastercard or Visa.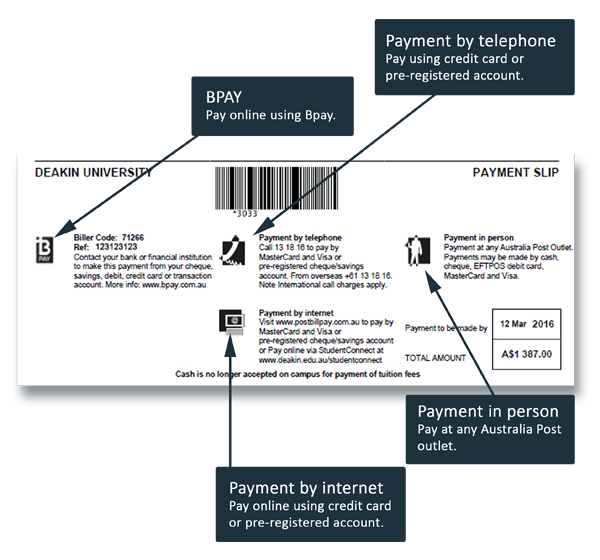 ---
Codes and definitions
| Code | Definition |
| --- | --- |
| 201 | Fees deferred to HECS-HELP |
| 202 | Upfront payment with discount (HECS) prior to 2017 and from 1 January 2021 to 31 December 2022 |
| 204-E | Full upfront payment - HECS-HELP eligible from 1 January 2017 to 31 December 2020 and from 1 January 2023 |
| 203 | Upfront payment with no discount (HECS) prior to 2017 and from 1 January 2021 to 31 December 2022 |
| 204-I | Full upfront payment - HECS-HELP ineligible from 1 January 2017 to 31 December 2020 and from 1 January 2023 |
| Code | Definition |
| --- | --- |
| 230 | Defer all or part payment of tuition fee to FEE-HELP |
| 231 | Defer all or part payment of tuition fee to FEE-HELP for Employer reserved places |
| 233 | Defer all or part payment of tuition fee to FEE-HELP for Bridging training for overseas trained professionals |
| Code | Definition |
| --- | --- |
| 301 | Domestic student enrolled in a non-award course (other than an enabling course) |
| 302 | Domestic student required to pay tuition fees upfront |
| 303 | Paid Full Employer Reserved course tuition fee |
| 310 | International students required to pay tuition fees upfront |