Mr Stuart Hamilton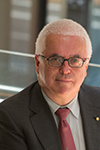 Mr Stuart Hamilton has held leadership positions in public administration and the education sector, recently with a focus on the application of new technologies to learning. He was Chief Executive Officer of Open Universities Australia from 2003 to 2012 and is a member of the expert panel on information for the Tertiary Education Quality and Standards Agency (TEQSA). Previously he was Executive Director to the Australian Vice-Chancellors' Committee, the forerunner to Universities Australia.
Stuart was Secretary of the Victorian Department of Education and Training from 2001 to 2002, Chair of the Victorian Curriculum and Assessment Authority from 2004 to 2006, Chair of the Victorian Registration and Qualifications Authority from 2006 to 2012 and a member of the Victorian Skills Commission from 2006 to 2012.
Stuart is a member of the Committee of Management of the Australian Chamber Choir and a community member of the Yarra Park Advisory Committee.
Stuart is a member of the Audit and Risk Committee.
Qualifications
BArts (Hons), BEc
Page custodian: Governance Services Last updated: