Ms Helen Buckingham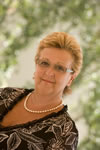 Ms Helen Buckingham has been a teacher, a careers counsellor, Local Councillor and Member of Parliament.
Helen trained as a history and politics secondary school teacher and later as a careers counsellor. She was the Careers Counsellor at Presbyterian Ladies College for ten years. She was a member of the Victorian Institute of Teaching and the Australian Association of Careers Counsellors.
Helen was an elected Councillor in the City of Whitehorse from 1997 to 2002 and served as Mayor from 1998 to 1999. In 2002 she was elected to the Victorian Parliament as the member for Koonung Province. While a Member of Parliament she served on the Parliamentary Standing Committee for Education and Training. She also chaired the Parliamentary Review of the Body Corporate Legislation and Regulations culminating in the Owners Corporation Act 2006. Helen retired from Parliament in 2006.
Helen is a member of the Boards of Box Hill Institute and the Council of Adult Education. She has also held membership of the Board of Box Hill Hospital (1991-1995), the Monash University Department of Physiology Animal Ethics Committee (1995-2000), the Board of the Whitehorse Manningham Library Corporate (1997-2001), Box Hill Central Rotary Club (1997-2000), the Victorian Women's Planning Network (1998-2002), and the Municipal Association of Victoria's Women's Steering Committee (1998-2002) and Professional Development Committee (2001-2003).
Helen was a board member of the Family Access Network for four years and the Vice-President of the Myeloma Foundation of Australia for four years. She is currently a Director of the Snowdome Foundation which raises money for blood cancer research.
Helen is a member of the Finance and Business Affairs Committee and Legislation Committee.
Qualifications
BA, DipEd LaTrobe, DipAICD NSW, GradDip Careers Deakin
Page custodian: Office of the Vice-Chancellor Last updated: