Key facts
Overall IELTS score of 6.5 with no band less than 6.0 (or equivalent). More information is available at www.ielts.org
Current Deakin Students
To access your official course details for the year you started your degree, please visit the handbook
Course information
This flexible, well-rounded combined degree lets you choose your course structure so that you can find a special niche that reflects your individual passions and interests. Careers might include those in policy, health education or health/wellness media.
Choose from health majors such as Health and Sustainability, Exercise Science, Food Studies, and Health Promotion. Arts majors include politics and policy, public relations, journalism, gender studies and film and television.
With a wide range of study areas available, you can tailor your course to tap into your unique interests and career aspirations. You could combine politics and policy studies with nutrition for careers in health policy, health promotion with media and communication to work on a national health campaign, or match food studies with journalism to become a food blogger or restaurant reviewer.
Depending on the study areas you choose in the Health Sciences component, you may qualify to work in areas such as health promotion, community health, project management, program planning, family and community support, housing services, social inclusion work, ageing and physical activity.
An Arts degree can open doors to careers in international relations, journalism, advertising, public relations, policy development, research, community services, sociology, community development, and visual arts.
Holding a degree in both disciplines means that you can pursue careers where the two overlap. These might include roles in health media, food writing, community health education, public relations for health or food companies, health research or coordinating community arts projects
Read More
Course structure
To complete the Bachelor of Health Sciences/Bachelor of Arts students must attain 32 credit points. Most units (think of units as 'subjects') are equal to 1 credit point. In order to gain 32 credit points you will need to study 32 units (AKA 'subjects') over your entire degree. Most students choose to study 4 units per trimester and usually undertake two trimesters each year.
You must fulfil the requirements of each of the two degrees in your course of study.
The course comprises a total of 32 credit points which must include 16 credit points from the Bachelor of Health Sciences and 16 credit points from the Bachelor of Arts.
Students are required to meet the University's academic progress and conduct requirements. Click here for more information.
The course structure includes 16 credit points from each of the two component courses. The 16 unit maximum size of the component degrees of combined courses does not permit students in D391 to complete two major sequences within the Health Sciences degree. For this reason, they are restricted to a major sequence and a minor sequence. The sixteen credit points within the Health Sciences component of the combined course are made up of:
The six core units of the Bachelor of Health Sciences;
A major sequence of six credit points (as listed above), consisting of the specified units at Levels 1, 2 and 3;
A minor sequence of four credit points, consisting of at least one unit at Level 1 and no more than one unit at Level 3 (subject to pre-requisite requirements) from the set of approved major sequences.
Students cannot select a minor in Environmental Health, or Psychology for Professional Development, due to difficulties of sequencing and in maintaining curriculum logic.
Key information
Award granted
Bachelor of Health Sciences/Bachelor of Arts
Year
2019 course information
VTAC code
1400514073 - Burwood (Melbourne), International full-fee paying place
Approval status
This course is approved by the University under the Higher Education Standards Framework.
Australian Quality Framework (AQF) recognition
The award conferred upon completion is recognised in the Australian Qualifications Framework at Level 7.
Campuses by intake
Campus availability varies per trimester. This means that a course offered in Trimester 1 may not be offered in the same location for Trimester 2 or 3. Read more to learn where this course will be offered throughout the year.
Trimester 1 - March
Start date: March
Available at:
Trimester 2 - July
Start date: July
Available at:
Trimester 3 - November
Start date: November
Available at:
Deakin splits the academic year into three terms, known as trimesters. Most students usually undertake two trimesters each year (March-June, July-November).
Additional course information
Course duration - additional information
Course duration may be affected by delays in completing course requirements, such as accessing or completing work placements.
Mandatory student checks
Any unit which contains work integrated learning, a community placement or interaction with the community may require a police check, working with children check or other check. Refer the relevant unit guide.
Workload
As a student in the Faculty of Health you can expect to participate in a range of teaching activities each week. This could include classes, seminars, practicals and online interaction. You can refer to the individual unit details in the course structure for more information. You will also need to study and complete assessment tasks in your own time.
Work experience
Work-Integrated Learning
A core unit at third-year level, based on inter-professional learning (IPL), provides students the opportunity to draw together their cross-disciplinary learning to demonstrate the knowledge and the skills they have acquired throughout the course and apply them to real-world issues. HSH324 Integrated Learning for Practice involves interdisciplinary teams working to develop responses to real-world problems for presentation to a professional audience.
Entry information
Deakin University offers admission to undergraduate courses through a number of Admission categories. In all categories of admission, selection is based primarily on academic merit as indicated by an applicant's previous academic record.
All applicants must meet the minimum English language requirements.
For more information on the Admission Criteria and Selection (Higher Education Courses) Policy visit the Deakin Policy Library.
Credit for prior learning
If you have completed previous studies which you believe may reduce the number of units you have to complete at Deakin, indicate in the appropriate section on your application that you wish to be considered for credit for prior learning. You will need to provide a certified copy of your previous course details so your credit can be determined. If you are eligible, your offer letter will then contain information about your credit for prior learning.
Your credit for prior learning is formally approved prior to your enrolment at Deakin during the Enrolment and Orientation Program. You must bring original documents relating to your previous study so that this approval can occur.

You can also refer to the Credit for Prior Learning System which outlines the credit that may be granted towards a Deakin University degree.
Fee information
Estimated tuition fee - full-fee paying place
The tuition fees you pay are calculated depending on the course you choose.
The 'Estimated tuition fee' is provided as a guide only based on a typical enrolment of students completing the first year of this course. The cost will vary depending on the units you choose, your study load, the length of your course and any approved Credit for Prior Learning you have.
Each unit you enrol in has a credit point value. The 'Estimated tuition fee' is calculated by adding together 8 credit points of a typical combination of units for that course. Eight credit points is used as it represents a typical full-time enrolment load for a year.
You can find the credit point value of each unit under the Unit Description by searching for the unit in the Handbook.
Learn more about fees and available payment options.
Scholarship options
A Deakin scholarship could help you pay for your course fees, living costs and study materials. If you've got something special to offer Deakin - or maybe you just need a bit of extra support - we've got a scholarship opportunity for you. Search or browse through our scholarships
Entry pathways
This course provides a pathway to higher degree by research courses (if students undertake an additional Honours year) and other postgraduate coursework programs.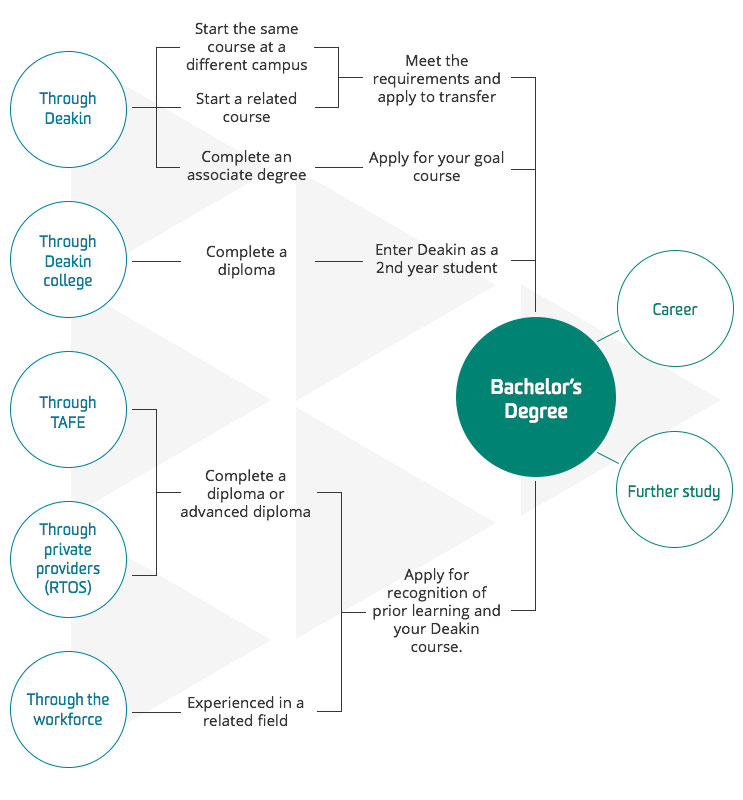 Tap image to expand
Disclaimers:
Through Deakin College and TAFE: Completion of diploma and minimum academic requirements apply to enter Deakin University.
Through Deakin: Transfers within Deakin are subject to availability and meeting minimum academic requirements.
Career outcomes
As a graduate of this combined course you have the opportunity to broaden your career opportunities. The type of options available to you will depend on the major sequences you take within your course.

Depending on the study areas you choose throughout the health sciences component of this course, you may qualify to work in areas such as health promotion, health education, community health, project management, program planning, case management, counselling, family and community support, housing services, regional health service planning, sports psychology, sports nutrition and sports development.

An arts degree provides skills for a wide range of careers. Graduates may find careers in international relations, journalism, professional writing, advertising, media, photography, multimedia, publishing, public relations, marketing, sales, personnel and industrial relations, government, administration, policy development, research, business, banking, finance, community services, ethnic affairs, psychology, social work, community development, education, policing, the security industry, performing arts (including dance and drama) and visual arts.
Course learning outcomes
Deakin's graduate learning outcomes describe the knowledge and capabilities graduates can demonstrate at the completion of their course. These outcomes mean that regardless of the Deakin course you undertake, you can rest assured your degree will teach you the skills and professional attributes that employers value. They'll set you up to learn and work effectively in the future.
See course entry for Bachelor of Health Sciences (H300) or Bachelor of Arts (A300)
Still haven't found what you are looking for?