Overview
Deakin's courses in health economics give graduates a strong theoretical foundation in a range of areas, plus the analytical and quantitative skills to understand the complexities of healthcare financing.
By studying with us, you'll join the largest health economics team in Australia and get specialist training in the application of health economics to health policy, health technology assessment and the healthcare system.
Largest health economics team
The Master of Health Economics is designed and delivered by Deakin Health Economics, one of the largest academic groups of health economists in an Australian university.
Choosing the right course
If you're interested in a career in this discipline, Deakin can help you get there.
Are you new to this area of study?
If you haven't previously worked or studied in this area, you'll need to complete an undergraduate course before moving on to our specialised postgraduate programs.
Browse the undergraduate offerings in some of our other health sciences and allied health disciplines, or in business.
Are you working or studying in this area?
If you've completed an undergraduate course or have professional experience in this field, Deakin's postgraduate offering will help you reach your career goals.
Health economics courses
Study with Deakin and we'll help you transform your passion into a successful and rewarding career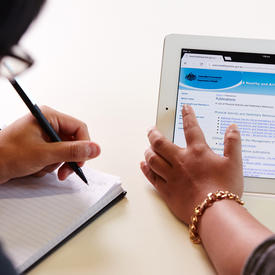 Research with us
Deakin's health economics teaching and research staff are leaders in their field and represent the largest academic health economics cohort in Australia. The team offers research supervision in areas such as resource allocation and priority setting, health economics of maternal and child health care, obesity, nutrition, mental health, diabetes and disability.
Who we work with
We partner with a range of federal and state government departments, national and international research institutes, universities and large national not-for-profit organisations.
Some of our current collaborators include:
Cancer Council Victoria
Centre on Population Approaches for Non-Communicable Disease Prevention
The George Institute for Global Health
Menzies School of Health Research, Darwin
Movember Foundation
Orygen (the National Centre of Excellence in Youth Mental Health)
Oxford University
Pacific Research Centre for the Prevention of Obesity and Non-Communicable Diseases (C-POND)
Queensland Centre for Mental Health Research, University of Queensland
School of Public Health, University of Queensland
Western Pacific Region
World Health Organization.
Career opportunities
As a graduate, you can further your career opportunities in government and non-government organisations, pharmaceutical, consulting and insurance companies, community and tertiary healthcare advisory boards, and organisations such as WHO, OECD, the World Bank and other international associations.
You'll also have the opportunity to progress to a PhD at Deakin, and we'll offer you pathways to a career in academia.
Browse other disciplines within health sciences and allied health
Choose an area that you're interested in and learn how Deakin's extensive range of study options and experiences can help turn your dreams into reality.
Still haven't found what you are looking for?