Get work-ready
A rewarding career in a health-related field gives you the chance to reduce health disparity and to help people – whether in Australia or overseas – to lead fuller, healthier and happier lives. You'll have the chance to enhance your employment prospects and consolidate your knowledge and skills through an industry placement or volunteer unit, while also learning in our state-of-the-art facilities like the $53m Regional Community Health Hub (REACH).
Undergraduate
Undergraduate (your first degree)
An undergraduate degree is generally completed between two to four years, depending on the pattern of study and any recognition of prior learning you may have. Associate degrees, bachelor and bachelor with honours are all undergraduate degrees.
Postgraduate
Postgraduate (further study)
A postgraduate qualification can be undertaken by students who have already completed an undergraduate degree or possess significant, demonstrable work experience. Postgraduate courses include graduate certificates, graduate diplomas, masters and PhDs, as well as specialist programs for industry professionals.
Research
Higher Degrees by Research (supervised research)
Research degrees are research based master's or PhD programs that focus on a single area of expertise. They provide students the opportunity to carry out highly specialised research under expert supervision.
Become a highly sought-after specialist
The health and human services sector is one of the largest and fastest growing industries in Australia and the world. With ageing populations and public health issues like obesity, heart disease, and chronic illness on the rise, employability in the sector is strong, and continually increasing.
A health sciences degree allows you to concentrate your studies on up to three specialised health-related areas from our 13 options. That means you'll gain unique knowledge and be able to combine related disciplines, making you a highly sought-after graduate within the growing health sector.
Join a sector
with a healthy future
The health care and social assistance industry is projected to make the largest contribution to employment growth in Australia. It's projected to grow 14.2% by November 2025. Health professionals overall will also experience strong future growth, growing 15.2% by November 2025.*
Career opportunities
Depending upon your specialisations, your health sciences degree can prepare you for work in the following roles and fields:
case manager
disability support planner
family/community/
refugee/Indigenous project officer
environmental and sustainability officer
exercise specialist
food and nutrition policy developer
food scientist
health and sports marketer or PR officer
health educator or counsellor
health promotion officer
international aid worker
lifestyle and wellness professional
medical biotechnology researcher
nutrition and health promotion coordinator
policy adviser
public health practitioner
regional health service planner.
Create your own career path
You can become a specialist in two to three major areas with a Bachelor of Health Sciences degree. Combining your interests in multiple majors can increase your competitiveness for a variety of health roles. Use our interactive guide to discover your options at Deakin.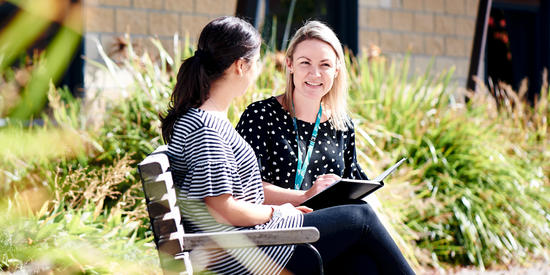 How placement sets you up for a successful health sciences career
Discover how completing a placement as part of your health sciences degree will prepare you with the real-world skills for a successful career.
Research with us
If you're passionate about health sciences, a Bachelor of Health Science (Honours) paves the way to a higher degree by research. Deakin's research in medical and health sciences was awarded the highest possible ranking in 2018.* Your research can be undertaken through our research centres and clusters, including CHASE and Institute for Health Transformation.
Study a Bachelor of Health Science at Deakin
Shala's story
Deakin's Bachelor of Health Sciences allows you to explore all areas of the health sector, one of the largest and fastest growing industries in Australia and around the world.
Lily's story
Discover how you can combine majors to get the most out of your health sciences degree, and advocate wellbeing across communities. This is Lily's story.
David's story
Tailor your degree to suit your passions and interests with a Bachelor of Heath Sciences at Deakin.
Research supervisors in health
Dr Elyse Warner and Dr Hayley McKenzie talk about their experience supervising honours students, and their research interests covering the importance of housing in health and wellbeing, and low-income single parents and their experience with the welfare and child support system.
Footnotes
*Labour Market Information Portal, 2020 Employment Projections – for the five years to November 2025.
*2018 Excellence in Research for Australia (ERA)
Browse other disciplines within health and community services
Choose an area that you're interested in and learn how Deakin's extensive range of study options and experiences can help turn your dreams into reality.