Experience real-world learning
Ranked in the top 1% of universities globally*, our School of Nursing and Midwifery is renowned for its facilities, research and teaching excellence. Our courses are developed in consultation with our healthcare partners, ensuring you're always connected to those at the forefront of industry. You'll be exposed to a range of clinical environments and settings in our purpose-built clinical simulation centres. Through practical, hands-on learning you'll develop a solid foundation of core skills to give you career confidence and clear employment outcomes upon graduation.
Disciplines within nursing and midwifery
Courses within Nursing and midwifery
Learn in the real world
You'll be exposed to real-life scenarios in healthcare settings as soon as you start studying. It's no wonder you'll graduate as a registered nurse and/or a midwife with a higher chance of employment than other graduates around the country.
Higher employment rates than Australian average
The high likelihood of our undergraduates gaining employment# is a testament to the great learning experience at Deakin – from teaching excellence and on-the-job learning to our state-of-the-art simulation centres.
Practical, real-world experience
Early exposure to clinical environments lets you develop and consolidate your skills, so you graduate job-ready. When you're not on a clinical placement, you'll be learning at purpose-built learning spaces with state-of-the-art equipment.
Research excellence
Deakin's School of Nursing and Midwifery is one of Australia's most research-active schools. Our staff have many years of supervision experience and are supported by collaborative relationships with numerous hospitals, clinics, healthcare networks, communities and support centres.
Get professional recognition
After completing a Deakin nursing course, you're eligible to apply for registration as a registered nurse with the Nursing and Midwifery Board of Australia (NMBA).
On completion of the Bachelor of Nursing/Bachelor of Midwifery, you're eligible to register as a nurse and/or midwife.
The future of nursing is at Deakin
Get an insight into our world-class facilities available to nursing and midwifery students within the Faculty of Health.
The course has been better than I hoped for. The teachers at Deakin are extremely supportive and we have lots of class discussions.
Bianca Bartholomew
Bachelor of Nursing/Bachelor of Midwifery
Experience the world while you study
Thanks to partnerships with organisations all over the world, there are several opportunities to gain an international perspective on your studies.
For example, Bachelor of Nursing students can undertake a trimester with VIA University College, Viborg (Denmark), and gain credit towards their degree. You may also have the opportunity to participate in an international study tour as an elective unit to explore health care in another country, such as Bhutan, China, the Philippines or Thailand.
These international experiences enable you to appreciate the importance of the nurse's role in different environments and understand the meaning of global citizenship through practical experience.
Note: We acknowledge that the situation regarding the coronavirus (COVID – 19) outbreak is evolving and fast-moving, however we are hopeful that our study tour programs will still proceed in 2021. The safety of our students is our priority and we will ensure we communicate if there are any changes to the status our programs.
Top 30 for nursing worldwide
Deakin's ranked among the best in the top 30 universities in the world for its nursing courses, based on the 2020 QS World University Rankings*, which are informed by academic and employer reputation, as well as research impact.
Latest articles
How to become a midwife: your study options
There's more than one way to study midwifery at Deakin, and it's worth weighing up which option will best suit your lifestyle and career goals.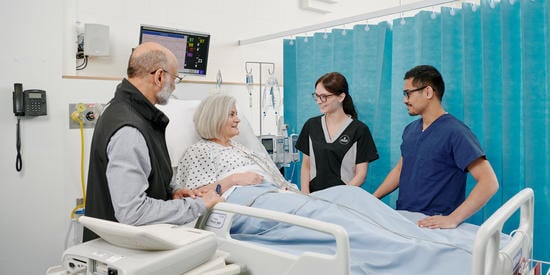 What really happens on nursing placement?
Discover how completing a placement as part of your nursing degree prepares you with the real-world skills for a successful and rewarding career.
Footnotes
*QS World University Rankings by Subject 2020
#Student Experience Survey 2017 and 2018