Alumni Profiles
Deakin University is actively seeking the involvement of alumni to share their personal experiences of Deakin and life.
Deakin alumni have taken so many varied paths and it is important that this diversity and depth is both promoted and celebrated. The importance of shared experience cannot be underestimated. It is the personal stories that inspire, make us reflect and even change our life attitudes and direction.
If you would like to be profiled please contact the Alumni Relations Office to request a questionnaire by emailing deakinalumni@deakin.edu.au
To view the profiles of previous Alumni Award Winners, please visit the Alumni Awards Honour Roll.
Faculty of Arts and Education
Joshua Brown
Master of Arts, Writing and Literature 2013
Gracia Baylor AM
Bachelor Of Arts
Jan Drew
Bachelor of Education (Secondary)
Jenny Yates
Bachelor of Arts (Professional and Creative Writing) 2013
Rosalind Bragg
Master of Politics and Policy 2009
Madison Robinson
Bachelor of Education (Primary) 2010
Young Alumni of the Year Award 2014
Emeritus Professor Douglas Kirsner
Personal Chair, Philosophy and Psychoanalytic Studies
Aaron Sterns
Bachelor of Arts (Honours) 1994
Richard Bennett
Bachelor of Arts (Psychology) Honours 1996
Nazariah Sahu Palar
Master of Teaching English to Speakers of Other Languages 2010
Deakin Alumni of the Year Award 2011
Alan Murphy
Master of Arts (International Relations) 2008
Dr Gillian Turner
Bachelor of Arts (Hons) 1992 and
Doctor of Philosophy 1996
Darcy Bonser
Bachelor of Contemporary Arts 2008
Matthew Newland
Bachelor of Education (Primary) 2007 and
Master of Education (Educational Leadership and Administration) 2013
Luke Griffiths
Bachelor of Arts/Bachelor of Commerce 2005
Sean Jesudason
Bachelor of Arts (International Relations/Media Communications) 2008
Staff member 2008-
Nur Farisya Binti Abdul Shukor
Bachelor of Arts (Public Relations) 2007
Fiona McCallum
Bachelor of Arts (Professional Writing) 2000
Faculty of Business and Law
Victor Xu
Master of International Trade and Business 2000 and
Graduate Diploma of International Trade 1999
James Osenaris
Bachelor of Commerce 2006

Mark Hui
Bachelor of Commerce (Honours) 2004
Faculty of Health
Hannah Gentile
Master of Human Nutrition 2010
Deakin Young Alumni of the Year Award 2012
Faculty of Science, Engineering and Built Environment
Nino Ficca
Bachelor of Engineering (Hons) 1982
Alumni of the Year Award 2014
Anthony (Tony) Arnel
Bachelor of Architecture 1979
Janelle Boynton
Bachelor of Arts (Architecture) (Honours) 1998 and Master of Architecture 1999
Nicole Walters
Bachelor of Arts (Architecture) 2001 and Bachelor of Architecture 2007
Saifuddin Bin Ahmad
Bachelor of Architecture 1983
Dr George (Alex) Bremner
Bachelor of Arts (Architecture) 1997, Bachelor of Arts (Architecture) Hons 1998 and Master of Architecture 2001
Deakin Alumni of the Year Award 2011
Rajesh (Raj) Marfatia
Bachelor of Arts in Architecture 1993 and Bachelor of Architecture 1998
Dr Adam Tomison
Bachelor of Science (Hons) 1988
Deakin Alumni of the Year Award 2011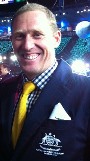 Page custodian: Vice-President (Advancement) Last updated: