Alastair Lee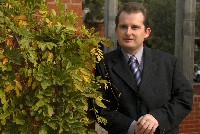 Bachelor of Commerce 1996 and Bachelor of Laws 1998
Deakin commerce and law graduate and former student resident Alastair Lee has certainly taken a very different career path after initially practising law.
Now Deakin's Alumni Relations Manager, Alastair says his decision to undertake a double degree was a good one.
"I was a barrister and solicitor in the litigation department of a mid-sized country firm for nearly three years and found I really wasn't enjoying the stress that goes with dealing in family, criminal and debt-recovery law matters. Since leaving the law I certainly haven't missed the long hours, ordinary pay and stress that legal practice can involve."
"A job came up with Deakin University in 2001 to market their undergraduate and postgraduate courses and I jumped at the chance to put my commerce degree to use and do something totally different. One of the best things I ever did with my education was undertaking a commerce and a law degree at Deakin as it just broadened my career options so much," he said.
Commencing at Deakin as a marketing officer, Alastair was responsible for coordinating the undergraduate marketing campaigns for Deakin in the Geelong, central highlands, western suburbs and south-western regions of Victoria before moving into his current position in 2004 to coordinate the fledgling Deakin alumni program.
Alastair believes the Deakin alumni program is an important addition to the operations of the University.
"As a graduate of Deakin myself, I believe it is important to encourage an ongoing relationship between our former students and the University to our mutual benefit. My current role allows me to develop this exciting project from the perspective of a graduate and also as an employee of Deakin which can only be of benefit in helping to develop the Deakin Alumni Community", he said.
As for the progress of the alumni community, Alastair is pleased with how things have progressed in recent years.
"The alumni community has grown quickly and it is being strongly supported by our alumni and the wider University. Our registrations have grown strongly in recent years and members have access to some great services and networking events. I might be biased but I really believe that Deakin has one of the best and most relevant Alumni programs in Australia."
In addition to his work with alumni, Alastair is pursuing his passion for music and performing and has released a jazz-orientated CD entitled Influences that showcases his singing and song-writing abilities. He is also lead singer of the Seb Big Band based out of Ballarat.
To visit Alastair's website go to http://www.alastairlee.com.au/ .
Page custodian: Vice-President (Advancement) Last updated: