Apply for cross-institutional study
If another institution offers a unit or units not offered at Deakin that you want to do as part of your course, you may be able to enrol and get credit towards your Deakin degree. Likewise, students from other universities may apply to enrol in units at Deakin. Prior approval from your faculty/institution is required.
Students from other institutions
Students from other institutions may be able to enrol in approved units at Deakin and receive credit towards their course at their home institution.
Choose a unit you want to take by using the unit search tool on the Handbook website. Read the unit descriptions, trimester and mode availability (e.g. on or off campus), prerequisites, credit point value and assessment details, to choose the units most suitable to your current course.
Applications are made by submitting a Cross Institutional Application Form along with all relevant documents. Unsuccessful applicants will be notified.
You may apply for units in more than one trimester on the application form. However, if you apply for only one trimester and subsequently want to take additional units at Deakin, you need to submit a new application form for the additional units.
Applications are assessed by the relevant Deakin faculty. If your application is approved you will be sent instructions on how to confirm your enrolment. You will then have the privileges and responsibilities of a student at Deakin and an invoice for any fees payable will be available online via StudentConnect.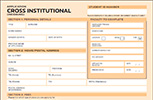 Cross Institutional Application Form
PDF
0.25 MB
Commonwealth supported students
Due to the limited places available in some units, it may not always be possible for Commonwealth supported students from other institutions to also be offered Commonwealth Supported Places at Deakin.
Evidence of current funding arrangements with your home institution is required to enable Deakin to enrol you in the correct funding type (e.g. a copy of your most recent Commonwealth Assistance Notice).
If you are applying for a Commonwealth supported place you must complete a new Commonwealth Assistance Form (HECS-HELP or FEE-HELP) electronically on StudentConnect once you receive your offer from Deakin.
Applicants are encouraged to return their completed forms and relevant documentation as early as possible as places may be limited.
Applications open
Applications close
Trimester 2, 2014
14 April 2014
6 July 2014
Deakin University charges fees for cross-institutional unit enrolments. These fees are trimester based and vary depending on whether you are a Commonwealth supported or fee-paying student at Deakin University. The cost of each unit depends on the government classified area of study the unit belongs to.
---
Deakin students enrolling in units at other institutions
Continuing Deakin students may apply to study units offered at another Australian tertiary institution and have them credited to their Deakin University degree. Prior approval from the relevant faculty is essential. Units approved for cross-institutional study are normally restricted to those not offered by Deakin University. Each application is assessed individually. Off-campus students generally cannot study units from another university in their first year of enrolment.
Students who have entered their course with credit for prior learning may find that there are restrictions on the number of cross-institutional units they can study. These should be checked with their Enrolment Officer / Course Adviser.
Approval from the host institution is also required. You should enquire as early as possible to ensure you meet the host institution's application deadlines.
Results
Results from cross-institutional enrolment at other institutions will be recorded on Deakin University academic records as EP (External Pass) or N (Fail).
Results must be sent to Deakin by:
Trimester 3 units - 11 April 2014
Trimester 1 units - TBC
Trimester 2 units - TBC