Key facts
Overall IELTS score of 6.5 with no band less than 6.0 (or equivalent). More information is available at www.ielts.org
3 years full-time or part-time equivalent
Current Deakin Students
To access your official course details for the year you started your degree, please visit the handbook
Course information
Learn about the fascinating role of food and nutrition in human health and disease prevention.
Today's emphasis on nutrition science has created a demand for qualified nutrition professionals. As a graduate of this course, you will find opportunities to work in careers requiring knowledge of food, nutrition and health. The course can be used as a pathway into the Master of Dietetics.
If you are interested in a career in the food industry, you can choose to undertake a food Innovation major sequence, which focuses on the innovative design of healthy foods to meet consumer wants which provides key knowledge and skills for employment as a food scientist in the food industry.
You may also choose to undertake an industry placement or volunteering elective unit to get hands-on experience while completing your degree, or choose an elective overseas study tour.
Add diversity to your degree by undertaking elective units in complementary areas such as health promotion, psychology, physical activity and health or exercise science
Read More
Course structure
To complete the Bachelor of Nutrition Science, students must attain 24 credit points. Most units (think of units as 'subjects') are equal to 1 credit point. In order to gain 24 credit points, you will need to study 24 units (AKA 'subjects') over your entire degree. Most students choose to study 4 units per trimester, and usually undertake two trimesters each year.

The course comprises a total of 24 credit points, which must include 16 core units (these are compulsory) and 8 elective units (you can choose which ones to study).
You are required to complete HSN010 Food and Nutrition Laboratory Safety prior to your first laboratory based unit in this course.
Students are required to meet the University's academic progress and conduct requirements. Click here for more information.
Core units
Course structure applies for students who commenced in 2018 onwards. Students who commenced prior to 2018 should refer to previous online Handbooks or consult your course enrolment officer.
Please refer to the School of Exercise and Nutrition Sciences page for course map information.
Level 1 - Trimester 1
Level 1 - Trimester 2
plus two elective units (recommended at Level 1)
Level 2 - Trimester 1
plus 2 HSN-coded units (selective or Food Innovation major sequence)
plus 1 elective unit (recommended at Level 1 or Level 2)
Level 2 - Trimester 2
plus 1 HSN-coded unit (selective or Food Innovation major sequence)
plus two elective units (recommended at Level 2)
Level 3 - Trimester 1
plus 2 HSN-coded units (selective or Food Innovation major sequence)
Level 3 - Trimester 2
plus 1 HSN-coded unit (selective or Food Innovation major sequence)
plus one elective unit (recommended at Level 2 or Level 3)
Students who want to complete H718 Master of Dietetics pre-requisites must enrol in ALL the following elective units:
If an exercise physiology unit has been completed at level 2 (e.g. HSE201 Exercise Physiology, it must be combined with one of these units to meet H718 Master of Dietetics pre-requisites:
Major sequences
Refer to the details of each major sequence for availability.
It is recommended that students take the following major sequence:
Alternative major sequences can be undertaken from undergraduate courses offered by any faculty at Deakin University (subject to unit and course rules).
Other major sequences available include:
Note: Minor sequences are not available to H315 Bachelor of Nutrition Science students.
Students can choose to undertake majors from other courses as long as they can fit the major into their course structure and the majors are available for you to undertake.
Please ensure you discuss your request with your Course Adviser to ensure you are still meeting your course rules
Elective units
Electives are offered subject to availability of resources and quotas where applicable.
Trimester 1
Trimester 2
Key information
Award granted
Bachelor of Nutrition Science
Year
2019 course information
VTAC code
1400514961 - Burwood (Melbourne), Commonwealth Supported Place (HECS)
Approval status
This course is approved by the University under the Higher Education Standards Framework.
Australian Qualifications Framework (AQF) recognition
The award conferred upon completion is recognised in the Australian Qualifications Framework at Level 7.
Campuses by intake
Campus availability varies per trimester. This means that a course offered in Trimester 1 may not be offered in the same location for Trimester 2 or 3. Read more to learn where this course will be offered throughout the year.
Trimester 1 - March
Start date: March
Available at:
Trimester 2 - July
Start date: July
Available at:
Deakin splits the academic year into three terms, known as trimesters. Most students usually undertake two trimesters each year (March-June, July-November).
Additional course information
Course duration - additional information
Course duration may be affected by delays in completing course requirements, such as accessing or completing work placements.
Mandatory student checks
Any unit which contains work integrated learning, a community placement or interaction with the community may require a police check, working with children check or other check. Refer the relevant unit guide.
Workload
As a student in the Faculty of Health you can expect to participate in a range of teaching activities each week. This could include classes, seminars, practicals and online interaction. You can refer to the individual unit details in the course structure for more information. You will also need to study and complete assessment tasks in your own time.
Recognition of prior learning
If you have completed previous studies which you believe may reduce the number of units you have to complete at Deakin, indicate in the appropriate section on your application that you wish to be considered for Recognition of Prior Learning. You will need to provide a certified copy of your previous course details so your credit can be determined. If you are eligible, your offer letter will then contain information about your Recognition of Prior Learning.
Your Recognition of Prior Learning is formally approved prior to your enrolment at Deakin during the Enrolment and Orientation Program. You must bring original documents relating to your previous study so that this approval can occur.

You can also refer to the Recognition of Prior Learning System which outlines the credit that may be granted towards a Deakin University degree.
Fee information
Estimated tuition fee - full-fee paying place
The tuition fees you pay are calculated depending on the course you choose.
The 'Estimated tuition fee' is provided as a guide only based on a typical enrolment of students completing the first year of this course. The cost will vary depending on the units you choose, your study load, the length of your course and any approved Recognition of Prior Learning you have.
Each unit you enrol in has a credit point value. The 'Estimated tuition fee' is calculated by adding together 8 credit points of a typical combination of units for that course. Eight credit points is used as it represents a typical full-time enrolment load for a year.
You can find the credit point value of each unit under the Unit Description by searching for the unit in the Handbook.
Learn more about fees and available payment options.
Scholarship options
A Deakin scholarship could help you pay for your course fees, living costs and study materials. If you've got something special to offer Deakin - or maybe you just need a bit of extra support - we've got a scholarship opportunity for you. Search or browse through our scholarships
Entry pathways
This course can be a pathway to: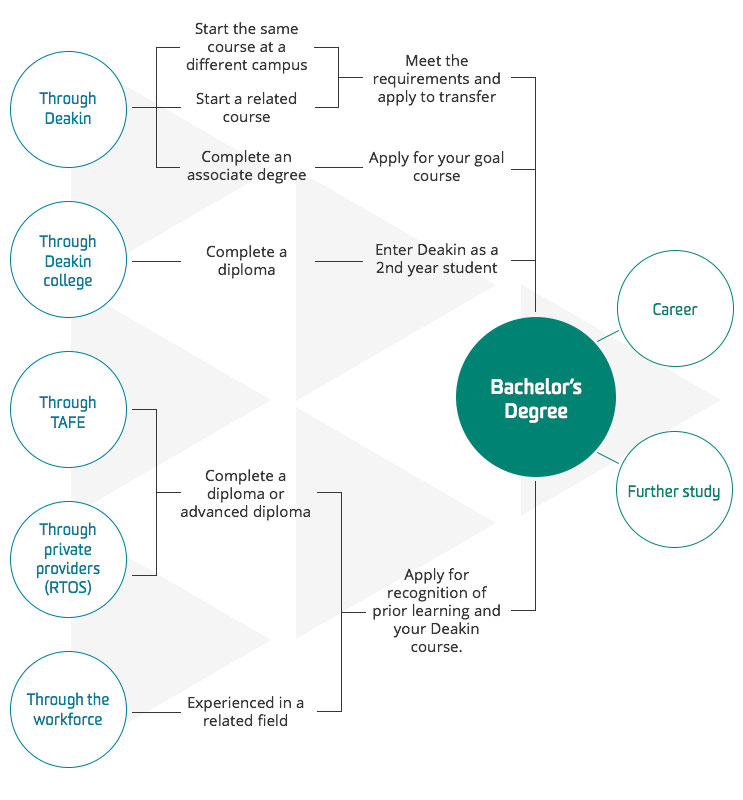 Tap image to expand
Disclaimers:
Through Deakin College and TAFE: Completion of diploma and minimum academic requirements apply to enter Deakin University.
Through Deakin: Transfers within Deakin are subject to availability and meeting minimum academic requirements.
Career outcomes
After successfully completing this course you will be well prepared for careers requiring knowledge of nutrition, food and health. If you complete the Food Innovation major, your knowledge of food analysis, sensory evaluation, product development, food safety and food manufacturing will well equip you for careers in the food industry where your knowledge of nutrition, food composition and processing will facilitate the creation and marketing of food products that help to improve health. You may also gain employment in diverse areas including: food policy, food regulation, quality assurance and control, food wholesale and retail, food laboratories and research institutes, nutrition and agribusiness, consumer education and awareness campaigns, private practice, and community nutrition. Please refer to our School's Careers website for more information.
Professional recognition
Enrolled students and graduates can apply for membership of the Nutrition Society of Australian (NSA). If you choose to undertake the food innovation major sequence, you may also be eligible for membership of the Australian Institute of Food Science and Technology (AIFST).
Course learning outcomes
Deakin's graduate learning outcomes describe the knowledge and capabilities graduates can demonstrate at the completion of their course. These outcomes mean that regardless of the Deakin course you undertake, you can rest assured your degree will teach you the skills and professional attributes that employers value. They'll set you up to learn and work effectively in the future.
| | |
| --- | --- |
| Graduate Learning Outcomes | Course Learning Outcomes |
| Discipline Specific knowledge and capabilities | Apply food and nutrition and health knowledge from a range of perspectives. |
| Communication | Select and use a variety of engaging communication modes to disseminate knowledge to individuals, groups, government and non-government organisations and health professionals. |
| Digital Literacy | Select and use appropriate technologies to source, understand, evaluate, and communicate information to professional networks and communities. |
| Critical thinking | Source and critically analyse the food and nutrition literature to apply an evidence-based approach to the field. |
| Problem Solving | Identify and apply practical solutions to a range of changing and complex food and nutrition and health issues. |
| Self-management | Employ self-directed, reflective work and learning practices in a responsible manner to professionally contribute to nutrition sciences. |
| Teamwork | Work collaboratively as part of interdisciplinary teams with a range of stakeholders to advance the field of nutrition sciences. |
| Global Citizenship | Engage in professional and ethical practice that demonstrates awareness of, and adaptability to, diverse social, cultural and environmental contexts in nutrition sciences. |
Still haven't found what you are looking for?