Key facts
4 years full-time or part-time equivalent
Students who meet eligibility requirements will enrol in H455 Bachelor of Occupational Therapy (Honours) for their fourth year of study.
Current Deakin Students
To access your official course details for the year you started your degree, please visit the handbook
Course information
As a qualified occupational therapist you will have the specialised knowledge to improve your clients' lives – at home and at work - and to promote good health and wellbeing in workplaces. Study a Bachelor of Occupational Therapy at Deakin and get rewarding, real-world training commencing in your first year.
Occupational therapists work collaboratively with people who might have limitations, including those caused by injury, health conditions, delayed development or the effects of ageing. Occupational therapy (OT) interventions are designed to enhance participation in everyday life and may include activities or assistive devices, or modification of home or work environments to facilitate active engagement in work, home, social and leisure activities.
This course draws upon Deakin's core strengths in health education to ensure you receive a relevant, practical OT education that meets contemporary workforce needs.
Throughout the course, you will get a chance to consolidate your skills through a series of supervised placements which commence in year 1. You will undertake seven different placement opportunities throughout your degree, during 1000 hours of practical work experience in a diverse range of OT practices including: childhood development (including schools and hospitals); acute and rehabilitation hospital settings; community health settings; aged care and more.
You will also benefit from our on-campus clinical skills laboratory which simulates real life settings and enables you to gain the knowledge required to meet the needs of your future clients. Our purpose-built OT lab will give you access to hands-on facilities with a range of assistive technologies and rehabilitation areas in which to practice.
Our occupational therapy staff have extensive experience in a diverse range of OT specialisations. In addition to being world leaders in their fields of research, many of our staff continue to practice their expertise in the real-world.
You can travel around the world with your occupational therapy qualification from Deakin. Our Bachelor of Occupational Therapy is accredited by the Occupational Therapy Council (Australia and New Zealand) and the World Federation of Occupational Therapists, allowing graduates to practise professionally in Australia and overseas. Our OT graduates have found roles with organisations like Alfred Health, Barwon Health, Karingal and the Department of Education, as well as in various special schools and in private OT practice.
Selected students will have the opportunity to complete an honours year as part of this course.
Read More
Course structure
The Bachelor of Occupational Therapy comprises 32 credit points, including 29 credit points of core units, 1 selective unit and 2 credit points of elective units.
To be awarded H455 Bachelor of Occupational Therapy (Honours) a person must
achieve at least a distinction average upon completion of level 3 studies;
successfully complete HSO302 Evidence-Based Occupational Therapy Practice 1
complete the four honours units at level 4 (listed under course structure H455 below).
Failure of a fieldwork component in the Bachelor of Occupational Therapy will normally lead to exclusion. Students will be required to complete at least one fieldwork component in a regional area of Victoria or adjacent areas.
Core units
Level 1 - Trimester 1
Level 1 - Trimester 2
Plus select one unit from the following choices:
Level 2 - Trimester 1
plus one elective unit
Level 2 - Trimester 2
plus one elective unit
Level 3 - Trimester 1
Level 3 - Trimester 2
Level 4 - Pass stream

Trimester 1
Trimester 2
Level 4 - H455 Bachelor of Occupational Therapy (Honours)
(CRICOS code: 088320A)
Trimester 1
Trimester 2
Elective units
Elective units may be chosen from any faculty in the University provided that prerequisites are met. A maximum of two elective units may be studied at level 1.
Sociology elective unit:
Key information
Award granted
Bachelor of Occupational Therapy
Year
2019 course information
VTAC code
1400415351 - Waterfront (Geelong), Commonwealth Supported Place (HECS)
Approval status
This course is approved by the University under the Higher Education Standards Framework.
Australian Quality Framework (AQF) recognition
The award conferred upon completion is recognised in the Australian Qualifications Framework at Level 7.
Campuses by intake
Campus availability varies per trimester. This means that a course offered in Trimester 1 may not be offered in the same location for Trimester 2 or 3. Read more to learn where this course will be offered throughout the year.
Trimester 1 - March
Start date: March
Available at:
Deakin splits the academic year into three terms, known as trimesters. Most students usually undertake two trimesters each year (March-June, July-November).
Additional course information
Course duration - additional information
Course duration may be affected by delays in completing course requirements, such as accessing or completing work placements.
Mandatory student checks
In accordance with Department of Human Services policy, all students are required to undertake a National Police Record Check prior to clinical placements in each calendar year of their course.
In accordance with the Department of Justice 2007, Working with Children Act 2005, amended 2017, all students are required to undertake a Working with Children Check at the commencement of their course. Students who fail to obtain a Police Record Check and a Working with Children Check prior to the commencement of clinical placement will not be able to undertake clinical placement and this will impede progress in the course.
Students may also be required to declare their immunisation status to satisfy the requirements of health organisations where they will be undertaking their clinical learning experience. A health organisation may refuse to accept a student for placement if the student's immunisation status is not satisfactory to the health organisation.
Workload
As a student in the Faculty of Health you can expect to participate in a range of teaching activities each week. This could include classes, seminars, practicals, online interaction and practicum placements. You can refer to the individual unit details in the course structure for more information. You will also need to study and complete assessment tasks in your own time.
Work experience
Work Integrated Learning
You will undertake a variety of practicum placements throughout the four years of the course, commencing in your first year. Practice Education provides you with the opportunity to gain valuable skills and experience under the supervision of qualified practitioners, which will enable you to practise confidently as an occupational therapist. You will complete a minimum of 1000 hours of practical experience. Practice Education is conducted in a range of settings including schools, hospitals, clinics, community health organisations and industry, in metropolitan, regional and rural locations. In a host agency, you can play a meaningful role in a variety of activities, including planning programs and events, undertaking needs assessments, developing evaluation tools, counselling, group work, completing literature reviews and producing promotional materials. Placements begin shortly after you commence your first year of study.

Practice Education
Details are available at the OT Field Education website
Entry information
Deakin University offers admission to undergraduate courses through a number of Admission categories. In all categories of admission, selection is based primarily on academic merit as indicated by an applicant's previous academic record.
All applicants must meet the minimum English language requirements.
Entry for applicants with recent secondary education (previous three years) will be based on their performance in the Victorian Certificate of Education (VCE) or its equivalent, with pre-requisite units 3 and 4; a study score of at least 30 in English EAL (English as an additional language) or 25 in English other than EAL. Applicants will be selected in accordance with the published Australian Tertiary Admission Rank (ATAR) for that year.
Refer to the VTAC Guide for the latest pre-requisite information www.vtac.edu.au
Entry for applicants with previous Tertiary, VET, life or work experience will be based on their performance in:
a Certificate IV in a related discipline
OR
a Diploma in any discipline
OR
successful completion of relevant study at an accredited higher education institution equivalent to at least two Deakin University units
OR
other evidence of academic capability judged to be equivalent for example relevant work or life experience
For more information on the Admission Criteria and Selection (Higher Education Courses) Policy visit the Deakin Policy Library.
Fee information
Estimated tuition fee - full-fee paying place
Not applicable
Estimated tuition fee - (CSP)?
The tuition fees you pay will depend on the units you choose to study as each unit has its own costs. The 'Estimated tuition fee' is provided as a guide only based on a typical enrolment of students undertaking the first year of this course. The cost will vary depending on the units you choose, your study load, the time it takes to complete your course and any approved Credit for Prior Learning you have.
Each unit you enrol in has a credit point value. The 'Estimated tuition fee' is calculated by adding together 8 credit points of a typical combination of units for that course. Eight credit points is used as it represents a typical full-time enrolment load for a year.
You can find the credit point value of each unit under the Unit Description by searching for the unit in the Handbook.
Learn more about fees and available payment options.
Scholarship options
A Deakin scholarship could help you pay for your course fees, living costs and study materials. If you've got something special to offer Deakin - or maybe you just need a bit of extra support - we've got a scholarship opportunity for you. Search or browse through our scholarships
Career outcomes
Employment opportunities for occupational therapists have never been greater due to a workforce shortage of qualified practitioners in this field. As a graduate of this course you will be able to assist people of all ages to engage in any aspect of daily living. You will help them achieve independence at home, at work and in the community, and help them enhance their quality of life. You may work with children with physical or intellectual disabilities, with people who have had accidents or are suffering from medical problems (e.g. hand therapy), or in aged care. You may work in areas including acute, psychiatric or rehabilitation hospitals; schools; community health; mental health; the workplace (such as in occupational health and safety and vocational rehabilitation); government; or in private practice.
Professional recognition
You can travel around the world with your occupational therapy qualification from Deakin. Our Bachelor of Occupational Therapy is accredited by the Occupational Therapy Council (Australia and New Zealand Ltd) and the World Federation of Occupational Therapists, allowing graduates to practise professionally in Australia and overseas.
All information regarding professional recognition is accurate at the date of publication. Enquiries regarding accreditation and professional membership should be directed to the School of Health and Social Development in order to ascertain the current status of accreditation at any future point in time beyond publication. Representations about accreditation apply only to the course, and the relevant professional body retains discretion as to who they admit as members of their association. Deakin University cannot exercise any control over membership of an external body.
Course learning outcomes
Deakin's graduate learning outcomes describe the knowledge and capabilities graduates can demonstrate at the completion of their course. These outcomes mean that regardless of the Deakin course you undertake, you can rest assured your degree will teach you the skills and professional attributes that employers value. They'll set you up to learn and work effectively in the future.
| | |
| --- | --- |
| Graduate Learning Outcomes | Course Learning Outcomes |
| Discipline Specific knowledge and capabilities | Apply specialised knowledge about occupation and health across the lifespan; and knowledge of research principles and methods, to provide person centred occupational therapy services for individuals, groups, organisations, communities or populations and to conduct an occupationally relevant research project. |
| Communication | Communicate effectively, professionally and respectfully with clients, families, carers, co-workers and colleagues using clear and appropriate language and communication modes. 2.2 Effectively communicate the implication of research findings for occupational therapy practice |
| Digital Literacy | Seek out and critically evaluate information located and accessed from digital and other technologies to inform occupational therapy practice, support continuing professional development, research projects and promote participation for people with diverse abilities. |
| Critical thinking | Critically assess, interpret, and evaluate information to plan and implement appropriate, person-centred occupational therapy intervention and to inform research ethics and activity. |
| Problem Solving | Effectively apply problem solving skills using critical thinking, professional reasoning, decision making and reflection to the design, implementation and evaluation of person centred occupational therapy service, research and scholarship. |
| Self-management | Demonstrate high professional standards through identification and implementation of independent learning and professional development strategies for the benefit of clients, families and others, colleagues and the profession. |
| Teamwork | Establish and maintain occupational therapy practice within inter-professional teams that is ethical, evidence based, professional, respectful and collaborative, and assume leadership, supervisory and management roles as appropriate. |
| Global Citizenship | Apply ethical, culturally relevant, professional and appropriate decision making which is respectful of the diverse social, cultural and environmental contexts within Australian and global communities. Justify the position of a research project within a national and international context. |
Entry pathways
This course provides a pathway to higher degree by research courses and other postgraduate coursework programs.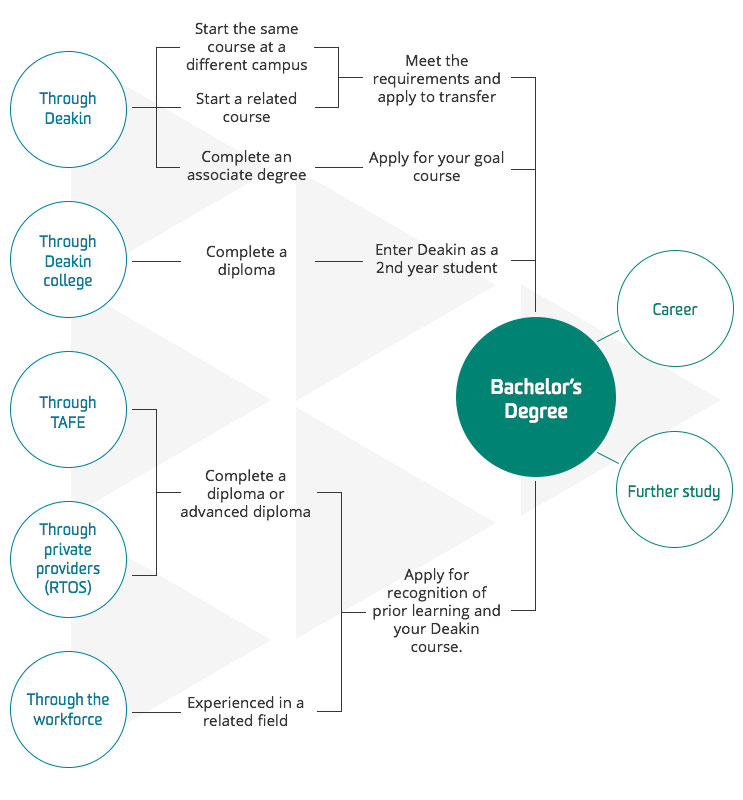 Tap image to expand
Disclaimers:
Through Deakin College and TAFE: Completion of diploma and minimum academic requirements apply to enter Deakin University.
Through Deakin: Transfers within Deakin are subject to availability and meeting minimum academic requirements.
Credit for prior learning
The University aims to provide students with as much credit as possible for approved prior study or informal learning which exceeds the normal entrance requirements for the course and is within the constraints of the course regulations. Students are required to complete a minimum of one-third of the course at Deakin University, or four credit points, whichever is the greater. In the case of certificates, including graduate certificates, a minimum of two credit points within the course must be completed at Deakin.
You can also refer to the Credit for Prior Learning System which outlines the credit that may be granted towards a Deakin University degree and how to apply for credit.
Faculty contact information
Still haven't found what you are looking for?