Organisational psychology
DISCIPLINE
Overview
Organisational psychologists apply science to the workplace to improve employee performance and wellbeing. As an organisational psychologist, you may work with organisations, teams and individual employees to devise strategies to recruit, motivate, develop, change and inspire.
Deakin has allowed me to find my strengths – I have gained so much confidence and been given the support to figure out who I want to be and how to get there.
Emma Stephens
Bachelor of Arts and Science/Bachelor of Arts (Hons) (Psychology)/Doctor of Psychology (Clinical)
Graduate work ready
Our placement program provides you with a wide range of organisational experiences in a variety of settings including manufacturing, retail, finance, public service and consultancies.
Choosing the right course
If you're interested in a career in this discipline, Deakin can help you get there.
Are you new to this area of study?
If you haven't previously worked or studied in this area, you'll need to complete an undergraduate course before moving on to our specialised postgraduate program.
Browse the undergraduate offerings in some of our other psychology disciplines.
Are you working or studying in this area?
If you've completed an undergraduate course or have professional experience in this field, Deakin's postgraduate offering will help you reach your career goals.
Alternatively, if you're a registered psychologist wishing to seek or retain supervisor endorsement, we offer courses and masterclasses approved by the Psychology Board of Australia.
Learn more about supervisor training for psychologists at Deakin
Organisational psychology courses
Study with Deakin and we'll help you transform your passion into a successful and rewarding career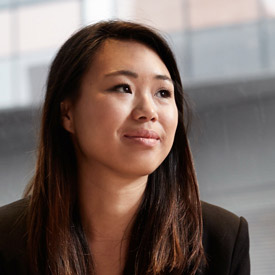 Research with us
Being a relatively new field, there are all sorts of uncovered and unexplored ways to enhance productivity in the workplace. Study a higher degree by research, develop your own theories and increase your employment opportunities.
Accreditation
The Master of Psychology (Organisational) meets the requirements for you to be able to register as a generalist psychologist with the Psychology Board of Australia and for membership of the Australian Psychological Society (APS).
Career opportunities
Organisational psychology is the fastest growing area of psychology in Australia and the United States. Working in this field, you can make a significant contribution in areas such as personnel selection, employee motivation, teamwork, communication skills, stress management, employee evaluation, job satisfaction, efficiency and productivity.
As a registered and accredited organisational psychologist, you may find employment as a practising organisational psychologist, or in an organisation as a psychologist working in areas such as:
change management
coaching mentoring and career development
employee management
employee research
learning and development
leadership and talent management
recruitment and selection
staff health and wellbeing.
What do our students say?
Organisational psychology graduate story
Jess Towicz discusses studying at Deakin and her psychology career at IBM.
Still haven't found what you are looking for?