Work related stress
The World Health Organisation (WHO) defines stress as "the reaction people may have when presented with demands and pressures that are not matched to their knowledge and abilities and which challenge their ability to cope." It is not a disease. However if stress is intense and goes on for some time, it can lead to mental and physical ill health (eg depression, nervous breakdown, heart disease). Workplace stress, if not properly managed, is associated with poor health and well-being, lower productivity and increased sickness absence.
Historically stress used to be divided into positive stress (eustress) and negative stress (distress). In this older view, "to be alive was to experience some form of stress". Nowadays the term "stress" is synonomous with negative stress and the word "pressure" or "challenge" is frequently used to describe positive stress.
What leads to work related stress?
Taking a simplified approach, stress can originate with work and/or personal sources. This stress can be reduced or offset by the support provided at work and/or from personal resources (family, friends etc). Equally this stress can be made worse or aggravated by lack of support from work or from staff member's personal resources. Excessive stress increases the risk of injury or illness.
It also affects personal performance and behaviour at work (and outside work). Managers can most effectively intervene by addressing work-related stressors: this is a requirement under the OHS Act. Managers can also provide support to their staff who are under stress, especially work-related stress. This may range from simply listening to a staff member and suggesting support through the Employee Assistance Program through to helping the staff member build their personal capabilities and resilience. Even when the major source of stress is personal (outside of work), managers can provide support to staff members through temporarily adjusting workloads or making other accommodations.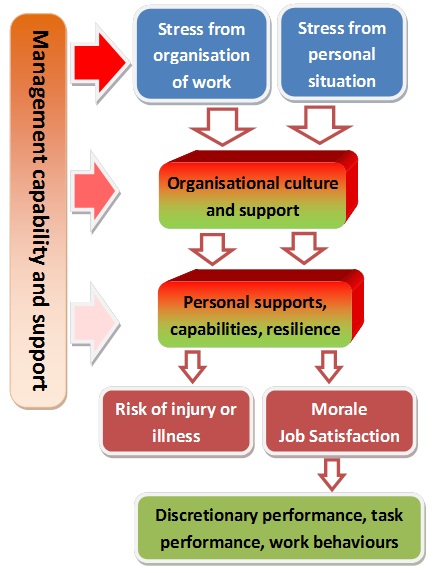 The United Kingdom Health and Safety Executive has identified six major factors in the workplace that can drive work related stress. These are:
Demands – such as workload, work patterns and the work environment.
Control – such as how much say the person has in the way they do their work.
Support – such as the encouragement, development and resources provided by the organisation, line management and colleagues.
Relationships – such as promoting positive working relationships to avoid conflict and dealing effectively with unacceptable behaviour.
Role – such as whether people understand their role within the organisation and whether the organisation ensures that they do not have conflicting roles.
Change – such as how organisational change (large or small) is managed and communicated in the organisation.
In Australia excessive work demands (demands) followed by workplace conflict (relationships) are the major cause of psychological injury in the workplace. This may be accentuated by a mismatch between the person's interpersonal and emotional competencies, their job skills, and the demands of the position they hold.
Frequently a seventh factor is included: work-life balance. This is the capacity and ability of individual workers to balance stress in the workplace with stress factors in their personal life. This may vary enormously over time due to a variety of reasons including mental health issues and disability.
View more detail on risk factors for workplace stress.
Managing stress
Managing work-related stress
Deakin seeks to control the risk of excessive stress. Among the ways excessive stress can be prevented is through:
fostering a co-operative and supportive work environment (support)
ensuring good communications within the team particularly where there are organisational and procedural changes (change)
ensuring adequate preparation for new roles and responsibilities through risk assessment and training (role)
enabling staff to report excessive workloads, interpersonal pressures, workplace conflict and symptoms of stress without fear of discrimination (relationships)
recognising early signs of stress in workers and taking action to provide appropriate interventions (support)
supporting workers in recovering from stress-related illnesses and managing the return to work after any period of sick leave so that excessive stress does not recur (support)
developing sound management practice based on equality of treatment (relationships)
effective workload allocation and feedback on performance (support)
providing information and training to enable staff to develop their skills and maximise their contribution to the success of Deakin (control).
Preventing workplace stress
Demand
Staff are provided with adequate and achievable demands in relation to the agreed hours of work
Staff skills and abilities are matched to the job demands;
Jobs are designed to be within the capabilities of staff
Staff concerns about their work environment are addressed.
Control
Where possible, staff have control over their pace of work
Staff are encouraged to use their skills and initiative to do their work
Where possible, staff are encouraged to develop new skills to help them undertake new and challenging pieces of work
Staff are encouraged to develop their skills;
Staff have a say over when breaks can be taken
Staff are consulted over their work patterns
Support
Managers are encouraged to support their staff and foster a co-operative and supportive environment
Staff are enabled and encouraged to support their colleagues
Staff know what support is available and how and when to access it
Staff know how to access the required resources to do their job
Staff members receive regular and constructive feedback
Managers are able to recognise the early signs of excessive stress and take action to provide appropriate interventions
Staff are supported while recovering from stress-related illnesses and their return to work after any period of sick leave is managed so that excessive stress does not recur
Relationships
Staff and managers promote positive behaviours at work to avoid conflict and ensure fairness
Staff share information relevant to their work;
The University has agreed policies and procedures to prevent or resolve unacceptable behaviour
Managers are encouraged and enabled to deal with unacceptable behaviour
Systems are in place to enable and encourage staff to report unacceptable behaviour
Staff feel comfortable to report excessive workloads, interpersonal pressures, workplace conflict and symptoms of stress without fear of discrimination
Role
Managers ensure that, as far as possible, the different requirements placed upon staff are clear, consistent and compatible
Managers provide information to enable staff to understand their role and responsibilities;
Staff are encouraged and expected to raise concerns about any uncertainties or conflicts they have in their role and responsibilities.
Change
Managers provide staff with timely information to enable them to understand the reasons for proposed changes;
Managers ensure adequate staff consultation on changes and provide opportunities for staff to influence proposals;
Staff are aware of the probable impact of any changes to their jobs. Where possible, staff are given training to support any changes in their jobs;
Staff are aware of timetables for changes;
Staff have access to relevant support during changes.
Role of managers/supervisors
Role of managers and supervisors
Managers and supervisors play a key role in the prevention and management of workplace stress: directly through the organisation of work and indirectly through the work culture. It is essential that managers assist and support their staff in managing stress and therefore enabling staff to do their job effectively.
Work stress factors, personal circumstances, personal capability and supportive management do not operate separately. Even in highly motivated and well supported team, prolonged exposure to high levels of work stress or very difficult personal circumstances will lead to a higher risk of a stress related injury. However in the short term supportive leaders will be working to reduce excessive stress, providing opportunities for recovery or working with staff members to help them balance their personal and work situations. Equally in the longer term, the supportive leader will be building team capability and resilience. Supportive leaders also encourage a 'care and concern' culture that includes the early reporting of problems and an awareness of the risk factors leading to stress related illness.
The following tools and guides will assist managers and supervisors to effectively prevent and manage workplace stress. In particular the supportive manager is aware of and is sensitive to the current level of stress in the workplace, and has management competencies to keep it within reasonable bounds.
Guidelines and Information
Building Manager Competency in Dealing with Stress
The Australian Human Rights Commission has released a guide that will assist managers and supervisors to find the best way to maximise productivity while reducing the incidence of illness in their workplaces. The Guide provides information on how to appropriately support workers with mental illness.
It also provides information about how to develop and promote a safe and healthy work environment for all workers. The guide is intended to help managers and supervisors understand their obligations under Occupational Health and Safety (OHS) and disability discrimination legislation and to understand mental illness and how to talk about mental illness.
Page custodian: Human Resources Division Last updated: