Christopher Kelly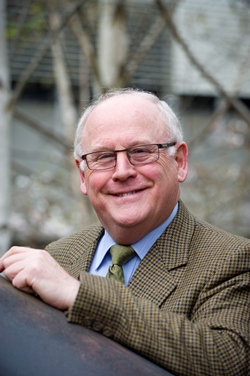 Christopher Kelly - A.G Inst Tech (Com) 1969; Graduate Diploma Financial Management (1976 UNE); Master of Economics (1981 UNE)) and Staff member GIT and Deakin University 1970-current
Deakin Alumni of the Year Award for outstanding service and contribution to Deakin University and his profession
In recognition of his long-standing and distinguished leadership, contribution and service to Deakin University and the higher education sector
Deputy Dean of the Faculty of Business and Law since 2005, Mr Chris Kelly is one of the longest serving academic members of staff in Deakin's history, with a career spanning 42 years.
Graduating from The Gordon Institute of Technology in 1969, Mr Kelly commenced his academic career as a Lecturer in the Department of Business Studies with The Gordon Institute in May 1970. When Deakin University began teaching in 1977, the then School of Commerce drew heavily on staff from the Gordon Institute of Technology and embarked on converting the Gordon's existing Bachelor of Business into what is today, the Faculty of Business and Law's Bachelor of Commerce degree. In 1977 Chris was promoted to the position of Senior Lecturer at Deakin University. Throughout his teaching career Chris has helped foster the careers of thousands of Deakin Commerce graduates.
Over his long and distinguished career, Mr Kelly has received numerous academic awards, been widely published and has held numerous leadership positions within the Faculty including; Director of the Bachelor of Commerce Program from 1988-1992, Deputy Dean, School of Management 1987-1990 and has been a member of sixteen different Deakin working parties, review panels and submission groups over his career with Deakin. He has been Deputy Dean of the Faculty of Business and Law since 2005.
Mr Kelly has been a major contributor to Deakin and is a well-known ambassador for the University having undertaken visiting teaching roles with various institutions including: University of Edinburgh, University of Strathclyde and the Strathclyde Business School, Scotland, Massey University, New Zealand and Capital University of Economics and Business in Beijing China.
Page custodian: Vice-President (Advancement) Last updated: