Managing information
Managing information effectively is an important skill. It involves knowing how to organise, store and share information.
Managing information for your studies video
Digital/Online Tools
There are a range of tools available to you that make storing, organising, and sharing information easier. Check out the table below to match your information management need to a supporting tool.
Deakin tools
Collaborate
Storage
Ideal for...
Pros
Cons
MS OneDrive for Business
Yes
Yes
Group work
1TB
Cloud-based
*Free
Full functionality limited to Deakin users
MS Teams
Yes
Yes
Group work
Cloud-based
*Free
OneNote
Yes
No
Taking notes
Cloud-based
*Free
Slack
Yes
Yes
Group work
Cloud-based
*Free
Personal tools
Collaborate
Storage
Ideal for...
Pros
Cons
Personal network drive (H: drive)
No
Yes
Saving documents
Secure
Automatic back-up
*Free
Deleted when you leave Deakin
External storage devices
No
Yes
Saving documents
Portable
Insecure
No automatic back-up
*Free for Deakin students and staff
Storing digital data for HDR students and researchers
HDR students and researchers at Deakin have access to additional digital storage options for their research data. For recommendations visit where should I store my digital data?
Important considerations
Securing your information
When deciding where to store your documents, you should consider:
Who needs access?
Should the information be public or private?
Is the information confidential?
Do you have a back-up?
Keeping track of different versions
Version control is very important. You can get confused tracking old versus current versions of your document. It's even more difficult when members of a group edit a shared document. Consider:
Does the software you are using support version control?
Have you saved a back-up of your files so you don't lose your work
Do you need to track the history of your document?
How will you name your files to help with tracking?
Managing your References
Keeping track of what you have read is important. In your assessments you will need to attribute the works of others. Find out about tools you can use to manage your references.
Get organised
Your files and folders
To make it easier to access your documents organise your files in a tiered folder structure and use descriptive folder and file names for the contents. For example: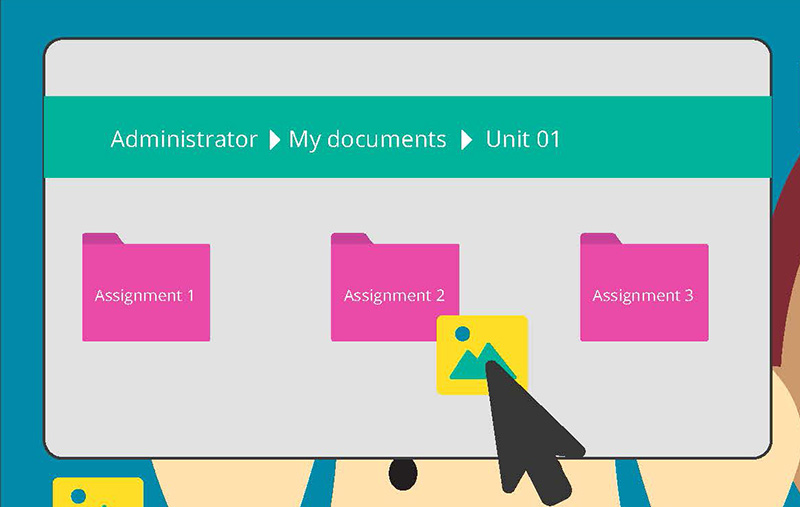 In this example the folders are arranged by unit with separate folders for each assessment.
Naming your files
When you are saving and organising your files, try naming the documents and folders in a way that makes sense. This will help ensure your files and data can be easily located.
Apply a consistent format to naming your files, for example:

In this example the document title can be broken down into sections:
The date format: YYMMDD
The Unit Code
The Document Title
The version Number
Each section is separated by a dash ( - ). This makes it easier to read each section, and using a dash instead of a space or an underscore ensures it can easily be read as a hyperlink.
When you are deciding on a file naming convention, consider:
Avoiding punctuation, use dashes rather than spaces
Making file names short, but meaningful
Incorporating the date in a file or folder name