Deakin research: Brutal episode has long-term impact on killer whales
Media release
21 May 2019
Killer whales in the Southern Ocean are still reeling from the devastating impact of culling by illegal fisherman more than 20 years ago, research from Deakin University has found.
The longitudinal study from researchers within Deakin's School of Life and Environmental Sciences and France's Centre d'Etudes Biologiques de Chize (CNRS) has revealed the killer whale population in subantarctic waters near the Crozet Islands remains less than half what it was when illegal fishing started in 1996.
In research published this week in the Proceedings of the National Academy of Science of the United States of America, the research team detail how the loss of family members in the whales' highly-organised social groups has had catastrophic long-term impacts for the remaining population.
Deakin marine scientist Dr Paul Tixier said killer whales are long-lived animals who bond in highly social family groupings, socially learning and transmitting behaviours in these groups, which were disrupted by the loss of family members.
"For example, once numbers were depleted, some of the whales tried to associate with whales in other groups, potentially to maintain the effectiveness of group hunting, which is a key feeding strategy for killer whales when capturing large prey," Dr Tixier said.
"But these new bonds were weak, sporadic and resulted in a lower survival for those whales remaining in the groups most impacted by the culling events in the 1990s. In addition to a decreased group size, the surviving whales may suffer from the loss of key family members such as older females, whose knowledge on finding food and hunting techniques benefits all family members."
Dr Tixier's team, led by CNRS researcher Dr Christophe Guinet and student Marine Busson, studied the behaviour of 221 killer whales encountered on 6,087 different occasions between 1987 and 2014.
Illegal fishing of Patagonian toothfish began around the Crozet Islands in 1996 and the killer whales quickly learnt their key source of prey was easier to catch off the end of a fishing line. The illegal fishermen fought off the whales, using explosives or firearms, leading to catastrophic losses for the whales.
By the time surveillance efforts brought an end to large scale illegal fishing in 2002, the killer whale population had declined by 60 per cent and killer whales from social groups known prior to the illegal fishing period did not re-associate in stable social groups.
Dr Tixier said separate research had shown that illegal fishing had also impacted the toothfish stocks, which may have further impacted the killer whale population by making one of their favourite foods harder to catch. He said the joint efforts of governments and the Tasmanian-based Commission for the Conservation of Marine Antarctic Living Resources had reduced the incidence of illegal fishing but killer whales continue to feed off the hook of licensed fishing vessels catching toothfish.
Dr Tixier and fellow Deakin scientist Professor John Arnould are now collaborating with Dr Mary-Anne Lea and Professor Mark Hindell from the University of Tasmania to consider ways to minimize these interactions, which also occur in Australian waters, as part of an Australian Research Council Linkage project.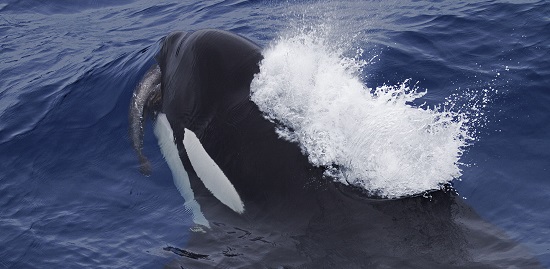 More like this
Media release
Faculty of Science Engineering and Built Environment, School of Life and Environmental Sciences
---