Green light for humanities/social science projects
Research news
11 December 2018
Environmental gene influences, information technology and human activity are just some of latest Deakin-led research projects to have secured funding by the Australian Research Council.
Close to $2 million in funding will support five new research projects led by members of the Alfred Deakin Institute for Citizenship and Globalisation (ADI).
ADI's Professor Emma Kowal, Dr Amelia Johns and Professor John Powers are leading new Discovery Projects, in collaboration with the Australian Research Council (ARC).
The diverse issues explored by the researchers have been deemed of national importance by the ARC.
In addition to these Discovery Projects, Dr Rose Butler has received a Discovery Early Career Researcher Award (DECRA) worth over $400,000 to pursue research concerned with strengthening intercultural relationships among Australia's rural youth. Also receiving a DECRA from the ADI is Dr Timothy Neale, whose project titled 'Pyrosecurity: understanding and managing bushfires in a changing climate' was awarded $372,574.
The ADI is a leading humanities and social sciences research institute, based at Deakin. Its researchers aim to understand the complex meanings of citizenship, social inclusion and globalisation. The new projects build on the 15 current ARC-funded projects led by members of ADI.
Epigenetics and Indigenous Australia
ADI Professor Emma Kowal was awarded $348,000 to examine how epigenetics, or the science of how environmental factors can influence our genes, is being received by Indigenous Australians.
"Epigenetics is a rapidly evolving science concerned with how life experiences, such as trauma or stress, can modify DNA and be passed on to negatively affect children's (and possibly grandchildren's) health and development," Professor Kowal said.
"The project aims to outline the relationships between Indigenous health and epigenetics in a way that will help Indigenous researchers, policymakers, and government bodies make informed decisions about the application and direction of this new science."
Professor Kowal will lead the project alongside the University of Adelaide's Professor Megan Warin and ADI's Associate Professor Maurizio Meloni.
This investment into the implications of epigenetics has been of large focus to the ARC. Professors Kowal's project was preceded by another grant announced earlier this year worth almost $1 million awarded to Associate Prof Meloni.
Fostering global digital citizenship: diaspora youth in a connected world
Dr Amelia Johns will identify the global digital citizenship dimensions of diaspora youth's everyday digital media use.
The $310,000 grant will assist Dr Johns to explore how global digital citizenship can be fostered through policies and programs that aim to improve inclusion and participation of culturally-diverse young people.
Professor Anita Harris and Dr Jessica Walton from ADI, as well as Dr Gilbert Caluya from the University of Melbourne, will join Dr Johns' Discovery Project.
Tibet's rivers in the Anthropocene: history and present trajectories

Professor John Powers' project aims to produce a multifaceted history of the eastern Tibetan Plateau's rivers, focusing on the increasing human impacts characterised by the Anthropocene – the current geological age in which human activity has been the dominant influence on the Earth's climate and environment.
Professor Powers has been awarded $418,268 for the project.

The research will look at data from archival, cultural and oral sources in multiple languages to produce both historical narratives and graphic representations that model past land and water use. This project will be supported by a team of seven from a range of universities including Dr Gillian Tan from ADI.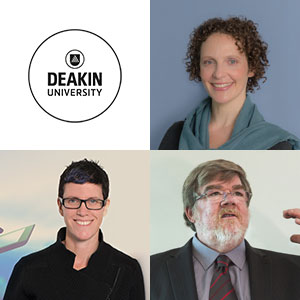 Key Fact
The diverse issues explored by the researchers have been deemed of national importance by the ARC.
---