A pint and a punt: Ads make sports betting the new normal for young men
Media release
30 January 2017
Deakin University researchers are calling for restrictions on commentators quoting odds during games and limits on bonus bets offered by online bookies, based on the findings of their new study into the influence of sports betting advertising on young men.
Study investigator and co-author, Associate Professor Samantha Thomas, from Deakin's School of Health and Social Development, said while many previous studies had investigated how marketing affected problem gamblers, the research was the first to show it was just as influential for those with low or moderate gambling habits.
"The saturation of marketing for sports betting products in everyday environments is creating a perception that sports betting is a normal part of watching sport with your mates, and we believe that is potentially very dangerous," Associate Professor Thomas said.
The Deakin-led study interviewed 50 Australian men aged 20 to 37, the key target market for sports betting companies, and a growing demographic seeking help for gambling problems.
The study asked participants about their perceived exposure and attitude to sports betting marketing, as well as its influence on their gambling attitudes and behaviours.
Lead author Emily Deans said the results showed this widespread marketing contributed to the normalisation and acceptance of sports betting in this group, compounded by its close links with sporting codes, teams and even commentators.
"The young men we spoke with said the promotion of gambling in-game created a perception that sporting codes and teams were implicitly involved in the promotion of gambling, that they even encouraged it," she said.
"Some described that gambling had changed the terminology of sports matches and how people should view sport, with bookmakers and sports commentators encouraging fans to view the match through a gambling lens.
"For example, in sports shows, such as the NRL and AFL Footy Shows, there is the perception that much of the narrative is about odds rather than the technical aspects of the game."
One study participant commented: "They're trying to create an atmosphere where it's no longer good enough just to passionately follow your team. Not only do you back them with your emotions, you back them financially."
Associate Professor Thomas said many of the young men reported that this constant pressure caused them to gamble more often than usual and with larger amounts.
"Inducements and incentives were effective marketing strategies used by bookies. They led some participants to open multiple accounts, with some evidence they encouraged young men to bet more than they normally would when they were fired up about the game," she said.
"Worryingly, these young men did not seem to understand the terms and conditions associated with inducements. Some considered inducements such as bonus bets or cash back offers as safety nets and softened their perception about the level of risk associated with gambling."
Associate Professor Thomas said she hoped the study would convince policymakers of the urgency in addressing potential damaging effects from the rising tide of sports betting marketing.
She said the Victorian Government was looking to restrict betting promotions on public transport and near schools, but more needed to be done.
"Policies aiming to reduce gambling harm must consider significant restrictions on the volume of advertising during sports programmes, sporting matches, and within non-gambling environments at any time of the day," she said.
"The endorsement by sports codes and commentators appeared to have the strongest influence on encouraging individuals to see sports through a gambling lens. We would argue that the embedding of commentary-based marketing in sports is clearly an issue that requires urgent consideration by governments and sporting authorities to prevent risk and the potential for harm."
The research paper, 'The influence of marketing on the sports betting attitudes and consumption behaviours of young men: implications for harm reduction and prevention strategies' was recently published in the Harm Reduction Journal.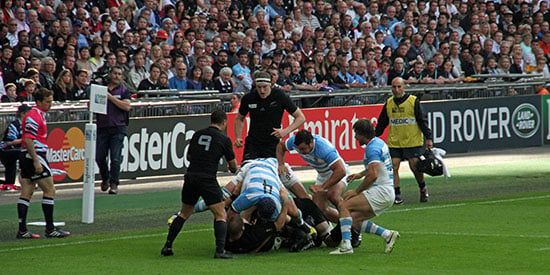 More like this
Media release
Faculty of Health, School of Health and Social Development