Deakin University medical students will soon be able to complete the first year of their medical degree in Warrnambool and Ararat.
From next year, students entering Deakin's Doctor of Medicine (MD) as part of the Rural Training Stream will be able to complete the first year of their course at one of two rural training hubs, Deakin's campus in Warrnambool or the East Grampians Health Service in Ararat. From 2025, Year 2 of the MD will also be offered at these sites.
Dean of the School of Medicine, Professor Gary Rogers said the changes would give aspiring doctors greater choice in where they live and study.
"It's really important that students from our region remain living in and connected to their communities whilst completing their medical studies," Professor Rogers said.
"Being forced to move away to attend university is not only a financial burden it is also disruptive for them and their families and makes it less likely they will return as a future doctor.
At Deakin we are committed to recruiting and retaining rural students to work as doctors in their communities," Professor Rogers said.
Deakin's innovative Rural Training Stream admitted its second intake of medical students this year and allocates at least 30 places a year for students from rural backgrounds, with priority given to applicants from communities in Deakin's 'rural footprint', including south-west Victoria and the Grampians-Wimmera region.
Until now, Deakin medical students have had to complete their Year 1 and 2 studies at the university's Waurn Ponds campus in Geelong.
In other changes announced by the university, the significant Graduate Medical Schools Admissions Test (GAMSAT) requirement will be waived for MD applicants with a rural background in Deakin's rural footprint, as well as the requirement to have completed tertiary studies within the previous 10 years.
Deakin's Director of Rural Medical Education, Associate Professor Lara Fuller said it was hoped the changes would open the door for a whole new generation of rural students to consider becoming rural doctors.
"It is important that potential applicants, such as existing rural health professionals, don't have to sit expensive admissions exams and undertake further study just to apply for the MD," Associate Professor Fuller said.
"We aim to deliver most of the teaching at the rural sites, with occasional requirements to attend the Waurn Ponds campus.
We have already commenced recruitment of professional staff and will also be employing academic staff in each region to deliver the program," Associate Professor Fuller said.
Warrnambool Campus Director, Alistair Mccosh, said the announcement that Deakin would be offering the full Medical Degree in Warrnambool from 2024 was fantastic news for the region, its medical clinics and for the Warrnambool campus going forward.
"We continue to work on increasing the range of courses offered here at the Warrnambool campus that will ensure we can meet the needs of our year 12 students as well as those considering returning to study from here in the south-west, across Australia and overseas," Mr Mccosh said.
"There are not many regional campuses across Australia who offer a post graduate medical degree, we are very excited that Warrnambool campus is one of these campuses."
Applications for Deakin's Rural Training Stream in 2024 can be made through GEMSAS, opening in May 2023.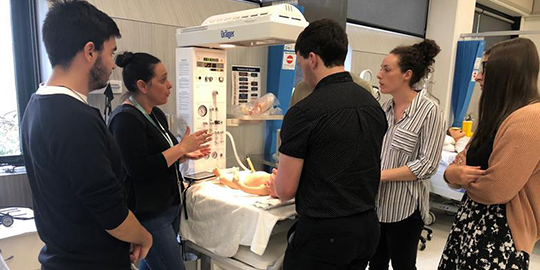 More like this
Media release