COVID-hit businesses gain access to $6.5m digital innovation hub
Media release
11 August 2021
Small and medium enterprises (SMEs) hit hard by the digital disruption of the COVID-19 pandemic will soon have access to a new collaboration and innovation hub at Deakin University's Burwood Campus, thanks to a $2 million funding boost announced today by the Victorian Government.
The Digital Innovation and SME Hub (the DISH) will help businesses survive and thrive by combining Deakin's research, education and partnership capabilities to provide support services and technologies to help drive business growth in a post-COVID world.
The repurposed and redesigned space at the University's Burwood campus will concentrate on SMEs in sectors such as manufacturing, health care and trades.
Businesses that partner with the DISH will have access to health checks conducted by Deakin's Faculty of Business and Law, the School of IT and partner organisations to identify new product opportunities, funding, cashflow and efficiency improvements, and potential new markets.
The DISH will also host post-COVID bootcamps, innovation workshops, rapid hackathons and research and development opportunities to help businesses adapt to a digital world.
The project is expected to create 122 direct jobs by 2025, while more jobs are expected to be created in the SMEs participating in the program.
The Victorian Government will contribute $2 million through the Victorian Higher Education State Investment Fund (VHESIF), while Deakin is backing the project with $3.5 million. A further $1 million will come from industry investment.
Member for Burwood, Mr Will Fowles MP, joined Deakin University Vice-Chancellor Professor Iain Martin for the virtual funding announcement.
Professor Martin welcomed the Victorian Government's investment, which will allow local businesses to access Deakin's expertise in business, arts and health, artificial intelligence (AI), machine learning and automation, cybersecurity, product development and commercialisation.
"This project is a great example of how universities, governments and the private sector can work together to provide end-to-end SME support while enhancing Victoria's research capabilities," Professor Martin said.
"The DISH's clear regional focus will ensure our local communities bounce back strongly after the significant challenges of the COVID-19 pandemic."
Deakin University Deputy Vice-Chancellor Research Professor Julie Owens said the DISH will provide fresh research opportunities and on-the-job learning experiences for Deakin's students.
"The partnerships produced by and within the DISH will help define the jobs and skills of the future and shape our coursework," Professor Owens said.
"The DISH will play a key role in ensuring our students are job-ready and that they understand the significant benefits, including increased opportunities to make a real-world difference, that come from working within Victoria's small businesses."
The DISH at Deakin's Burwood Campus will deliver:
A Live Cyber Defence Centre and Cyber Testing and Hacking Lab that will help businesses improve their cyber awareness and resilience.
Two Co-Innovation Labs and an Industry Makers Room to create new products, devices, and industrial systems.
An Advanced AI, Robotics and Automation Lab exploring artificial intelligence, machine learning, the Internet of Things, advanced data analytics and mixed reality to help businesses explore opportunities for innovation.
An Events Space which will play host to eco-system events, digital tradeshows, and industry forums and roundtables.
Sprint Rooms designed for 'idea hacking' of some of Victoria's SMEs prominent problems.
Facilitation spaces for deep discovery and opportunity facilitation and design-thinking work.
The first construction phase of the new digital collaboration and learning space is due for completion by March 2022.
Share this story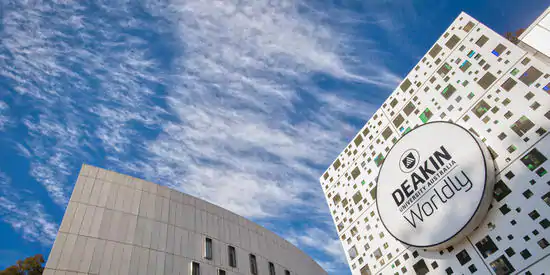 More like this
Media release
Deakin Business School
Centre for Cyber Security Research and Innovation (CSRI)
Designing smarter technologies