Crescent Foundation partners with Deakin to nurture refugee leaders
Media release
15 March 2021
Leaders from Australia's pre-eminent institutions will 'sponsor' and mentor up to 70 aspiring leaders from refugee and asylum seeker backgrounds
Deakin University's CREATE will facilitate graduate career clinics and empower refugees with practical skills for the workplace
Only 17 per cent of people from a refugee background secure paid employment within their first 18 months in Australia (1)
---
Crescent Foundation is partnering with Deakin University's Centre for Refugee Employment, Advocacy, Training and Education (CREATE) to help remove barriers to employment for individuals from refugee and asylum seeker backgrounds.
The partnership will see members of the Crescent Champions Club - an initiative of the Crescent Foundation – mentor up to 70 individuals from refugee or asylum-seeker backgrounds through Deakin University's CREATE, which will be funded by the Foundation. The partnership will also help drive Deakin CREATE's research into how people from refugee backgrounds can best re-establish their careers after arriving in a host nation.
The Crescent Champions Club nurtures individuals from refugee and asylum-seeking backgrounds by pairing them with prominent business and academic leaders who guide their journey towards career success and leadership. Club members include senior leaders in prominent Australian institutions, such as the Australian Government, NAB, Clayton Utz, Crescent Wealth, Fortescue Metals Group, and the University of Sydney.
One of the most significant challenges faced by individuals from a refugee background is attaining employment that matches their skills and abilities. Research shows that 18 months after arriving in Australia, only 17 per cent of people from a refugee background have secure paid employment (1). Significant barriers to obtaining employment in host countries like Australia, include a lack of local work experience and networks, a lack of knowledge of workplace culture and systems, and the non-recognition of skills, qualifications and experience from overseas.
Deakin University's CREATE was established in early 2019 and has already had significant impact on the lives of people with refugee backgrounds. In early 2020 it launched a careers clinic program which supports over 150 people a year to find employment and re-establish their livelihoods. In 2020 alone, it assisted over 60 people to obtain work commensurate with their skills and experience.
The Hon. Bob Carr, Former Foreign Minister of Australia and presiding Chair of the Crescent Foundation, said "As a charity that is dedicated to open opportunity for all Australians and particularly for refugees, we were impressed by the commitment of Deakin University to dedicate substantial resources to this cause.
"We hope our support of Deakin University will encourage other private sector corporations and institutions to come forward to help facilitate the inclusion of refugees into the workplace and break through the canvas ceiling faced by refugees."
Professor Alexander Newman, Director of Deakin University's CREATE said ensuring many more refugees find meaningful employment not only benefits the individuals themselves, but also makes a significant positive impact on the wider Australian economy.
"It reduces the need for social security support, contributes to economic output, builds the tax base and improves social cohesion. Australian communities and businesses benefit from accessing a larger, more diverse talent pool with a broad range of experiences," Professor Newman said.
"Deakin University and its Centre for Refugee Employment, Advocacy, Training and Education (CREATE) is looking forward to working with the Crescent Foundation to support graduates from a refugee background to launch their careers in Australia. We thank the Crescent Foundation for their wonderful support."
Craig Foster, Director, Crescent Foundation said: "In demonstrating the immense strength and courage to make a new life, refugees display characteristics which make them amazing contributors in the workplace and society. They tend to be proportionately younger than the broader Australian population and display the highest degrees of entrepreneurialism, generating a far higher proportion of their income from their own businesses which in turn contributes to broader economic growth.
"They volunteer at higher rates than Australian-born citizens, are highly active in other forms of civil and community engagement, and their uptake of Australian citizenship is higher than any other migrant group, reflecting integration into Australian communities and a joining of cultures that offers Australia equal benefits in kind."
Pictured:
Back row
Mr. Amen Zoabi, Managing Director, Binah Group and Director, Crescent Foundation
Mr. Craig Foster OAM, Director, Crescent Foundation
Dr Karen Dunwoodie, Research Fellow, Deakin Centre for Refugee Employment, Advocacy, Training and Education (CREATE)
Ms. Penny Bingham-Hall, Director, Crescent Foundation
Dr. Sayd Farook, Executive Director, Crescent Foundation
Front seated
Professor Alexander Newman, Director of Deakin CREATE, Professor of Management and Associate Dean (International), Faculty of Business and Law at Deakin University
The Hon. Professor Bob J. Carr, Chair, Crescent Foundation
ABOUT CRESCENT FOUNDATION
Crescent Foundation, a charity dedicated to open opportunity to everyone in Australia, supports refugee education, helps the homeless, promotes the conservation of Islamic art and culture and promotes democracy, civics and youth causes. Crescent Foundation counts on its board prominent Australian leaders including The Hon Bob Carr, former Foreign Minister and the longest serving Premier of New South Wales; Craig Foster, former Socceroos star and SBS commentator; and Penny Bingham-Hall, non-executive director at some of Australia's largest organisations. A major supporter of the Foundation is Islamic superannuation fund Crescent Wealth, led by Managing Director Talal Yassine OAM, who is also a Crescent Foundation Company Director. The Foundation was established in 2011 and began distributing funds to Not-For-Profit organisations from 2013. More information: crescentfoundation.com.au
ABOUT DEAKIN CREATE
Deakin University's Centre for Refugee Employment, Advocacy, Training and Education (CREATE) is the first university-based research centre worldwide focusing on supporting people from a refugee background to access education and obtain employment. This involves a range of activities including running careers clinics, developing employment and education guides and materials, and holding one-on-one consultations with individuals who are seeking career or educational guidance. CREATE also employs students from a refugee background as research assistants in the development of initiatives, ensuring refugees' 'lived experiences' are considered in their design. More information: deakincreate.org.au/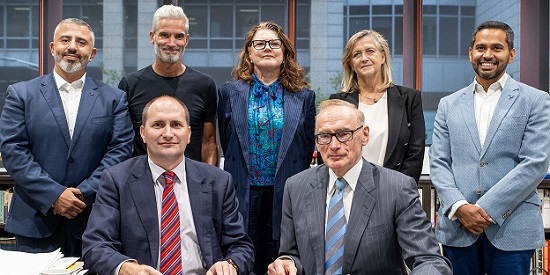 More like this
Media release
Deakin Law School, Faculty of Arts and Education, School of Humanities and Social Sciences
---
Related News
Waterfront to welcome ABCs radio in residency in March 2022
Deakin's iconic Waterfront campus will welcome and host the ABC for a month-long radio in residency in March after plans for an October broadcast were rescheduled. The decision was made in response to the ongoing uncertainty of COVID-19 restrictions.