Deakin and Barwon Health delivering telehealth care for community
Media release
20 April 2020
People in the Geelong region requiring mental health care now have access to remote clinical services following the launch of a new telehealth facility being delivered jointly by Barwon Health and Deakin University from its Geelong Waterfront Campus.
The telehealth facility is allowing people with mental health issues access to safe and appropriate care during the COVID-19 isolation phase without the need to leave their home, mitigating the risk of transmission and infection.
Professor Julie Owens, Deputy Vice-Chancellor Research at Deakin University, said Deakin and Barwon Health had been working on a collaborative partnership model before the COVID-19 pandemic.
"This is about our community and with that in mind we have been looking at how to improve care delivery and develop new models and knowledge regarding mental health care for some time," Professor Owens said.
"When the COVID-19 measures developed, this partnership was immediately put into action as we could see the urgent need to deliver these services to a vulnerable sector of our community in a safe and supportive way."
Associate Professor Melissa O'Shea, a key advisor to the partnership from the School of Psychology, said that service also provides an important learning opportunity for Deakin students training in clinical psychology who will be equipped to engage effectively with telehealth when they graduate.
"We are grateful to Barwon Health for their expertise and support to make this initiative available to those who need it," Associate Professor O'Shea said.
Barwon Health chief executive Frances Diver said the organisation's telehealth model was first developed five years ago and had been expanded during the pandemic to provide greater support for more patients and carers, including in mental health.
"For many months, Deakin and Barwon Health have been working on a collaborative partnership to leverage the strengths of both organisations," Ms Diver said.
"Deakin University has been extremely generous and supportive in providing the use of its IT and building infrastructure at its Waterfront Campus to facilitate telehealth mental health care for those in our wider community.
"As it evolves, the telehealth program will provide opportunities for direct consumer care and carer support in a clinical model provided by Barwon Health and Deakin clinical staff, including learning opportunities for Deakin students.
"The result of this collaboration is a great positive story for us and the people of the region during a challenging time, and it's only possible because of the shared commitment we've taken in partnership with Deakin," she said.
Share this story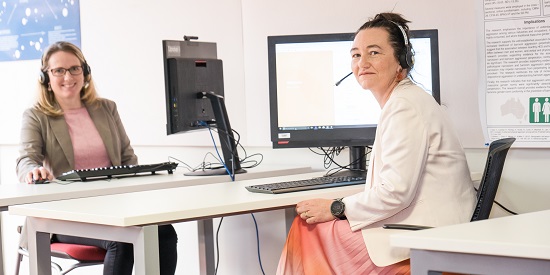 More like this
Media release
Faculty of Health, School of Psychology