Deakin and Netball Australia announce national partnership
Media release
06 December 2017
Deakin University and Netball Australia today announced an all-of-sport partnership that will see Deakin support netball through Suncorp Super Netball, the Samsung Diamonds, the Australian Netball League and the Fast5 Netball World Series.
As part of the multi-year agreement, Deakin University and Netball Australia will establish an extensive network of strategic collaborations focusing on work integrated learning, graduate employment, professional development and high performance projects with Deakin's School of Exercise and Nutrition Sciences, the world's number one ranked sports science school.
Deakin University Vice-Chancellor Professor Jane den Hollander AO said it made sense for Australia's number one sports university to partner with leaders in women's sport Netball Australia, and Australia's most successful international sporting team, the 'Australian Diamonds.
"This new partnership is a great fit because Netball Australia shares Deakin's passion for advancing women's sport and the belief that women should be able to achieve at the highest possible level in whatever they choose to do," Professor den Hollander said.
"Our education partnership provides a range of opportunities for Deakin and Netball Australia to grow and develop as leaders in sport by sharing knowledge and expertise to support elite netballers to perform at their best and also providing Deakin students with unique opportunities to apply their learning across netball."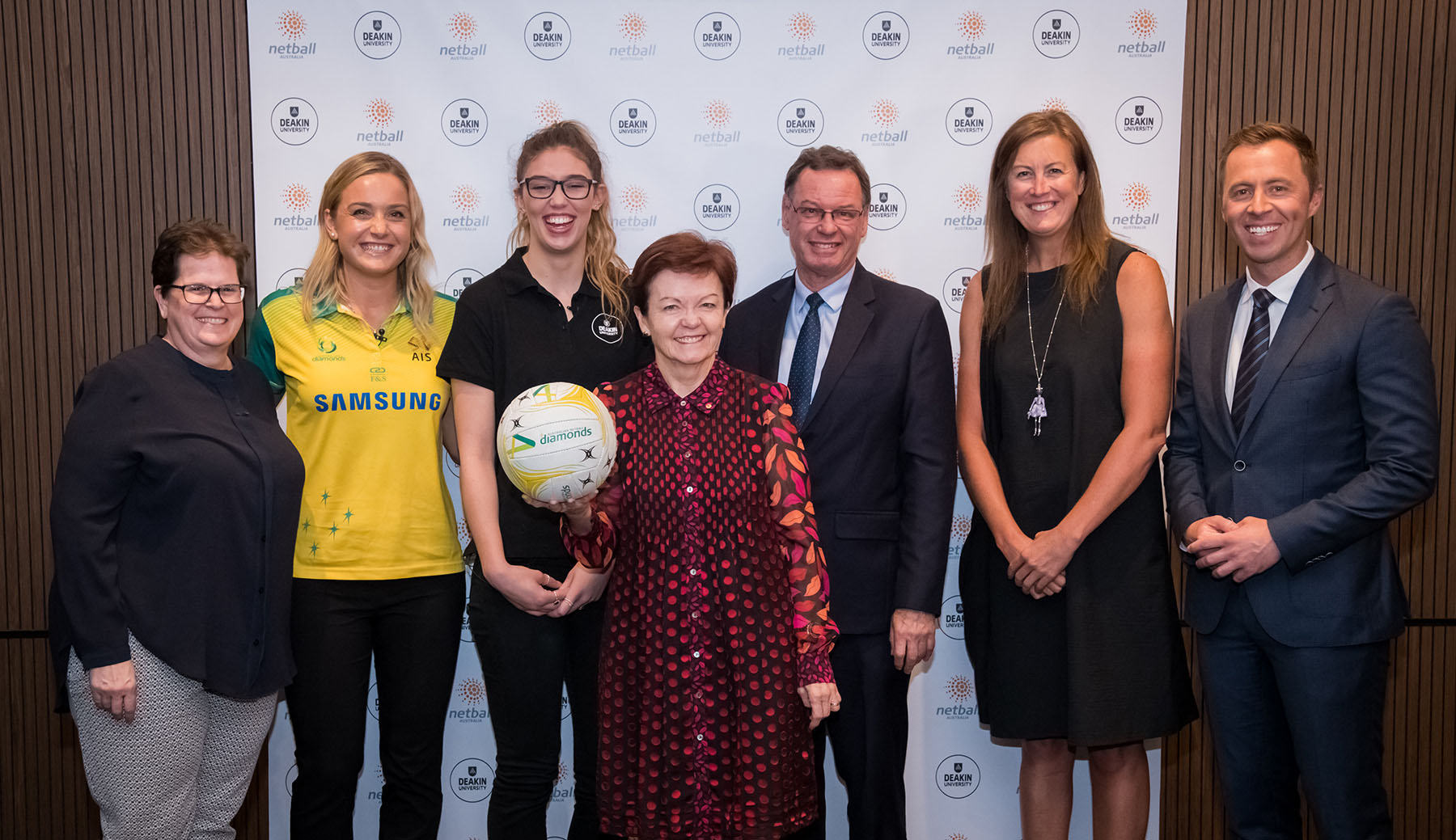 VIDEO: DEAKIN AND NETBALL AUSTRALIA PARTNERSHIP
Netball Australia chief executive Marne Fechner said the partnership would support the growth and performance of the sport in a number of key areas.
"The partnership between Netball Australia and Deakin will extend well beyond traditional sponsorship benefits," Fechner said.
"Collaboration on research projects will assist enhancing our athlete performance and development, coach education, governance and management practices.
"There are strong synergies between our organisations and a shared commitment to growing pathways for women in the sports industry, from administrators to athletes, coaches to officials.
"The collective efforts of Netball Australia and Deakin will see the sport continue to lead the development of women in sport."
Under the partnership agreement, Deakin will also be an Official Events Partner of the 2018 Fast5 Netball World Series, Naming Rights Partner of the Australian Netball League and Official Education Partner of Netball Australia and the Samsung Diamonds.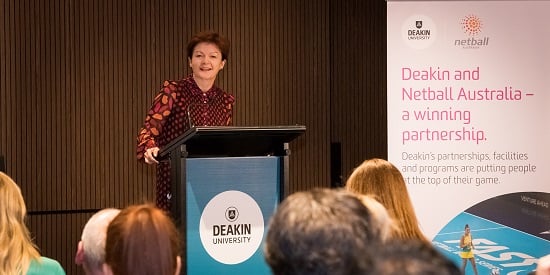 Key Fact
L-R: Nadine Cohen (Netball Australia Deputy CEO/Deakin graduate), Liz Watson (Australian Diamonds player), Ramayer Gourley (Australian Netball League athlete/current Deakin student), Deakin Vice-Chancellor Prof Jane den Hollander, David Shilbury (Deakin Sport Network Director), Marne Fechner (Netball Australia CEO/Deakin graduate), Clint Stanaway (Channel Nine sports presenter/Deakin graduate)