Deakin Art Gallery announces winner of $15k Small Sculpture Award
Media release
01 September 2023
Melbourne artist Nina Sanadze has won this year's Deakin University Contemporary Small Sculpture Award with her work, Gramophone.
Selected from a competitive field of 422 entries, Sanadze was named the winner of the annual $15,000 prize by Deakin Vice-Chancellor Professor Iain Martin at a ceremony held at the University's Burwood Campus Art Gallery on Thursday, August 31.
The award recognises small scale sculpture works, with entries limited to 70cm in size in any direction.
Professor Martin said the Contemporary Small Sculpture Award, now in its 13th year, had built a reputation as a prestigious nation-wide competition.
"We had over 100 more entries than in 2022, from all across Australia – this demonstrates that the Award is highly regarded and an increasingly coveted prize. Awards like these are so important in providing opportunities and recognition to both emerging and established artists," Professor Martin said.
Deakin University Art Gallery Senior Manager Leanne Willis was joined on the judging panel by curator and arts writer Anthony Fitzpatrick and contemporary artist and previous award winner Lisa Roet.
She said the use of modern techniques by Sanadze, including 3D printing, contrasted with the use of a historical model as the work's basis.
The judging panel noted the winning work was a highly resolved sculpture both formally and conceptually, with a strong physical presence that commanded the space.
Also announced on the evening was a Highly Commended, non-acquisitive $3000 award. The winner of this award was Natalie Tso for her work your spit is my nest.
All awards in the competition are supported by the Community Bank at Deakin University.
In their deciding remarks the judges noted Tso's work "invites us to think about sculpture in a different way, involving performative elements in its development and using bodily fluids to create an intimate work of delicate beauty."
Professor Martin said the University was "very proud" of its art collection and close association with Australia's arts community.
"It is an important part of our support of innovation and excellence, and our desire to make a positive impact both socially and culturally," Professor Martin said.
"Congratulations to this year's finalists for their hard work and dedication. And of course, congratulations to the winner, Nina Sanadze, for an incredibly skilful and resonant piece, and Natalie Tso for winning the inaugural Highly Commended prize."
Deakin University Contemporary Small Sculpture Award exhibition
When: Wednesday 23 August to Friday 13 October 2023
Gallery hours: Monday to Friday, 11 am to 5 pm
Where: Deakin University Art Gallery, Building FA, 221 Burwood Highway, Burwood.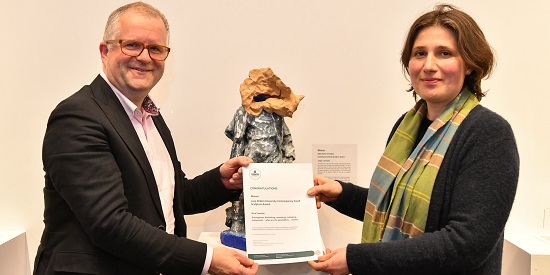 More like this
Media release
Timely