Deakin awarded Carnegie Corporation grant for project on Middle East proxy conflicts
Media release
30 October 2018
Deakin researchers will undertake a first-of-its-kind investigation into the role of regional actors in fuelling Middle East proxy wars, thanks to support from one of the world's leading philanthropic foundations.
Professor Shahram Akbarzadeh, Dr Zahid Shahab Ahmed and Dr Dara Conduit received a $400,000 multi-year grant from Carnegie Corporation of New York to conduct research assessing the impact of regional actors in the ongoing conflicts in Syria and Afghanistan, which are estimated to have led to the deaths of more than 600,000 people.
The researchers, from the University's Alfred Deakin Institute for Citizenship and Globalisation, will work alongside international partners and policymakers in Afghanistan, Pakistan and the United Arab Emirates, in the first study of its kind to investigate the full involvement of regional patrons in the proxy conflicts.
Professor Akbarzadeh said the ongoing wars in Syria and Afghanistan were chosen because of the depth of foreign interference in each conflict, the diversity of external players involved, and the longevity of each conflict.
"Regional proxy conflicts have become the most significant driver of insecurity in the broader Middle East, and external actors are fuelling the fires of conflict in Syria and Afghanistan," he said.
"The Syrian conflict is a bitter example of where a sovereign state and the international community have manifestly failed in their responsibilities to protect civilians from mass atrocity crimes, and where the involvement of external patrons has changed the dynamics of intra-state conflict.
"This project will provide an important evidence-based study to help us develop a new understanding of proxy conflicts. By working with local policymakers, academics, and practitioners from these regions, we aim to shed light on the scale of external intervention and develop multilateral policy alternatives to address this dire situation and ongoing humanitarian crisis."
Professor Akbarzadeh said the proxy wars required an ambitious whole-of-region response.
"The proxy crisis in the Middle East is larger than any one state, and patron states on their own are unlikely to change their behaviour unilaterally," he said.
"We will draw on contacts in the Persian Gulf, South Asia, and Central Asia to advance new understandings of the evolving role of state and non-state actors. The involvement of local experts from the Arab region will support the development of viable, locally-driven policy responses to the proxy conflicts.
"It's our goal that this project will provide the evidence and momentum required to help drive action to address this urgent area of regional security, by including policymakers as stakeholders throughout the process as a way of ensuring a sustained policy response."
The Deakin University project, "Assessing the impact of external actors in the Syrian and Afghan proxy wars", was made possible by a $400,000 International Peace and Security grant from Carnegie Corporation of New York, and is slated to be completed in June 2020.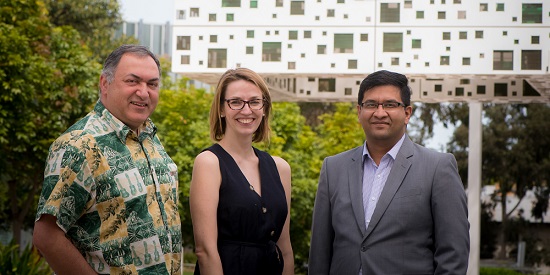 Key Fact
L-R: ADI's Prof Shahram Akbarzadeh, Dr Dara Conduit and Dr Zahid Shahab Ahmed.
More like this
Media release
Alfred Deakin Institute for Citizenship and Globalisation (ADI)