Deakin continues its commitment to diversity, equity and inclusion with with new gender inclusive language
Media release
25 July 2022
Deakin University is taking another step forward in its commitment to diversity, equity and inclusion by implementing gender-neutral terms for members of the Deakin Alumni community.
Students at Deakin are encouraged to express themselves in a safe and welcoming community. As students graduate and become part of the alumni community, it is important to continue to foster the same inclusive environment they experienced as a student, which is why gender-inclusive language for alumni is so important.
Including a gender-diverse title for alumni was a decision made in partnership with Deakin's Diversity, Equity and Inclusion Division.
The changes mean that Mx and Alum are now available to non-binary and gender diverse Alumni of Deakin University. These changes join the existing terms to refer to alumni; the term Alumnus refers to a former student who identifies as a man and Alumna refers to a former student who identifies as a woman.
Deakin University celebrates the diversity of all staff, students and alumni and aims to create an environment inclusive of people regardless of gender, sexual orientation, age, cultural background or disabilities. Creating and maintaining an inclusive culture is everyone's responsibility. Being inclusive includes the way we use language.
"Inclusion is one of Deakin's core values and using inclusive language that acknowledges diversity and conveys respect is essential for creating an environment where everyone feels welcome, safe and connected," said Mel Martinelli, Executive Director – Diversity, Equity and Inclusion.
Deakin is proud to be an industry leader in Diversity, Equity and Inclusion. Not only is Deakin leading the change to gender neutral language for alumni; staff at Deakin are entitled to six weeks paid Gender Affirmation Leave.
Vice-Chancellor Professor Iain Martin said, "Deakin is defined by the people who make up our community. We are also defined by the way we treat each other – how we nurture a thriving and progressive culture. Our inclusive approach to gender diversity is another way we are making our values a lived experience for everyone in our community and for all those who collaborate with us."
At Deakin, we encourage everyone to ask and correctly use someone's pronouns, this is a great way to promote an inclusive environment for gender diverse and non-binary identifying staff, students, alumni, and those in the Deakin community. Adding pronouns to your email signatures and as part of your 'display' name in virtual meetings is a great way to lead by example.
For more information and to update your details with Deakin Alumni please contact deakinalumni@deakin.edu.au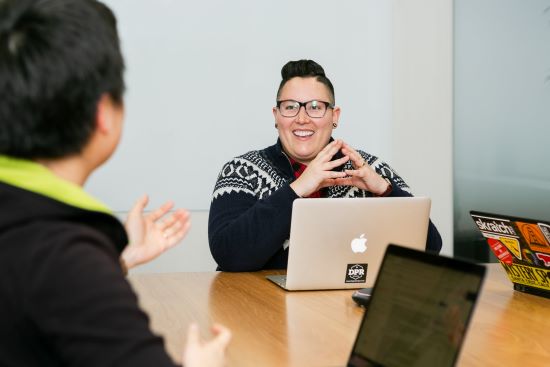 More like this
Media release