Deakin E-bikes trial to boost transport options across Geelong
Media release
14 September 2022
Students and staff at Deakin University's Geelong campuses have access to a new, sustainable means of transport as a 12-month trial of Lime electric bikes (e-bikes) is rolled out across the city.
The trial will see the distinctive green e-bikes available in multiple locations, including the Waterfront and Waurn Ponds campuses, with rental and access managed via the Lime app.
Deakin University Vice-Chancellor, Professor Iain Martin said Deakin was thrilled to partner with Lime to pilot a program, supported by the Department of Transport and the City of Greater Geelong, that explores new ways of travel.
"Providing multiple transport options to our campuses is central to our sustainability planning and commitments, and improving the liveability of our region," Professor Martin said.
In a first for Geelong, a trial for designated share e-bike parking locations is currently being developed for the Waurn Ponds train station with funding from the Department of Transport's Flexible Local Transport Solutions Program.
E-bikes will also be parked at designated locations such as Belmont's Barwon Valley Activity Centre and certain bike hoops around Geelong thanks to the support of the City of Greater Geelong. All parking locations are viewable through the app.
Lime is the world's largest shared electric vehicle company, providing accessible vehicles in more than 200 cities in 30 countries around the world.
Hugo Burt-Morris, Lime's General Manager, Australia, said Lime was looking forward to introducing the e-bikes to a new area.
"We're pleased to have this opportunity to serve Deakin students and staff in Geelong," Mr Burt-Morris said.
"E-bike use is surging globally thanks to how easy they are to ride and the tremendous convenience they provide. Lime will provide Geelong with a reliable, world-class service, adding another emissions-free option to the city's transport ecosystem."
Deakin University Director of Transport, Karly Lovell, said the e-bike trial presented a unique opportunity to understand how the Geelong community responds to new transport options.
"The trial will allow us to test and learn how our community moves around the city, reducing the reliance on private cars for short journeys," Ms Lovell said.
"As we plan to respond to the unprecedented growth in population and prepare for the Commonwealth Games, the Lime trial is important to meet the expectations and needs of people studying, living, working, and visiting our beautiful region."
Detailed geofencing is built into each e-bike to help to manage parking, speeds and 'no go' ride zones and ensure the safety of riders and pedestrians. Safety design features include integrated helmet, heavy frame, lights and reflectors, and dual braking.
As part of the trial, Deakin will analyse travel data to inform future use of the e-bikes with the number of locations expected to increase over time and include further park and ride locations, transit hubs, community facilities and local shopping centres.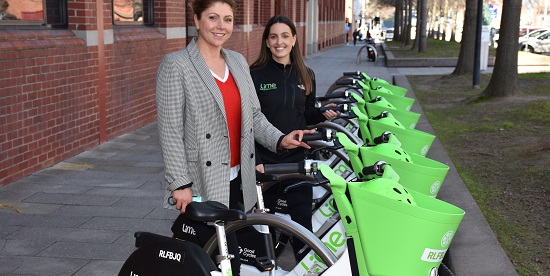 More like this
Media release