Deakin finds evidence of dogs killing threatened chicks on Victorian beaches
Media release
12 October 2017
Victorian beachgoers have been urged to leash their pets, after Deakin University ecologists found evidence of threatened shorebirds mauled by dogs, including the discovery of one dead chick dumped in a rubbish bin.
Researchers from Deakin's Centre for Integrative Ecology, within the School of Life and Environmental Sciences, have long been working to halt the decline of the hooded plover, a threatened species that begins nesting on Victoria's surf beaches at the start of spring.
Wildlife and Conservation Biology Associate Professor Mike Weston said this research was recently expanded to include the radio-tracking of newly hatched chicks, to give a more accurate picture of what was threatening their survival.
"The battle to save threatened shorebirds which breed on our beaches rages every spring and summer, as thousands of Victorians and their dogs enjoy time at the beach, and the birds desperately try to breed," Associate Professor Weston said.
"Sadly, the chances of surviving from hatching to the age at which they can fly, a mere 30 days, are so low that chick death is considered a major conservation problem.
"The chicks feed themselves within hours of hatching, and that means these 'balls of fluff', weighing as little as about ten grams, move a lot, while their attentive parents shepherd them around the beach, and work to keep them warm and safe from predators.
"Tracking such small and mobile creatures is a real challenge, so after two decades of research we decided to get bolder in our approach."
Deakin honours student Tom Schmidt led the radio-tag project at beaches on the Bellarine Peninsula, Mornington Peninsula and Bass Coast, allowing researchers to find the bodies of chicks that had not survived, which were then sent off for post-mortem inspection.
"From the bodies we found, we determined dog and bird attacks were the lead candidates as causes of death," Mr Schmidt said.
He said this had been expected by the team, but the body of one bird they found left them in utter shock – a mauled chick dumped in a rubbish bin at an entry point to Barwon Head's 13th Beach.
"We knew the signal was coming from the bin, so we had to scan each item in the bin to locate the chick," he said.
"The whole time I was thinking to myself that this must be a mistake, how could a small flightless chick of a threatened species end up in a bin?
"The tiny body was tied into a bag containing dog faeces, and the injuries were consistent with dog attack. Internal organs protruded and a second bag was used, apparently to conceal the evidence."
Associate Professor Weston said it was a shameful act, and showed dog attacks could be playing a prominent role in the decline of hooded plovers.
"This is not a trivial matter. Beachgoers must obey the prevailing rules and regulations, particularly the leashing laws," Dr Weston said.
"Responsible dog ownership on beaches means that dogs should not be able to hunt and kill birds or other wildlife.
"Our philosophy has always been to find solutions to promote coexistence, to share the beach, with restrictions as a last resort. The dog walking community on our beaches needs to rise to the challenge, we need them to help save this species."
Share this story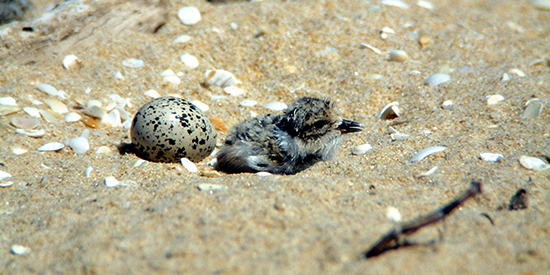 More like this
Media release
Faculty of Science Engineering and Built Environment, School of Life and Environmental Sciences
Centre for Integrative Ecology (CIE)