Deakin grad turned Ford engineer shows value of international students
Media release
21 October 2020
Deakin graduate and Ford Australia engineer Abhilash Sengupta is living proof of the economic and social value that talented, hard-working international students can deliver for Australian industries and communities.
The 23-year-old from the Indian steel city of Bhilai graduated with Honours from Deakin's Bachelor of Engineering. He is now applying his expertise as an Analytical Road Loads Engineer at Ford Australia, working to supply internal design teams with static and endurance loads for prototype vehicles.
Mr Sengupta is using the skills he learned at Deakin—finite element analysis, data processing, 3D and mathematical modelling, topography optimisation, teamwork and collaboration—to help test and develop customer-friendly vehicles.
"We're coming up with methods that are changing the way we design automobiles," he said.
"To me, that's innovation at its finest, and to develop that level of accuracy requires a lot of time, skill and patience. One of the most exciting things our team does is acquire the loads of a prototype car running on the Proving Ground and apply it to a virtual one. The vehicles we develop here are sold in 180 markets, which is hugely exciting."
The mechanical engineering graduate's mentor and Ford Vehicle Evaluation and Verification Planning Supervisor David Erjavec said Mr Sengupta "brought a very different and positive perspective to the team".
"International student graduates are of great benefit to Ford because of the way they see the world and the way they approach tasks, which are often shaped by their personal experiences overseas," Mr Erjavec said.
"Their approach helps the team to think about problems in different ways, which enables us to develop comprehensive solutions which cover a broader spectrum."
Deakin Deputy Vice-Chancellor Research and Alfred Deakin Professor Julie Owens said Australia's economic future depended on high-skilled international and domestic graduates like Mr Sengupta, who bring an array of innovative, technical and personal competencies.
"Australia's higher education sector and its industries—from high-end manufacturing and energy production to world class health and agricultural services—deliver priceless and long-term value to each other, and this mutually beneficial exchange is a pillar of our prosperity," Professor Owens said.
"Now more than ever, we need to focus on the immense economic and social value that the bright minds and work ethics of our international and domestic students provide, to ensure our research and industry links are strengthened not diminished."
Mr Sengupta barracks for the Geelong Cats and recently learnt to swim before taking up surfing on the shores of the Surf Coast. Optimistic about his engineering career, he encouraged international students to consider Deakin and Australia to pursue a world-class education and give back to the community.
"As you'd expect, it isn't an easy journey to start with," he said.
"It requires diligence and resilience, but you have the opportunity to learn new career skills and essential life skills and build a new community outside of home. To me, honing the ability to create community wherever you go is incredible.
"Australia is an excellent choice. It's very multicultural and the people are inviting. This creates a comfortable environment to learn about new cultures and consider what aspects you value, all while creating a new culture for yourself while living overseas.
"I think there are a lot of similarities between modern-day India and Australia, especially the love of cricket and Indian food. As for differences, I'd say the competition for work is more intense in India due to the specific structures they have, whereas Australia asks for a more balanced lifestyle. It's a great place to study, work and be part of a great culture.
Mr Sengupta was supported into the workforce through Deakin Talent and its Graduate Employment Program.
"I'm grateful to Deakin and Ford for my opportunities and I intend to keep giving back," he said.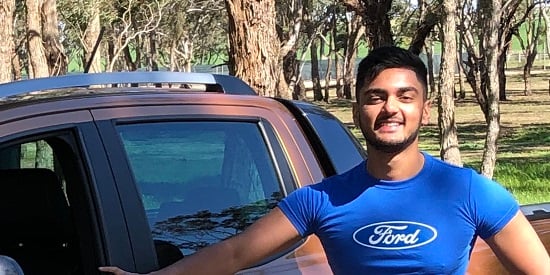 More like this
Media release
School of Engineering, Faculty of Science Engineering and Built Environment
---