Deakin helping dreams come true
Media release
02 June 2022
For fourth-year nursing and midwifery Deakin student Molly Ingham, becoming a midwife was always her dream. Growing up in rural New South Wales, from a young age Molly was aware of the challenges women and families face when getting access to antenatal and post-natal care, something that she wants to some day change.
"As one of four kids, I remember when mum was pregnant and having to drive over 40 minutes to get to the hospital because there was no one closer who could look after her," said Molly "This is something I want to help fix by returning to regional New South Wales to help women give birth nearer to their homes."
Molly chose to study a double degree of nursing and midwifery at Deakin University's Geelong campus, feeling at ease in a regional location and still able to benefit from the sophisticated course structure. For instance, even first-year students undergo professional placement.
"Coming from a small rural town I didn't want to go to a big city to study, so Deakin provided the perfect mix of getting an on-campus experience without the stress of a city like Melbourne ."
However, moving from her hometown Mulwala to Geelong Waterfront was destined to be an expensive relocation, and one that Molly simply could not afford on her own.
It was with the financial assistance of the Deakin Student Relocation Fund that meant Molly was able to comfortably move without imposing a financial burden on herself or her family.
It also meant that she was able to complete her four weeks of full-time placement without the worry of not earning an income.
"Nursing students are required to complete four weeks of full-time placement from their first trimester, which is invaluable experience, however we aren't paid for to do that," Molly said. "The fund meant that I was able to take the time off from work to complete my placement and still afford to live."
If you're interested in assisting students like Molly through access to education for students, you can help by supporting Deakin's Achieving Potential Scholarships Fund. Gifts of $100 or more are being matched by Community Bank at Deakin University until 30 June 2022.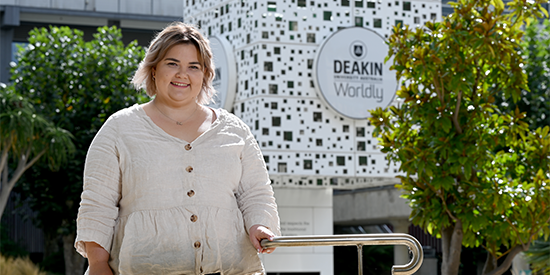 More like this
Media release
School of Nursing and Midwifery