Deakin improves in THE World University Rankings 2020
Media release
12 September 2019
Deakin has improved its position in the latest Times Higher Education (THE) World University Rankings, climbing inside the top 350. The 2020 rankings, released overnight, reveal Deakin improved one band to 301-350, up from 351-400 in 2019.
The THE index ranks universities across five performance indicators: teaching (the learning environment), research (volume, income and reputation), citations (research influence), international outlook (staff, students and research) and industry income (knowledge transfer).
Deakin Vice-Chancellor Professor Iain Martin said the University's strong position in the rankings demonstrates a proven commitment to excellence through education and research.
"In just 45 years, Deakin has established strong global linkages, world-class research and an education portfolio that blends the best of campus and digital delivery into a highly supportive and personalised student experience," Professor Martin said.
"Rankings never tell the whole story but are an essential guide, and our progress shows we are on the right track. Our future success will depend on our work in creating a distinctive combination of our people, purpose and place, underpinned by the values that shape our decisions and actions.
"We have an ambitious, future-oriented mindset, which enables us to implement new approaches in delivering an outstanding education for our students. We are prioritising innovative digital leadership, the expansion of our community and industry connections, and building our research excellence."
Deakin was Victoria's first regional university in 1974 and now has more than 60,000 students from around the world, studying across five campuses in Melbourne, Geelong, Warrnambool and the Cloud.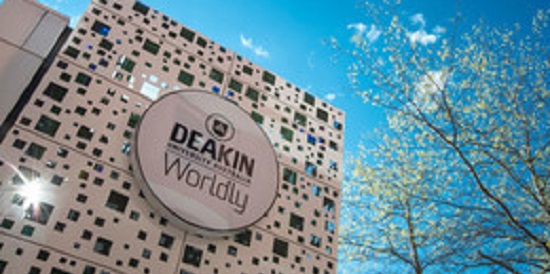 More like this
Media release