Deakin international students bowled over by Cricket Victoria clinics
Media release
19 February 2018
The move from high school to university life can be a daunting experience, but a partnership between Deakin Business School and Cricket Victoria is bringing new students together using the global language of sport.
The Cricket Victoria International Student Academy is aimed specifically at supporting international students to feel at home in their new community and form ongoing connections.
The program is a partnership between Deakin Business School, Study Melbourne, Bendigo TAFE and the Kangan Institute.
Deakin international students have been able to take part in cricket training sessions throughout the summer under the program, including clinics from local and internationally-accredited coaches.
Cricket Victoria also provided 250 tickets for students to experience the Big Bash League at the iconic Melbourne Cricket Ground and GMHBA Stadium in Geelong.
Deakin Business School Chair in Sport Management Professor David Shilbury said he was delighted with the results and feedback from students.
"This has provided a wonderful opportunity for our nearly 10,000 international students at Deakin to think about becoming engaged with sport, and to use cricket as a vehicle for which we can assist their integration into communities inside and outside the University," Professor Shilbury said.
Cricket Victoria Game and Market Development General Manager Rohan O'Neill said the program helped break down barriers to social inclusion.
"Working in partnership with Deakin University, the International Student Academy aims to increase participation among students whilst providing an opportunity for students to discover a passion for the game," Mr O'Neill said.
"The program utilises cricket as a vehicle for engagement and it helps to break down the associated barriers to social inclusion."
Cricket brings together passionate players and fans around the world, including in India, Pakistan, Sri Lanka, Bangladesh, The West Indies, South Africa, England, New Zealand and Zimbabwe.
Deakin international student Dayalan Sampath, who had the chance to train with the Melbourne Stars at the MCG as part of the program, said the International Student Academy was an initiative any cricket fan would dream of.
"To take guard and run in to bowl at the MCG, where many legends of the game took the same spot, was an experience that I will remember for a long time," Mr Sampath said.
Participants were also able to showcase their skills to Cricket Australia-accredited coaches and use the International Student Academy as a pathway to community cricket and talent programs.
Cricket Victoria will be attending the international student welcome at Deakin Melbourne Burwood on 19-20 February as part of the partnership, followed by Deakin OWeek and campus orientation from 26 February to 2 March.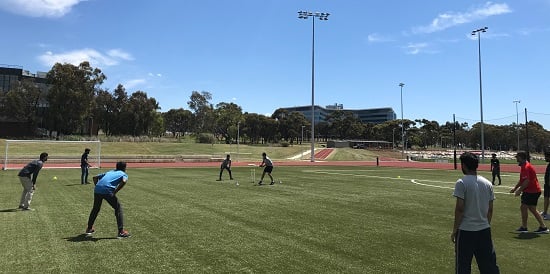 More like this
Media release
Deakin Business School