Deakin launches Australia's most advanced motion simulator
Media release
30 March 2023
Deakin University officially launched today Australia's most advanced $9 million simulator designed to provide advanced research and innovation opportunities for mobility technologies and industry sectors.
Deakin's Genesis simulator is the only one of its type in Australia and the only one in the world located in a university. It offers an immersive simulation experience via a 360-degree, five-metre-high screen and variable virtual worlds. High-fidelity graphics, sound, movement and experience work together to create driving simulations that are as real as possible.
Victorian Minister for Higher Education, Training and Skills and Agriculture Gayle Tierney officially launched Deakin's Genesis simulator at an industry showcase event at Waurn Ponds campus.
The project includes $5 million in co-funding from the Victorian Higher Education State Investment Fund (VHESIF) initiated to boost Victoria's productivity and economy as the State recovers from the impact of COVID-19.
Deakin's Pro Vice-Chancellor for Defence Technologies, and Director of the Institute for Intelligent Systems Research and Innovation (IISRI), Professor Saeid Nahavandi said the Genesis Simulator would lead ground-breaking research and innovation partnerships with companies and industry bodies across the automotive, emergency services, transport and health sectors.
"The addition of the Genesis Simulator grows our strong capabilities across motion simulation, with IISRI now housing more than seven cutting-edge simulators worth more than $70 million," Professor Nahavandi said.
"Opportunities for advanced research and innovation with our new Genesis simulator include improving driver safety and training, automotive testing and design, fast-tracking transport prototyping, self-driving, and autonomous mobility research."
Deakin's Deputy Vice-Chancellor Research Alfred Deakin Professor Julie Owens said IISRI had a strong research, innovation and commercialisation track record, including more than 500 strategic partnerships with businesses, industry and government agencies around the world.

"IISRI has more than 15-years' experience in motion simulation research and houses Australia's biggest multi-disciplinary team of world-class mobility researchers and PhD students," Professor Owens said.
"Deakin is excited to launch our new Genesis simulator to support the next wave of new industry partnerships, research and innovation."
Minister Gayle Tierney said the new Genesis Simulator would boost Victoria's existing skills and knowledge in vehicle manufacturing – driving innovation and creating world-first solutions.
"This will lead to ground-breaking research partnerships with companies and industry bodies across the automotive sector, emergency services, transport companies, and health bodies," Minister Tierney said.
The Genesis Simulator was created by UK company Ansible Motion.
Learn more about Deakin's Genesis Simulator and partnership opportunities here:
www.deakin.edu.au/research/research-partnerships/genesis-simulator
Media contact:
Sherryn Bennett
VHESIF Senior Communications Coordinator, Deakin University
M: 0418 563 987
E: s.bennett@deakin.edu.au
Share this story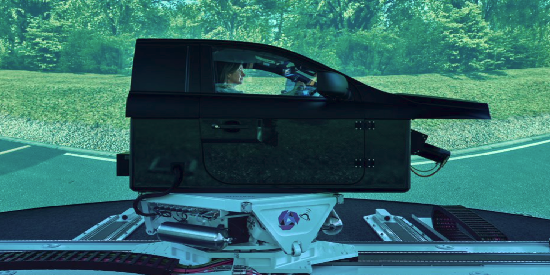 More like this
Media release