Deakin Melbourne Boomers documentary exposes inequality in sport
Media release
13 September 2022
A new documentary follows the Deakin Melbourne Boomers as they tackle the big issues faced by women in sport including lower pay and discrimination.
Presented in association with Deakin University, Sidelined: The Fight for Equality in Women's Basketball gives unprecedented insight into the sacrifices elite female athletes make to play at the highest level.
Independent filmmaker and director Adam McKay was given unrestricted access to the team throughout their championship-winning 2021-22 Women's National Basketball League (WNBL) season.
He said this gave rise to incredible audio-visual content typically off limits to the public.
"There were times I was in the locker room with the team even after coaches had been kicked out – it was players only. This gave a level of access I never thought possible, and with this access came unique insights which I feel the public will find riveting."
Big-name players featured include Australian Opals Ezi Magbegor, Cayla George and Tess Madgen star and new mum Carley Ernst, who returned to the court mid-season just four months after giving birth to her first child.
Olympian Madgen, who will captain Australia at the upcoming FIBA Women's Basketball World Cup, said the four-part series exposed huge pay gaps between male and female athletes.
"I've been playing at the highest level for 14 years, including in the WNBL, WNBA (Women's National Basketball Association), and for the Australian Opals in the Olympic Games. In just four years in the AFL, my brother Jack has likely earned as much as I have in my entire career," Madgen said.
"Whilst I don't begrudge him a cent, I think Sidelined will make people think differently about women's sport by showcasing the skill, dedication, hard work and untold stories of elite female athletes."
Race and identity are also touched on in Sidelined, with WNBA star Tiffany Mitchell speaking out on the controversial Basketball Australia decision to force players with free braids to tie up their hair.
The decision was later revoked after it was discovered the outdated International Basketball Federation (FIBA) rule no longer exists in world basketball.
"The way things were handled made it feel like we were being targeted as black athletes," Mitchell said.
"Ezi and I were the only players wearing our hair in free braids. It was the most uncomfortable I've ever felt starting a season in any country."
Boomers captain Cayla George said the series showed the fight for equality in sport was far from over.
"The narrative that it's getting better is great, but the pace of the push needs to be greater," she said.
Sidelined is set to premiere across SBS Viceland, Fox Sports and Kayo from Sunday, September 18.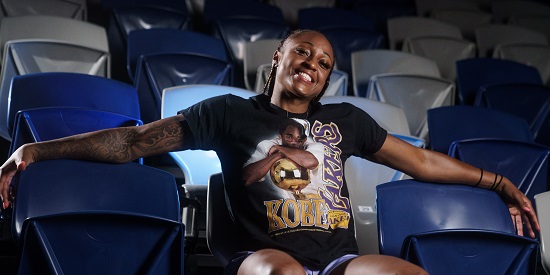 More like this
Media release