Deakin opens 'state-of-the-science' exercise and sport building at Burwood
Media release
24 September 2019
Deakin University has confirmed its status as a world leader in sport science with the official opening of a 'state-of-the-science' building for exercise and sport science research and education at the Burwood campus.
The Exercise and Sport Science Teaching Facility is equipped with the latest high-tech equipment including: a climate chamber that can simulate extreme temperatures, humidity and altitude, a dedicated fitness area that includes 40 stations for teaching and research, and consulting rooms where people living with chronic diseases, injuries or disabilities can be treated by accredited exercise physiologists (AEPs) and Masters students in training.
Deakin Vice-Chancellor Professor Iain Martin said the world-class facility reaffirmed Deakin's commitment to the field of sporting endeavour and the complex research that underpinned it. Deakin is the number one ranked sport science school in Australia and third in the world, according to the ARWU Global Ranking of Sport Science Schools and Departments.
"This impressive new building is another jewel in the Deakin crown for our students and researchers. We are excited by the opportunities it will create to enhance our engagement with the community, who will benefit from the future work of Deakin graduates trained by outstanding researchers and lecturers in the very best facilities using the latest technology and equipment," Professor Martin said.
"We know that regular participation in sport and exercise is an important factor in achieving positive health outcomes, emotional wellness and socialisation in the community. It encourages camaraderie and teamwork, a balanced lifestyle and a sense of achievement - it builds and strengthens communities."
Head of the School of Exercise and Nutrition Sciences Alfred Deakin Professor David Crawford said Deakin is at the forefront of exercise and sport science.
"Sport and exercise intersect with social issues and the notions we hold of who we are, from discrimination and equality of opportunity to the health of our ageing population and the obesity crisis," Professor Crawford said.
'Our exercise and sport science programs are market leaders in Victoria, and these facilities are the most sophisticated of any Australian university, serving to cement our position as the leading university in this highly competitive space. The building provides facilities that will support our teaching and underpin our partnerships with elite, sub-elite and community sporting organisations."
The new facilities include a large space monitored by force plates, a motion capture system and an instrumented treadmill recessed into the floor to increase ease of access and accommodate people of all abilities. The four-storey geometric glass and steel building, designed by Peter Schreuder at DS Architecture, includes specialist equipment for biomechanics, motor learning and exercise prescription.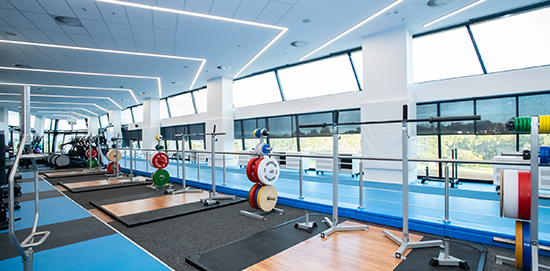 More like this
Media release
School of Exercise and Nutrition Sciences, School of Health and Social Development, Faculty of Health
---