Deakin researcher named among Vietnam's most influential women
Media release
07 March 2019
Deakin researcher Associate Professor Ly Tran has been named among Vietnam's 50 most influential women by Forbes Vietnam for her leading research into Vietnamese higher education reform and international student mobility.
Associate Professor Tran, a researcher within Deakin's School of Education, has devoted her career to higher education, graduate employability, diversity and the teaching and learning of international students, with a focus on building connections between Australia and Vietnam through education.
She has the highest number of publications in international journals of any Vietnamese women researching the social sciences, and was the lead author on the first English-language book on Vietnamese higher education and the first edited book to address issues in internationalisation in Vietnamese higher education.
Associate Professor Tran said she was honoured to receive the accolade, which is being formally presented on 8 March to coincide with International Women's Day 2019.
"I'm very grateful for this recognition of my work, and of the important role that international students play within the higher education sector," Associate Professor Tran said.
"Vietnam is now the fourth most popular destination for Australian students for short-term mobility through the New Colombo Plan, rapidly rising up the list of preferred destinations over the past decade. It is also one of Australia's key partners in the Indo-Pacific region, and education is one of the main channels through which our two countries interact."
Deakin Faculty of Arts and Education Acting Executive Dean Professor Christine Ure congratulated Associate Professor Tran on her outstanding achievement.
"This is fabulous news for Associate Professor Tran, and for Deakin more broadly," Professor Ure said.
"The accolade is well-deserved recognition of Associate Professor Tran's tireless dedication to contributing to a better, stronger and more diverse international higher education sector.
"We know that education opens doors and changes people's lives, and we at Deakin are stronger for having such a talented and influential mind among our researchers."
Originally from the central Vietnamese town of Quảng Trị, Associate Professor Tran has lived in Australia since 2001, joining Deakin University as a Senior Lecturer in 2013.
She has won more than 30 awards, prizes, scholarships and grants for research, including the prestigious Australian Research Council (ARC) Future Fellowship for her work on the Australian Government's New Colombo Plan.
Masterminded by former Minister for Foreign Affairs the Hon. Julie Bishop MP, the New Colombo Plan is a program devised to promote student mobility and public diplomacy. Associate Professor Tran is responsible for leading an ARC project investigating the impact of Australian student learning and engagement in Asia through the Plan.
"International student mobility is critical to Australia's social and economic development, soft diplomacy and connection with the Indo-Pacific region," she said.
"Programs promoting international student engagement impact not only students' education and experiences but also institutional partnerships, structures and operations, national and regional mobility trends, models and practices, and public diplomacy.
"They also enable students to see themselves as potential actors of people-to-people connections and collective learning, rather than as mere visitors or tourists."
Associate Professor Tran has also undertaken various projects on Vietnamese education, such as a study identifying strategies and approaches for university communities, students and stakeholders to work together to enhance graduate employability in the Northern Mountainous Region of Vietnam, funded by the Australian Government through the Aus4Skills program.
She has also worked to support and mentor the next generation of Vietnamese academics and higher education researchers, actively supervising a number of Vietnamese doctoral and post-doctoral candidates over the past decade.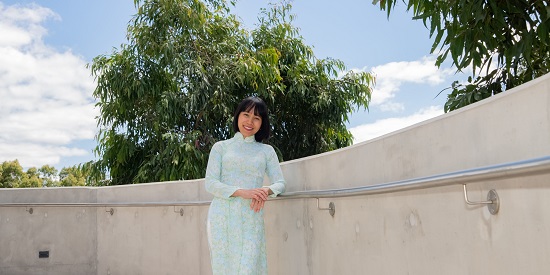 Key Fact
Deakin researcher Associate Professor Ly Tran, who has been named among Vietnam's 50 most influential women by Forbes Vietnam.
More like this
Media release
Faculty of Arts and Education, School of Education
Research for Educational Impact (REDI)
Education and Teaching