Deakin researchers put Australian-made mass timber to the test
Media release
27 May 2019
Deakin University engineering researchers have begun a new investigation into Australian-made Cross Laminated Timber (CLT) with experimental results expected to reveal the full potential of this innovative and environmentally friendly construction material.
The research team, led by Associate Professor Mahmud Ashraf from Deakin's School of Engineering, will test and analyse the strength limits of CLT, which is mass engineered timber made up of layers laminated together in opposing directions to create an extremely strong product.
Associate Professor Ashraf said the researchers would also explore various approaches to connecting the large format panels for achieving robust and efficient structural solutions.
"We want to improve our understanding of the load bearing capacity of this new type of CLT to ensure it is used in the broadest range of applications in the most efficient way," Associate Professor Ashraf said.
The results of the research will add to the understanding of the way CLT panels work together as a system and provide engineers and builders with information they need to improve construction methods.
CLT's high strength-to-weight ratio means it can be used in long spans, allowing for a simplified building structure and the ability to supply prefabricated panels also adds to the potential for cost savings and eliminating scaffolding in the building process.
While CLT has been in use in Europe for several decades, Australian-made CLT is a relatively new product.
Because of the difference in timber species used in CLT production around the world, research is required to verify the relative performance of Australian-made CLT, the range of building applications available and how it can be better utilised to a range of structural applications.
Unlike Europe, Australian CLT is made using different grades of timber lamellas.
XLam Australia supplied Deakin with 3.6 tons of mass CLT panels as part of a recently formed collaboration.
The panels vary in thickness from 105mm to 145mm, the most commonly used in mass timber construction.
XLam's Head of Marketing, Strategy and Sustainability, Dr Paul Kremer said the research work at Deakin will help the industry continue to push the boundaries of what is possible.
"Supporting the work of the Deakin research team will drive innovation which we believe is a worthwhile investment. We plan to continue our work with Deakin to support further research efforts," Dr Kremer said.
Share this story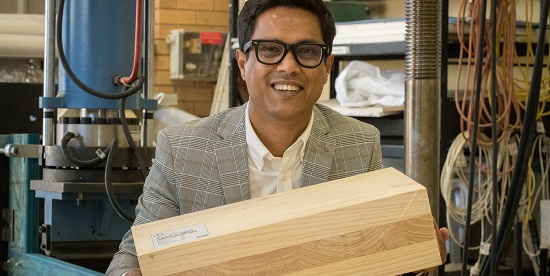 More like this
Media release
Faculty of Science Engineering and Built Environment, School of Engineering